Turbans and Longer Beards Now Allowed For New York Police Officers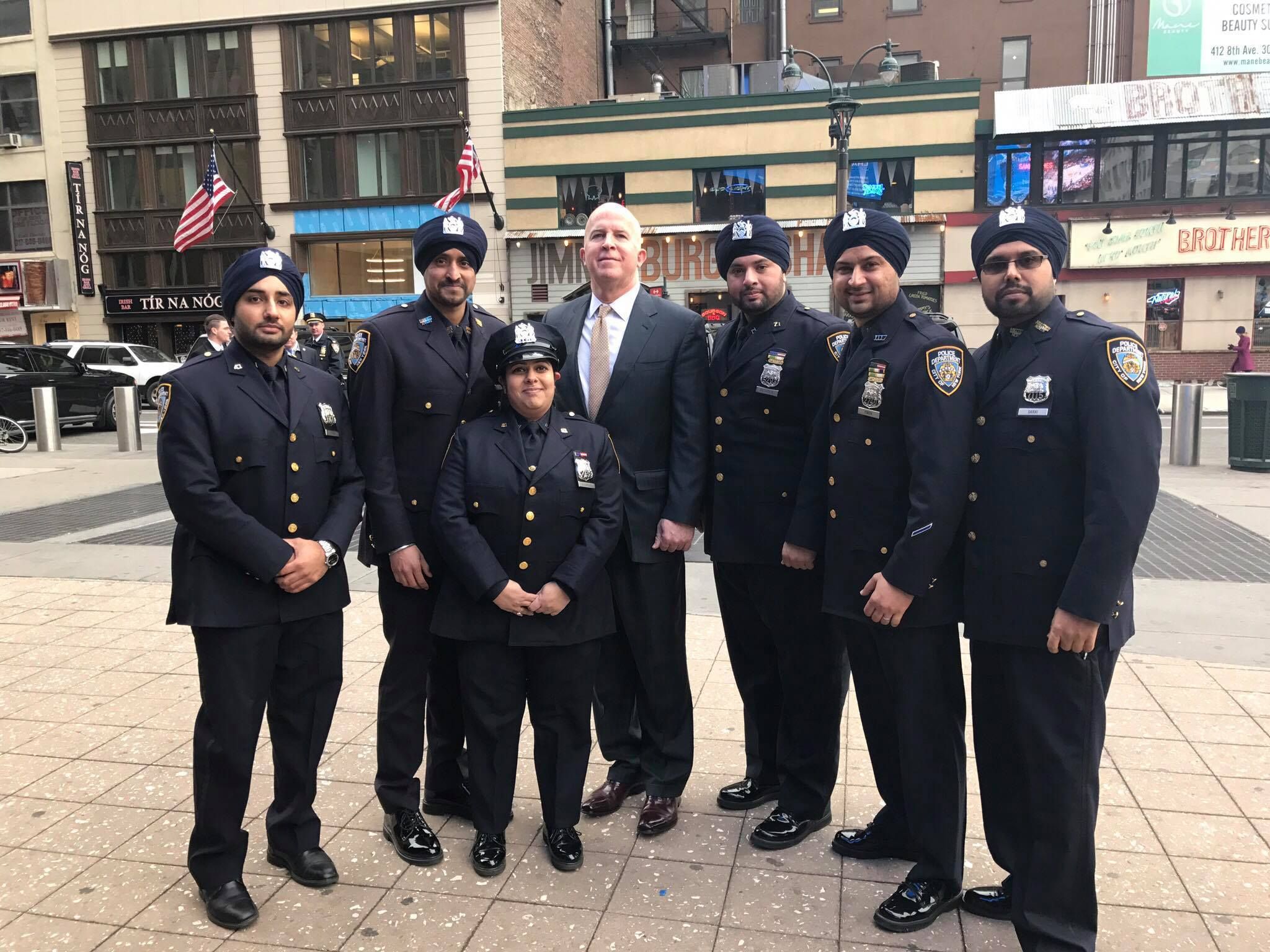 Sikh officers in the New York City Police Department are now allowed to wear turbans instead of police hats on the job, according to new rules.
The policy change was announced Wednesday during a news conference at Madison Square Garden in New York City. The Sikh Officers Association called it "a proud moment [for] Sikhs around the world" in a Facebook post that featured several photographs of Sikh police officers wearing turbans as part of their uniform and posing with NYPD Police Commissioner James O'Neill. There are approximately 160 Sikh police officers in the department, according to O'Neill.
Under the new rules, turbans worn by Sikh police officers must be navy blue and have attached the NYPD insignia. Before the change, only smaller head wraps, known as patkas, were permitted to be worn underneath NYPD hats. The new rules also permit officers to grow their beards up to an inch in length; previously, beards were only allowed to be one millimeter in length.
The practice of kesh, or keeping unshorn, naturally grown hair, is a key part of the Sikh faith.
Related: Yasmin Seweid's arrest highlights pressures on some Muslim teenage girls
Speaking during Wednesday's press conference, which was held after a graduation ceremony for new police recruits, O'Neill said the changes were introduced to foster increased diversity in the force and encourage members of the Sikh community apply to become police officers.
The Sikh Coalition, a U.S. organization supporting the Sikh community, said in a Facebook post on Wednesday that it has "been working for over a decade to change the NYPD's policy that discriminated against Sikhs." The group added that while it's "optimistic about what this announcement represents," it looks forward to "reviewing the written policy… before determining whether this is a complete fix."
The policy changes come amid an ongoing lawsuit brought against the NYPD last summer by Masood Syed, a Muslim officer who claims he was suspended for growing a beard longer than the permitted one-millimeter length. He was later reinstated to his position. The NYPD did not comment on the lawsuit on Wednesday.