NYPD Commissioner William Bratton to Resign Next Month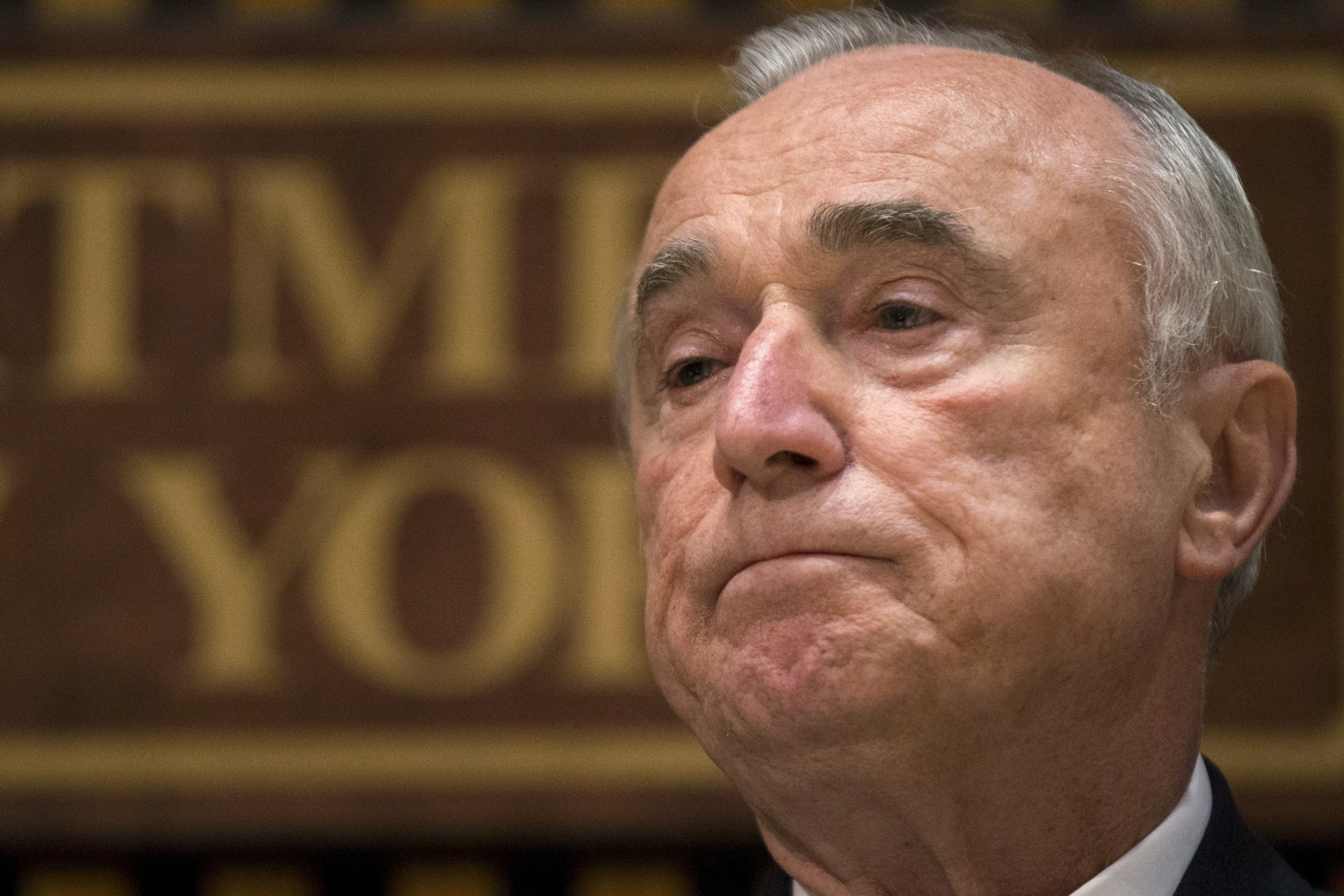 Updated | New York City Police Department Commissioner William Bratton will resign next month, the commissioner and New York City Mayor Bill de Blasio announced on Tuesday.
The departure from the country's largest police force will perhaps be earlier than expected, as Bratton told The New York Times in July that he planned to leave the post before a second de Blasio term would begin, if the mayor is re-elected, in 2018. James O'Neill, the current chief of the NYPD, will replace Bratton.
"We celebrate a transition filled with continuity, filled with shared vision, and we celebrate taking a step into New York City's future," de Blasio said at a press conference on Tuesday. He called O'Neill, who joined New York City law enforcement as a transit police officer in 1983, "one of the best prepared incoming police commissioners this city has ever seen."
"This department will have a seamless transition," and there has never been a time in American policing when that has been more important than now, Bratton said at the press conference.
Bratton is heading to the private sector, as senior managing director and executive chairman of Teneo Risk, a new division of the advisory firm Teneo Holdings, the company said in a statement. The division will provide risk identification, prevention and response advising.
Bratton has led the NYPD since 2014. He started his police career at the Boston Police Department as an officer in 1970 and climbed the ranks to commissioner, a position he held from 1992 to 1993. In 1994, he took the job as NYPD commissioner and became known for practicing "broken windows" policing—aggressively pursuing crimes that affect qualify of life, such as public urination and subway fare dodging. Crime fell dramatically. He left in 1996 and later led the Los Angeles Police Department from 2002 to 2009. Newsweek in 1996 called him "an international poster boy for crime-fighting."
"Policing is, like so many other professions, constantly in the state of evolution. But there are periods of time of revolution in which things are churning so quickly, so dramatically," Bratton told Newsweek last week. In an interview, he spoke of the shifts in policing since the 1970s, including toward community policing in the 1990s and "predictive policing" in the 2000s, which involves "using algorithms" and other data tools to prevent crime before it happens.
"The revolutionary period we find ourselves in right now...is once again [involving] race," he said. "Again, American policing is being challenged in revolutionary ways to build trust in communities that have lost trust in us."
He said American policing had entered "an era that I've never seen—the assassination of police because they are police." Before the ambush attacks on officers last month in Dallas and Baton Rouge, Louisiana, New York City experienced a similar incident in December 2014, when a man shot and killed two officers as they sat in their squad car.
"What that began in this city was the reality that our officers were at increased risk in a way that had not been felt for" decades, Bratton said.
Bratton recently announced that the department would spend $1.9 billion on improvements to facilities, training and equipment. But NYPD officer morale has dipped to "historic lows," according to a March survey by the Patrolmen's Benevolent Association, an NYPD labor union. Ninety-five percent of the 6,000 respondents said New York City is "on the wrong track." Association members protested on Tuesday for better wages, prior to the resignation announcement.
The NYPD and Bratton also came under scrutiny on Monday after state Assemblyman Michael Blake, who is African-American, said officers had used excessive force on him. He filed a formal complaint. The New York Civil Liberties Union condemned the incident.
"Regardless of who is at the top of the NYPD, the problems remain systemic within the department and will not simply change with leadership," Anthonine Pierre, a spokeswoman for Communities United for Police Reform, a campaign that advocates for police reform in New York, said in a statement. "Talk is cheap and our communities are tired."
Protesters from the group Millions March had called for Bratton's resignation on Monday and earlier on Tuesday, as well as for the defunding of the NYPD, reparations to the victims of police brutality and the abolition of all police and prisons. The group celebrated the resignation news on Twitter.
The news also came hours before National Night Out, when precincts across the city, as well as the country, are to hold events with community members.
This article has been updated following a press conference on Tuesday regarding William Bratton's resignation.