NYU President Apologizes for Graduation Speaker's Praise of Israel Campus Boycott, BDS Movement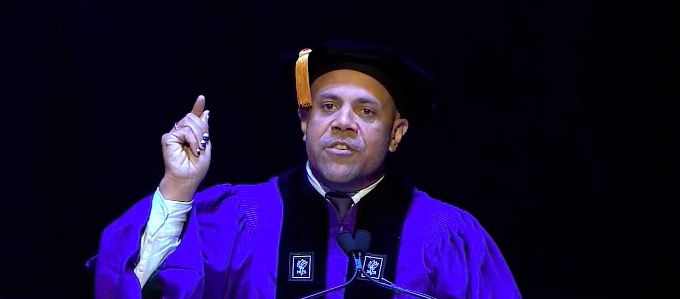 A school year riddled with tension over New York University student and faculty opinions about Israel and Palestine came to a close with a graduation speaker's praise of an Israeli campus' boycott, prompting an apology from the school's president.
NYU students on both sides of the debate are resolute in their positions, causing on-campus and online clashes. In the past few months, the school was criticized for awarding the President's Service Award to the Students for Justice in Palestine and had a civil rights complaint filed against them on behalf of pro-Israel students. NYU's Department of Social and Cultural Analysis voted to end its relationship with the Tel Aviv campus.
On Monday, during his graduation speech at the New York University Graduate School of Arts & Science, Steven Thrasher, a doctoral graduate, vocalized his support for severing ties with the Tel Aviv campus.
"I am so proud, so proud of NYU's chapters of Students for Justice in Palestine and Jewish Voices for Peace and of [Graduate Student Organizing Committee] and of the NYU student government and of my colleagues in the department of social and cultural analysis for supporting the Boycott, Divestment and Sanctions [BDS] movement against the apartheid state government in Israel," Thrasher said.
He told graduates it was what they were "called to do" and part of their "NYU legacy." He added that it was their duty and privilege to "protect not the most popular among us but the most vulnerable among us."
Thrasher also noted during his speech that many of the people in the room participated in the Occupy Wall Street movement, Black Lives Matters protests and marched against the "fascist in the White House."
Although his speech received applause, NYU President Andrew Hamilton called it "quite objectionable" that Thrasher used his time at the podium to express his viewpoints on BDS.
"We are sorry that the audience had to experience these inappropriate remarks," Hamilton said in a statement. "A graduation should be a shared, inclusive event; the speaker's words—one-sided and tendentious—indefensibly made some in the audience feel unwelcome and excluded."
Hamilton reaffirmed that NYU rejects academic boycotts of Israel and calls to close the Tel Aviv campus, and "denounces efforts to ostracize or exclude those in the university community based on their location in Israel, their Israeli origin, or their political feelings for Israel."
Philip Brian Harper, dean of NYU Graduate School of Arts & Science, sent a letter to Thrasher that was also published on the school's website, expressing similar sentiments as Hamilton. Harper noted that the comments weren't included in the speech the dean reviewed ahead of time.
He wrote in the letter that Thrasher's words fell "far short" of expectations the school has for doctoral graduates at a university that's a site of "open dialogue."
"On the contrary, your statements had the effect of making some in the audience feel unwelcome, disrespected, and—precisely because you had been given a platform that they lacked—voiceless," Harper said. "You no doubt expected that this would be the outcome, and for that reason omitted the remarks in question from the speech you submitted for prior review."
Moving forward, Harper said he hoped Thrasher would be "productively informed" by reflection on the situation surrounding his speech.