Is NYU Expanding Abroad at the Cost of Free Speech?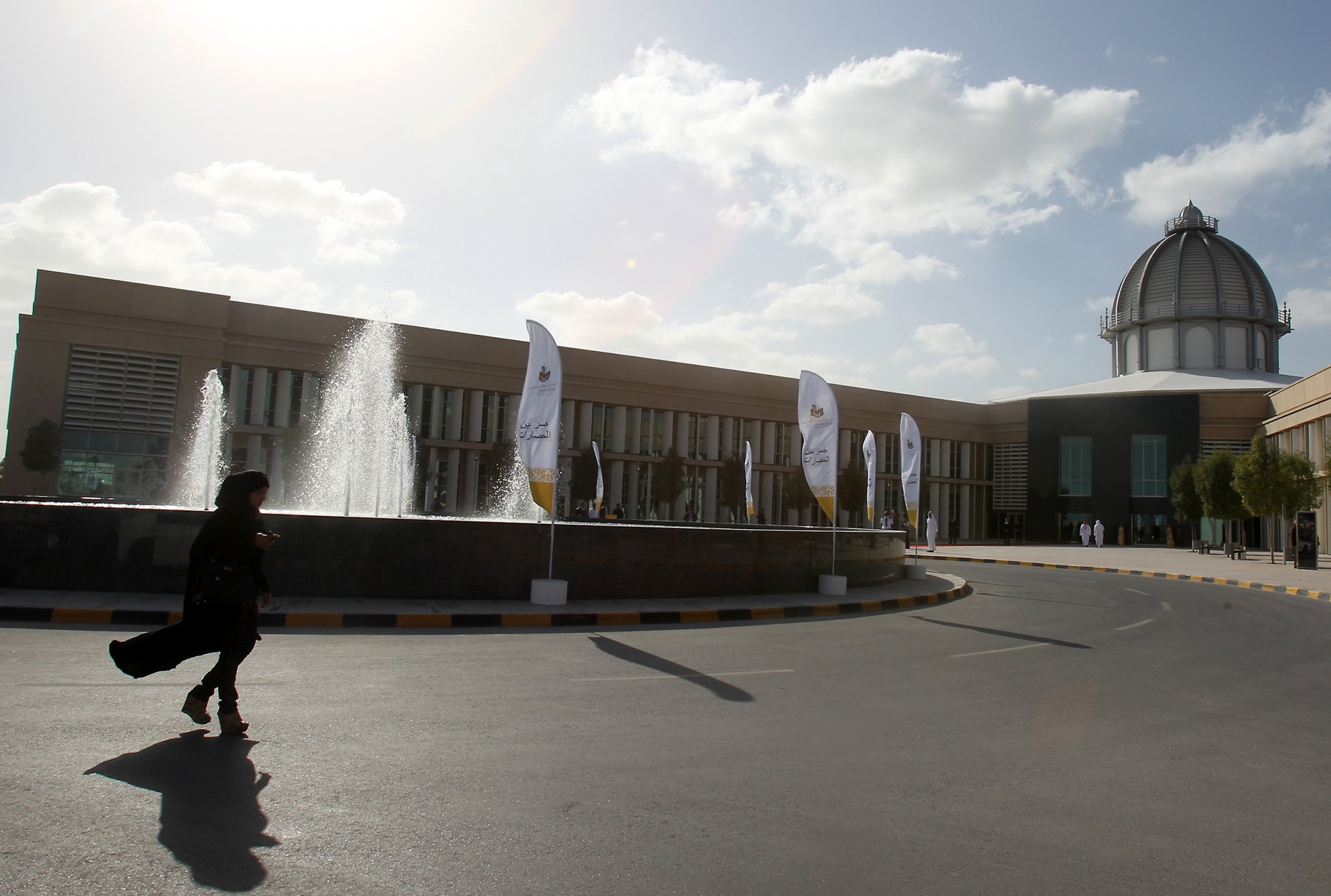 The United Arab Emirates are absolute-monarchy sheikhdoms, in which media publications are censored, online comments can land an emirati in prison and dissent is silenced by abduction-like arrests.
The UAE is also home to branches of foreign universities, like New York University and Paris-Sorbonne, that have set up campuses which are paid for by the UAE government.
So what does it mean for those universities when the prime minister of the UAE tweets this?
Sheikh Mohammed bin Rashid Al Maktoum's tweet is ostensibly directed at the UAE's national universities, not at NYU Abu Dhabi (NYU AD), which is set apart from its domestic counterparts by a "cultural free zone" meant to allow NYU AD professors and students free speech.
NYU hires its professors, designs its curriculum, and chooses its students without consulting the UAE government. But when an American university is fully funded by and operating under a government that wants colleges to be its "main supporters," what do its guarantees of independence amount to?
For Matt Duffy, an American professor who was fired from a domestic university in Abu Dhabi and kicked out of the UAE in 2012, the answer is a resounding "not much." The sheikh's tweet is just another confirmation of what he says every professor in the region already knows.
"There is no academic freedom in the UAE," he told Newsweek, no matter how much the government says they want to bring world-class standards of higher education to the gulf or how many "cultural free zones" the ruling families grant foreign universities.
"[Professors] might say they do, but there's no one in NYU AD who actually thinks that they have the freedom to say whatever they want," said Duffy. "Everybody is scared about saying the wrong thing, offending the wrong student. Teaching in the UAE is like walking on eggshells all the time. My feeling is that although [NYU AD is] in a bubble, in some ways they are going to buckle under whatever the preferences of the government are."
Duffy was an outspoken critic of the government during his two years teaching journalism to women students at Zayed University. He wrote op-eds about press freedom, spoke about the UAE's media censorship in his classes and tweeted freely. After all, Sheikh Nahyan bin Mubarak, UAE Minister of Higher Education at the time, had told faculty members he wanted Zayed University to "engage with the community."
Duffy's colleagues told him his outspokenness was a bad idea, but he felt he was fulfilling his job description.
"I was going out on a limb. I felt like I had a duty as an academic in a country where I was told to teach according to international standards," he said. "I certainly wouldn't recommend a professor do that. Not now, given my experience."
After a long list of potential tweets, columns and conferences that Duffy speculates may have crossed the line, Duffy and his wife, who also worked in education, received contract termination notices and were given notice to leave the country.
He said the UAE he moved to in 2010 (the same year NYU AD opened its doors) has changed. The Arab Spring, which never reached the UAE, put the government on edge. Human Rights Watch, noting the arrest of several dozen dissidents, wrote that the UAE "intensified its campaign to silence critics of its ruling elite" in 2012.
The Abu Dhabi division of the polling organization Gallup moved its offices out of the UAE that year, and the Konrad Adenauer Foundation, a group affiliated with German Chancellor Angela Merkel that promotes "democracy, the rule of law and a social market economy," were reportedly told to cease activity in Abu Dhabi.
Bin Mubarak, who Duffy once wrote "understands the freedom required for academics," was replaced last year by his younger brother after 20 years in charge of higher education.
In 2011, the UAE government detained several advocates for government reform, including Nasser bin Ghaith, an Emirati lecturer at Paris-Sorbonne-Abu Dhabi. Bin Ghaith was charged with insulting top government officials and inciting others to break the law after an online post voicing "unusually bold criticism" of the ruling sheikhs. He spent nine months in jail before being convicted and then pardoned. Sorbonne declined to make a public comment on the case at the time, and NYU, which had only begun its Abu Dhabi campus a year prior, declined as well. But NYU President John Sexton came under fire for reportedly suggesting the arrested men may have posed an actual security threat.
In a meeting of the NYU faculty senate shortly after the arrests, Sexton reportedly "cautioned against jumping to conclusions," according to a letter to Sexton from Human Rights Watch. "[Professors] said that you emphasized that the UAE had 'security concerns' and that, like any state, the UAE 'had a right to defend itself against security threats.' "
In both the instances of Duffy and bin Ghaith, as well as the more recent example of a London School of Economics professor who was denied entry to Dubai after "writing critically" about the UAE's security crackdown, all punitive action was taken after the academics made some sort of public statement against the government.
For current NYU AD professor Bryan Waterman, who teaches literature and cultural history, the public-private distinction is an important one. In his classroom, he says, he talks about absolutely everything. But it is understood that writing a critical newspaper article would be crossing a line. The "cultural free zone" extends to teaching his courses, and in all other situations he and the rest of the NYU AD community are subject to local law. That doesn't bother him.
"I'm not there as some kind of government reformer, I'm there to teach my classes," Waterman says. "The reality is I have more academic freedom at NYU AD than I had at Brigham Young [University]." Waterman wrote a book about lack of academic freedom at the Mormon school, where he says he was declared an "enemy to the institution."
"At NYU AD I don't censor myself based on whether I have emirati students in class. When I teach Angels in America and we talk about gay sex, I know some might be uncomfortable. That doesn't mean I don't teach it," he says. (Homosexual acts are illegal in the UAE.)
"I was more scared for my safety and freedom of expression when I attended Occupy events in New York," Waterman says. He calls the fretting over academic freedom on the part of some of his New York–based colleagues "fantasies."
As for Duffy, Waterman says, "He knew he was walking a thin line. He made his choices."
NYU AD is a product of the global ambitions of Sexton, who has rapidly expanded NYU's reach to include 14 campuses in 12 countries, as well as a campus in Singapore that recently failed.
The Chronicle of Higher Education has written that NYU behaves "like a careful guest in a foreign land" in Abu Dhabi. Sexton has made it clear that NYU isn't in the UAE to cause trouble, so long as NYU's "core values" are maintained—which is to say, its ability to deliver a high-level education.
"[You] shouldn't behave there the same way you behave in Greenwich Village or Piccadilly in London...It's about being sensitive to your cultural environment," Sexton told Times Higher Education.
"I am not going to say we will never have a problem with academic freedom [in Abu Dhabi]. We have problems with academic freedom in Greenwich Village and Washington Square, too," Sexton said.
But for Duffy, comparing the "problems with academic freedom" in the UAE to the problems in the U.S. is, at best, a joke.
"We have due process in the U.S. People have to be accounted for in an independent judiciary. People [in the UAE] are abducted by security forces for months," Duffy says. "Foreign accrediting bodies should not be accrediting these universities and pretending that we're not in an authoritarian country and are not playing by their rules. That does disservice to the concept of academic freedom."