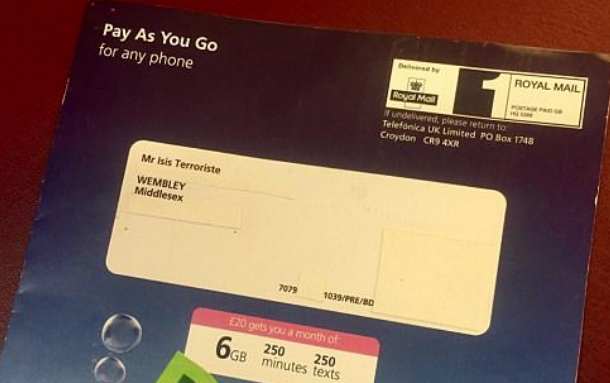 The U.K. telecommunications company O2, or Telefónica UK Limited, apologized after two letters sent to a Muslim family in Wembley, North London, addressed them as terrorists.
The British-Iraqi family revealed the SIM card "pay as you go" mail they received last August to the BBC's Victoria Derbyshire Program Tuesday. The Muslim family, which asked to remain anonymous, said they thought it was just junk mail until a second racist message was addressed to their specific address as, "Mr Isis Terroriste" and "Mr Getout Ofengland."
The "shocked" family issued a statement through the BBC Tuesday condemning the targeted hate mail.
"We are really saddened to come across these letters, especially having a younger child in the house, who we don't want to grow up witnessing such hateful language," they said. "It's even sadder to think that such hate speech has become normalized despite living in such a uniquely, multicultural and diverse city like London."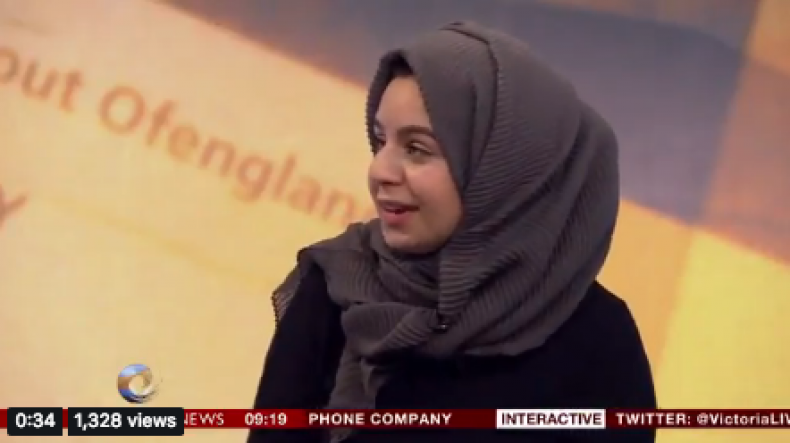 The family's attorney and friend, Sura Jawad, appeared on the BBC morning show to elaborate on the anti-Islamic and xenophobic postage that O2 claimed was sent out by a third-party using an automated system.
"I was talking to the family who received it, and [a member of the family] kind of mentioned it to me in passing, like, 'Look what I got in the mail, can you believe this?'" said Jawad. "He almost had a defeatist mentality, 'What can you do, these kinds of things happen.'"
Jawad said the post-Brexit racial and ethnic divides in the country have deepened as the Islamic State and deportation threats clearly indicate.
"It's horrible to think that there are people who have so much hatred in them that they set out to deliberately make others feel isolated and unwelcome or who take comments like these lightheartedly," she told BBC News. "Either scenario shows that racism and Islamophobia are very much rife issues, particularly in a post-Brexit climate."
The Muslim Council of Britain issued a concurring statement on their website this week calling the incident a prime example of "Islamophobia," which prompted the phone company to respond to the backlash. Miqdaad Versi, assistant secretary general of the Muslim Council of Britain, wrote: "These Islamophobic bigots are finding more and more ways to spread their hatred."
O2, which is the second-largest mobile network operator in the United Kingdom, explained to the BBC that the company's "industry-leading data-cleansing software" failed to do its job in filtering out obscenities or hate words in its postal addresses and names. O2's response noted that human workers check in on flagged queries from the software filter, but no issue was raised on these particular pieces of mail. The company said it would begin using humans to monitor the entire postage process moving forward.
"We have a rigorous data-cleansing process in place to prevent any of our free products being sent to addresses with obscenities or offensive names, and so this is a rare occurrence," an O2 spokesperson told the BBC.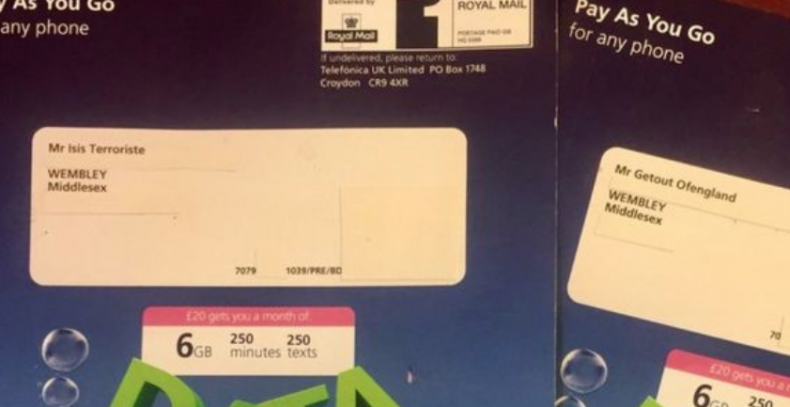 "We are shocked by the letters that have been received and apologize to the family involved. If they decide to report this case, we will work closely with the police as part of their investigation."