Oakland Homeless Camp Fire Videos Show Huge Blaze, Explosions
A huge cloud of smoke engulfed a bridge and explosions could be heard after a fire broke out on Thursday at an Oakland, California, homeless encampment.
Social media videos show a huge plume of smoke engulfing a bridge by a river, where the homeless encampment is. Occasional small explosions and sirens and can be heard in the background as emergency teams approach the scene. Newsweek has verified the videos as authentic.
The huge blaze started at around 7.30 p.m. local time underneath the Lake Merritt Boulevard overpass near the Kaiser Convention Center in downtown Oakland, city fire officials said.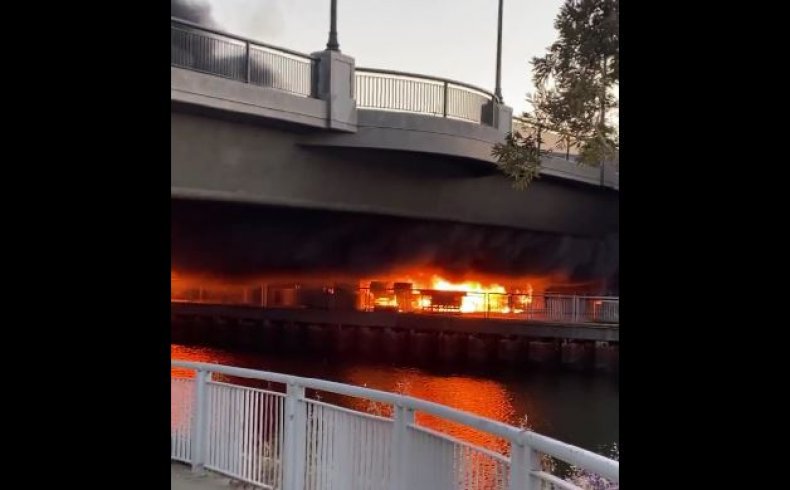 "At approximately 1952 hours [7:52 p.m. local time], we received a dispatch for an outside fire at 1200 Lakeshore AVE. E12 upon arrival upgraded the assignment to to a large encampment fire," Michael Hunt, chief of staff at the Oakland Fire Department told Newsweek.
"Approximately 25 firefighters responded and the incident was placed under control after 45 minutes. The road was reopened after 90 minutes. Incident closed by 2230 [10:30 p.m.]."
He said there were no injuries or fatalities, but one person was displaced.
"The location was under the overpass where the Estuary enters Lake Merritt. The area is approximately 20 feet by 100 feet for the walkway. There are household items, weight machines, and artwork which took 10 feet by 100 feet of the walkway," Hunt added.
The cause of the fire is not yet known.
Newsweek has contacted Oakland Police for further comment.
On April 5, one person was killed and another five were displaced by a fire at a different homeless encampment in Oakland.
The fire took place at the camp on Wood Street and 26th Street in West Oakland. One person was been found dead in an RV as a result of the blaze, firefighters said.
Three recreational vehicles (RVs), two cars and a flatbed truck were all burned in the fire, they said.
In March, a fire killed two dogs and destroyed three RVs in a large fire near the MacArthur Maze in Oakland. Five people were displaced, but no injuries were reported.
Fires in Oakland are on the rise. Fox 2 reported that in 2017, there was an average of one a day and in 2021 this number increased to three a day.
Homelessness in the city has doubled in the last decade, according to Oakland local government. A city audit in April showed that there are approximately 140 encampments scattered throughout Oakland, which collectively cost the city $12.6 million. However, the audit stressed that the estimate on the number of encampments "may be conservative." There are thought to be just over 4,000 homeless people in the city, a number that has been growing because of a housing crisis and the COVID-19 pandemic.
Closures Homeless encampments in the city were paused for a few months during the pandemic, but have since came back with force, local media have reported.