Oakland Mayor Says Vandalism Plays Into Trump's 'Twisted Campaign Strategy'
Oakland Mayor Libby Schaaf warned local protesters against vandalism on Sunday, saying scenes of smashed windows and graffiti would play into the "twisted campaign strategy" of President Donald Trump.
Issuing a statement in the wake of a violent demonstration in the California city, Schaaf said acts of vandalism would give Trump the "justification he seeks to send federal troops into American cities."
She added that protesters could be "providing cover" for small groups of agitators interested in "unrest" by demonstrating after dark.
"Vandalizing our downtown gives Donald Trump the images he wants and the justification he seeks to send federal troops into American cities," Schaaf said.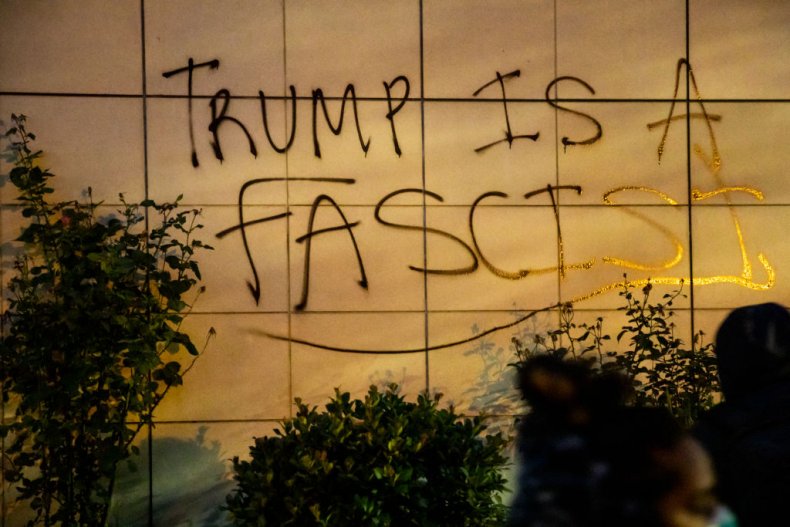 "We can't be fooled and play into his twisted campaign strategy. We celebrate passionate protest but Oaklanders need to know when they attend protests after dark they may be providing cover for agitators who are more intent on stoking civil unrest than advancing racial justice."
Newsweek has contacted the White House for comment and will update this article with any response.
The mayor issued her statement after it was reported that a splinter group of demonstrators in Oakland had set fire a courthouse on fire, smashing windows and launching projectiles at police during a Saturday night protest.
The Associated Press said a small group broke away from roughly 700 peaceful demonstrators before engaging in violence and vandalism.
Posting on social media on Sunday morning, the Oakland Police Department said: "An estimated 700 people took part in Saturday nights protest. There was vandalism and multiple small fires in the downtown area. Several people were arrested."
Earlier in the night, local officers said members of the crowd had pointed "illegal lasers" and thrown projectiles at police, including fireworks and rocks.
According to the San Francisco Chronicle, vandals covered Mayor Schaaf's home in graffiti on Tuesday last week, with one statement scrawled on her driveway reading: "Blood on your hands."
"This attack, designed to intimidate the mayor and strike fear into her family, will not stop her from advocating for the policies she believes are in the best long-term interests of her beloved hometown," a spokesman for the mayor told the Chronicle.
Neighbors also told the newspaper that black-clad protesters had set off fireworks on the street in the early hours of the morning.