Oakland School District Working to Meet COVID Safety Demands As Student Strike Looms
A California school district says it is working to meet the COVID-19 safety demands of students who are threatening to boycott classes.
Students in the Oakland Unified School District have threatened to go on strike from Tuesday unless the district shifts to remote learning or meets its demands for twice-weekly rapid and PCR testing for everyone on campuses, KN95 or N95 masks for the district's 50,000 students and expanded outdoor seating for lunch.
"There's a lot of concerns regarding safety measures and how to protect us from COVID-19, especially the highly contagious Omicron variant," says the student petition. "We must go back to distance learning until the cases go down again."
As of Thursday morning, 1,200 students had signed the petition, which gave the district until Monday to meet the demands.
John Sasaki, director of communications for the school district, told Newsweek that the organization was aware of the petition. "We share the students' concern about the spike in Omicron cases," he said.
Sasaki added that the district had already distributed KN95 and N95 masks to all staff and had ordered 200,000 KN95 masks for students. "They will be distributed to students as soon as they are delivered," he said.
The district is also distributing 10,000 KN95 masks to all high school students after receiving a donation from Oakland restaurateur Euge Lee.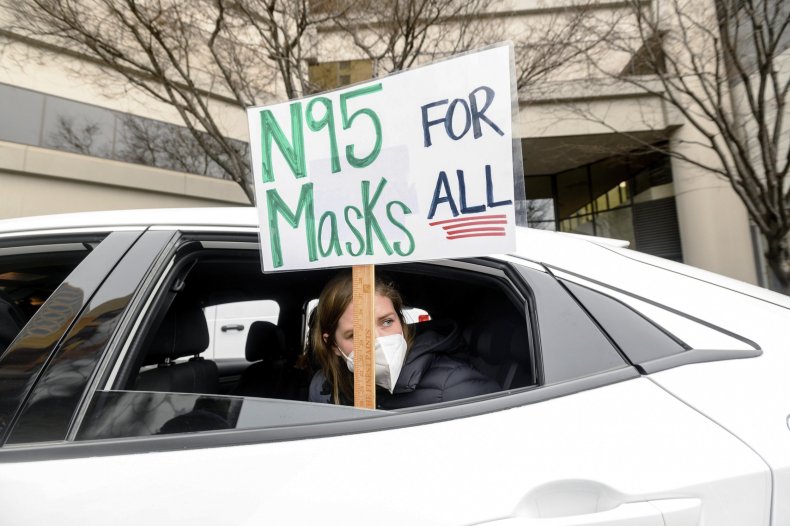 Sasaki said the district has had "supplies for new covered eating spaces at dozens of schools, including new tables and shade structures, on order since, in some cases, last summer."
Supply-line issues had slowed the items' delivery, he explained, but staff have started installing structures at schools where deliveries have been made.
Schools have testing available to students at 10 hubs across the district, Sasaki added. "We are also doing weekly pooled testing at elementary schools and have bi-weekly drop-in testing for our secondary schools," he said.
"We are already meeting, or are in the process of meeting, most of the demands noted in this petition," Sasaki said. "And we will continue to work towards fulfilling the rest in the coming weeks."
"The best thing that all students can do to protect themselves is to get vaccinated and boosted," Sasaki added, pointing out that the district was offering vaccines at pop-up centers at multiple locations this month.
"We thank our students for staying in front of these issues, and bringing their concerns to district leadership. We will continue to follow the guidance from local, state and federal COVID safety guidelines."
The district's current policy does not meet the students' demand for twice-weekly testing, and it was not clear on Thursday morning if the actions taken by the district would be enough to prevent a strike next week. The organizers of the student petition have been contacted for comment.
Some teachers in the district are staging a "sickout" on Thursday to demand similar measures and in solidarity with the students, according to The Mercury News. The action comes less than a week after more than 500 teachers called out sick, forcing the closure of at least 12 of the district's 80 schools.