Oakland Superintendent Said 'No Discipline Warranted' for Student Before Mass Shooting
Oakland Community Schools' superintendent Tim Throne said that there was no discipline warranted for sophomore student Ethan Crumbley's behavior before the mass shooting at Oxford High School.
"There's been a lot of talk about the student that was apprehended -- that he was called up to the office and all that kind of stuff," Throne said in a video posted on YouTube on Thursday. "No discipline was warranted. There are no discipline records at the high school."
Prosecutors in Michigan's Oakland County identified the 15-year-old as the suspected shooter who is now being held in Oakland County Jail and charged as an adult for fatally shooting four students and injuring seven others.
Crumbley is being charged as an adult due to the severity of the charges. He is facing charges of terrorism and first-degree murder, Oakland County prosecutor Karen D. McDonald said on Wednesday.
He could face life in prison under those charges if he was convicted. He pleaded not guilty during his arraignment on Wednesday.
The victims who were fatally shot included Hana St. Juliana, 14, Madisyn Baldwin, 17, Tate Myre, 16, and 17-year-old Justin Shilling. The shooting left some victims in critical condition and others stable. One of the injured victims, a teacher, has been discharged from the hospital
Throne confirmed on Thursday that Crumbley had contact with the school's front office and that his parents met with school officials on Tuesday morning hours before the shooting.
Oakland County Sheriff Michael Bouchard said on Wednesday that the parents were called in over Crumbley's behavior. The student was called in to join the meeting with his parents and school officials.
Bouchard said that Crumbley had met with school personnel the day before for a separate issue that involved "concerning" behavior.
"We have since learned that the schools did have contact with the student the day before and the day of the shooting for behavior in the classroom that they felt was concerning," Bouchard said. "In fact, the parents were brought in the morning of the shooting and had a face-to-face meeting with the school."
Crumbley has been planning to carry out the mass shooting in the school in advance, according to Oakland County Sheriff's Lieutenant Tim Willis.
Willis said that authorities recovered two videos from the teen's phone in which he spoke about "shooting and killing students the next day at Oxford High School."
A journal recovered from Crumbley's backpack also had details about his "desire to shoot up the school" and kill students, according to Willis.
McDonald also echoed Willis' view saying: "There are facts leading up to this shooting that suggests this was not just an impulsive act."
McDonald said on Wednesday that she is considering pressing charges against Crumbley's parents because the semi-automatic handgun that the teen used to fire 15 to 20 shots was originally purchased by his father on November 26.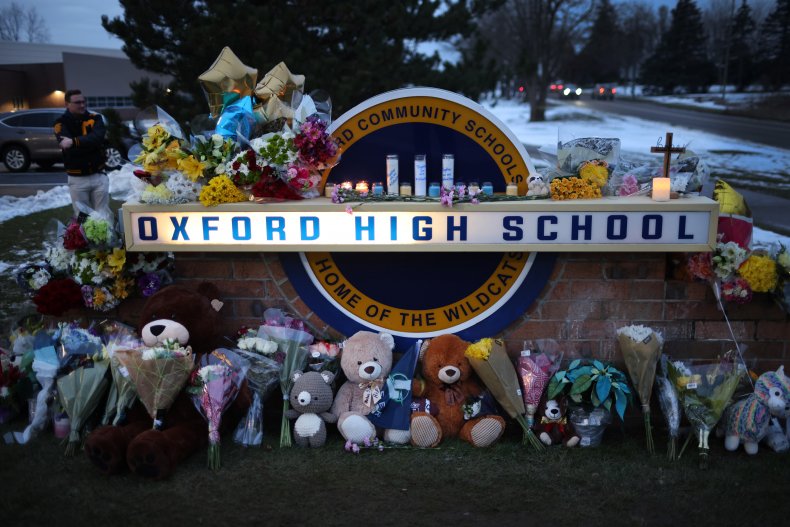 Additionally, when Crumbley was taken into custody on Tuesday, his parents went to the jail where he was held and asked him not to speak with the police.
Classes at Oxford High School were suspended for the rest of the week as a result of the shooting.
"I'm not sure how long but it will probably be weeks before this building is ready," Throne said on Thursday during the video that he said he recorded from the high school's performing center lobby.
Newsweek contacted Oakland Community Schools for further comments.