OAN Claims New York Times Reporter Working on 'Hit Piece' About Them, Broadcasts Contact Info
One America News (OAN), the broadcaster infamous for airing election fraud conspiracy theories and steadfast pro-Trump content, aired a New York Times reporter's contact information during a Thursday segment that claimed she was producing a "hit piece" about the network.
The segment targeted Times journalist Rachel Abrams, who contacted OAN employees to ask about workplace culture and workflow dynamics. Its narrator suggested that Abrams was "harassing current and former OAN employees" by contacting them with questions about their experiences and featured screenshots of text messages that Abrams sent to staff, which included the journalist's cell phone number and email address.
"One America News is yet again coming under attack by the hate-filled liberal left," the narrator said, before naming Abrams and explaining her requests for anecdotal information from past and present OAN employees.
"She is working on a hit piece about our network," the voice continued, "fishing for information with messages like this, asking about the quote, culture, at OAN."
A screenshot displaying one of Abrams' text messages appeared while the narrator spoke. In it, the Times reporter introduces herself to an OAN affiliate, whose name was redacted, and writes, "Hoping to speak with you about your time at OAN - I've been talking with a number of your colleagues about the culture, who it's like to work there, how stories are assigned, etc., and I was hoping to get your perspective as well."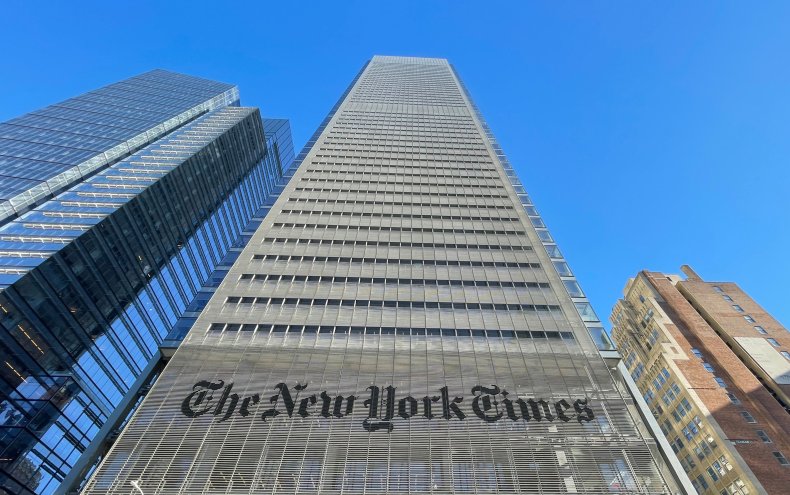 The segment then described Abrams' reporting as an example of "the sad state of mainstream media, where outlets would rather attack a small, family-run company than report on news that matters to Americans." OAN frequently criticizes "mainstream media" organizations and insists its own reporting is uniquely based in truth. A majority of the remaining segment focused on censuring the Times as an employer.
"We encourage the company to address its own issues instead of sourcing disgruntled former OAN employees as a means to lambaste OAN. Our newsroom is filled with people who report the news in a fair and balanced way, led by a family passionate about the truth," the narrator said, as b-roll footage showed a crowd of Donald Trump's supporters at a gathering held to support the former president's reelection campaign. One attendee wore a hat with Trump's "Make America Great Again" campaign slogan printed across it, while others carried pro-Trump banners and America flags.
"We encourage our viewers to stand up to intimidation by the left and feel free to reach out to the Times writer," the narrator concluded, while a magnified image of Abrams' email address and phone number reappeared onscreen.
The Times responded to OAN's broadcast in a statement, which surfaced on Twitter after the segment aired Thursday and was later obtained by Newsweek.
"Journalists should be allowed to do their jobs without harassment. Our reporter will not be intimidated and will continue to follow the facts where they lead," the statement read.
Newsweek reached out to OAN for further comment but did not receive a reply in time for publication.