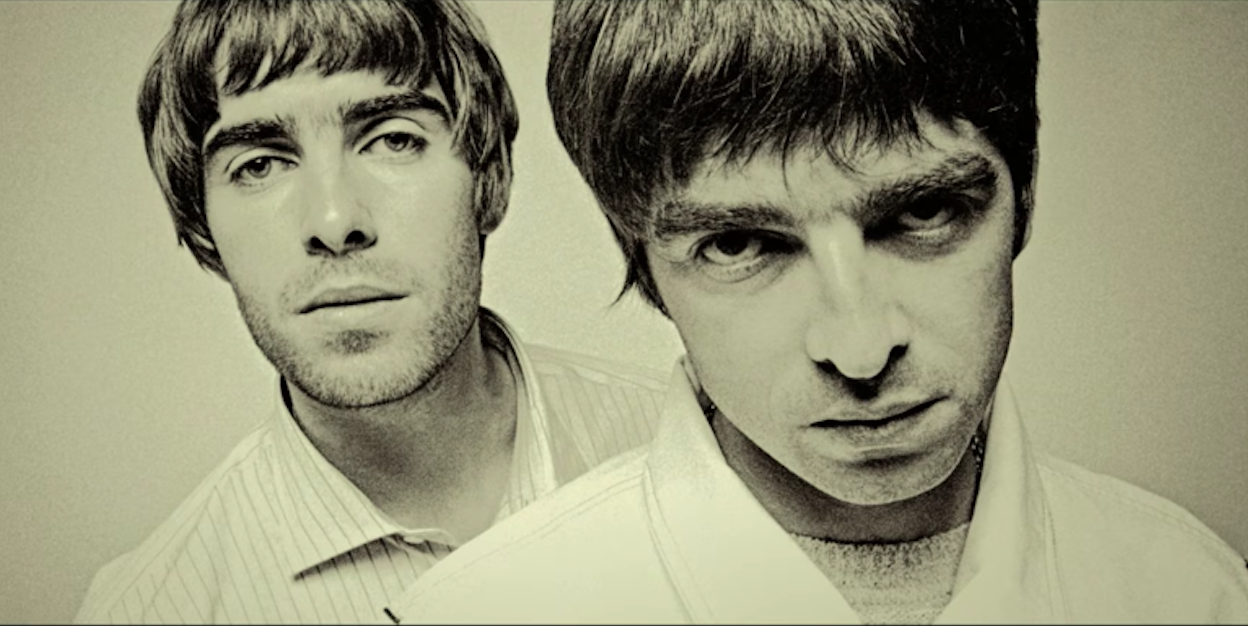 Britpop fans, rejoice. A pretty damn comprehensive-looking documentary about your favorite star-crossed brothers, Oasis, will be in theaters October 2. It's called Supersonic, and it was made by the same people who produced Amy, the award-winning Amy Winehouse documentary from 2015. This means it's probably going to be pretty good.
If your appetite needed any more whetting, the trailer was released Tuesday morning. It features charming images and footage of the Gallaghers before they made it big, as well as tantalizing quotes from Liam and Noel, such as, "The day that it steps over into the tabloids, then you've gone to the dark side," and, "Oasis was like a Ferrari: great to look at, great to drive, but it will fucking spin out of control every now and again." Also, in describing the height of their fame in the '90s: "It was fucking biblical, mate."
Supersonic promises a compelling look at the band's rise and fall, but maybe even more exciting than a deep dive into the band's legacy of drama is the fact that it will undoubtedly result in more drama. It's already started, surrounding rumors that the Gallaghers may reunite. "Neither of them have discounted the idea of getting back together," the director, Mat Whitecross, said at a recent screening of the film. "It will happen, I'm sure. The idea of never seeing them again for me is impossible."
Regardless of a potential reunion, Supersonic should result in something of a press tour for the Gallaghers—who recorded their voice-overs for the film separately—and few provide more entertaining interviews than the brothers from Manchester, especially Noel, whose press record is utterly remarkable. Here are some choice lines he's delivered recently:
On Adele, to GQ U.K.:
"I'm not a fan. She always comes on the radio when I'm having my cornflakes: 'Hello?' No, fuck off!"
On Radiohead, to Esquire U.K.:
"Am I aware of a hierarchy? I'm aware that Radiohead have never had a fucking bad review. I reckon if Thom Yorke fucking shit into a light bulb and started blowing it like an empty beer bottle, it'd probably get 9 out of 10 in fucking Mojo. I'm aware of that."
On Zayn Malik leaving One Direction, to Rolling Stone:
"It's a strange thing for that lad to have done at that age. The greatest quote was—I laughed out loud when I read it—"I just want to be a normal 22-year-old." Pfft. Who wants to be a normal 22-year-old?! Hang on a minute. You can be fucking anything that moves and gettin' paid half a million dollars a week, you fuckin' idiot. You want to be a normal 22-year-old? Have you met any normal 22-year-olds? They're fuckin' shit-for-brains. What are you talking about, you fuckin' idiot? God. All those young Japanese girls suckin' me cock. [Sarcastically] So shallow and meaningless. I'll say this to you, Zayn: You might have wanted to be a normal 22-year-old, but you won't want to be a normal 25-year-old [laughs]."
On his favorite TV show, to Rolling Stone, a few months earlier:
"I still can't get enough of Seinfeld. It's still the best thing that's ever been filmed. It reminds me of the '90s—good times. I was the only person in England who was watching it! That's a fact. Certainly the only person in Manchester who watched it. I identify with Jerry. When I met my wife 15 years ago, she'd never seen it, and I was like, 'If we're going to be together, you've got to be into this shit, because this is important.' Luckily, she fuckin' loves it."
On the presidential election, to the Toronto Star:
"I checked out Donald Trump's best bits on YouTube. It's him and Clinton, innit? Which pretty much means America's fucked. 'Cause they've got enough shit on Clinton, haven't they? Aren't those two in it up to their armpits? Then you've got the comedic genius that is Donald Trump. Is Canada preparing for an influx of refugees?
"I don't really take much notice of American politics. I resent the way you have to know about it. Who gives a shit who the president of America is? And I hate the way they say 'leader of the free world,' just because they've got the most rockets."
Each of these interviews is chock full of pullable quotes, but this post can only be so long. I will suggest going back and reading his extended rant about the worthlessness of fiction to GQ U.K. in 2013. For all of Noel's bomb-throwing, though, it's hard to say anything tops this tweet from Liam earlier this year, which was accompanied by a blunt "Fuck Oasis" message:
Here's to whatever the Gallagher brothers are going to say—or tweet—in the next few months surrounding the release of Supersonic. God bless, mate.