Oath Keeper Joshua James Pleads Guilty to Seditious Conspiracy, to Testify
Joshua James, one of the Oath Keepers accused of helping plan the attack on the U.S. Capitol on January 6, 2021, has pled guilty to two charges filed against him.
James pled guilty on March 2 to one count of seditious conspiracy and one count of obstruction of an official proceeding. He also filed a separate statement of offense in the plea. With this deal, all other charges against him have been dropped.
According to U.S. District Judge Amit Mehta of Washington, D.C., James is now expected to fully cooperate with the Department of Justice (DOJ) during the ongoing investigation into the Oath Keepers' role in the January 6 riot. Furthermore, he is expected to now provide grand jury testimony for affiliated trials.
James will be sentenced at a later date. As part of his plea agreement, his offense level was adjusted from 32 to at least 29, which means the recommended range for sentencing is 87-108 months, along with fines ranging from $30,000 to $300,000. Originally, the two counts he pled guilty to carried a maximum sentence of 20 years in jail each. The plea agreement states: "The parties agree that the most analogous offense to seditious conspiracy is 'Treason.'"
Wednesday, Mehta read several paragraphs from the "Statement of Offense" now included on James' ledger. The judge asked James, 34, if among the reasons he entered the Capitol on January 6 was to prevent the certification of President Joe Biden's 2020 election victory. James answered, "Yes, sir."
Mehta also asked if it was accurate James had agreed to use lethal force if necessary, as allegedly asked of him and others by Oath Keepers founder Stewart Rhodes, against the National Guard or other government actors sent to remove former President Donald Trump from the White House following the election. James again affirmed the statement.
James confirmed that on January 8, 2020, he met with Rhodes at an Alabama restaurant and was instructed to alter his appearance to conceal his identity after showing a video of him assaulting law enforcement officers.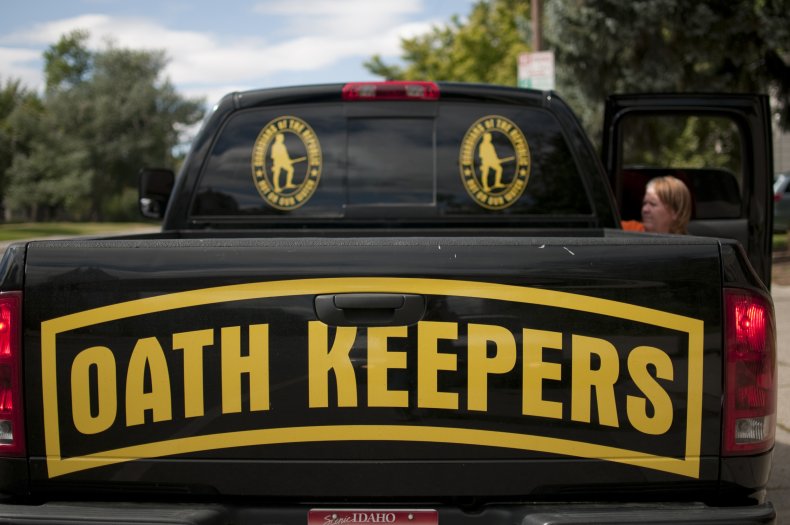 He also confirmed that Rhodes told him to gather multiple firearms, thousands of rounds of ammunition, multiple burner phones, scopes, magazines, night-vision equipment, and other tactical gear and be ready to distribute them per Rhodes' instructions and to be prepared for violence in the event of a civil war.
James is accused of being the leader of a group of Oath Keepers called Stack Two, along with co-defendants Roberto Minuta and Brian Ulrich. They were said to have marched from the west side of the U.S. Capitol to its east side and breached the building's rotunda along with other Oath Keeper associates. According to the case's filing documents, James and Minuta began pushing back against Capitol officers and called the Capitol theirs.
"James violently pulled at and pushed his way past officers," describes the filing from January 2022, "forcing officers to deploy chemical spray in an effort to stop James, Minuta, and others from progressing into the rotunda."
The Stack groups were allegedly planned and deployed by Rhodes, who aimed to protest against Biden's confirmation and is mentioned throughout the 15-page Statement of Offense against James. The original filing says that Rhodes, James and nine other members of the Oath Keepers conspired to breach the U.S. Capitol and had coordinated travel and weapons a month prior to the riots.
Newsweek previously reported that the Oath Keepers paid a hefty sum of money in order to prepare for the events of January 6. A total of $33,000 was allegedly spent by Rhodes leading up to and after the riots. This money was spent primarily on guns, protective equipment and ammunition.
The Oath Keepers are described in the filing as "a large but loosely organized collection of individuals, some of whom are associated with militias." These members are often former or current members of law enforcement or the U.S. military, with some believing that the "federal government has been co-opted by a cabal of elites actively trying to strip American citizens of their rights."
James is an Alabama resident who often went by the moniker "Hydro" in private communications.
Update 03/02/22, 7:29 p.m. ET: This story has been updated to include information on Joshua James' plea deal.