Oath Keeper Pleads Guilty of Seditious Conspiracy in 1/6 Siege on Capitol
The leader of the North Carolina Chapter of Oath Keepers has pleaded guilty to seditious conspiracy in the attempt to halt the transfer of power on January 6, 2021, after President Joe Biden won the 2020 election.
Since the attack on the U.S. Capitol last year, nearly 800 people have been arrested in crimes related to the insurrection. William Todd Wilson, 45, of Newton Grove, North Carolina, who is the third Oath Keeper to plead guilty to seditious conspiracy and obstruction, could face up to 20 years in prison for the conspiracy and up to 20 years for obstruction of an official proceeding, along with financial penalties.
The Oath Keepers is a large but loosely organized coalition of individuals, mostly former military, law enforcement and first-responders personnel who pledge "to defend the Constitution."
Wilson, a military and law enforcement veteran, admitted that he, along with other group members, agreed to participate in a plan to use force to stop the transfer of presidential power. Wilson and others used encrypted and private communications, equipped themselves with a variety of weapons and tactical gear, and were "prepared to answer a call to take up arms," according to the Department of Justice (DOJ).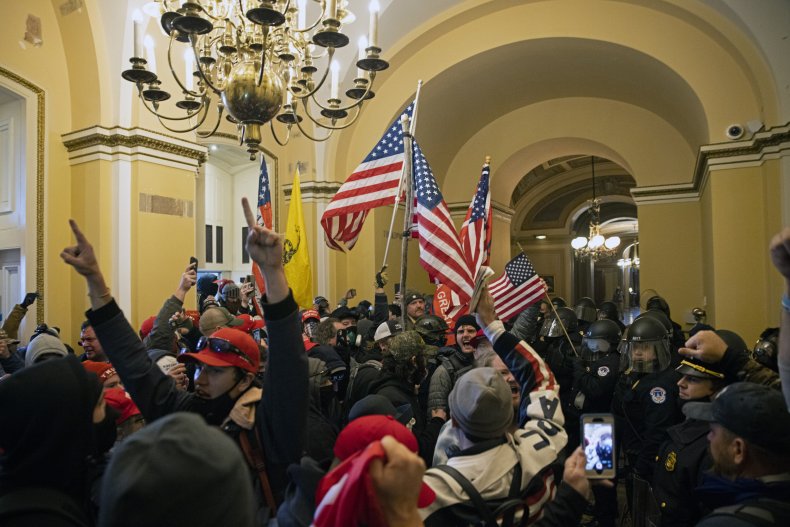 On January 5, Wilson drove to Washington, D.C., with an AR-15 rifle, a 9-millimeter pistol, over 200 rounds of ammunition, body armor, pepper spray and a pocketknife, according to court documents.
The next day, Wilson and others in his group bypassed barricades and Capitol police, making their way into the building. He was the first of the Oath Keeper co-conspirators to breach the Capitol, according to court documents.
Eventually, Wilson's group made it to the Rotunda, forced the doors open and went inside. At the time, Wilson was armed with a pocketknife and wore a neck gaiter and beanie hat to conceal his identity.
He exited the Capitol about 2:55 p.m. and met with other co-conspirators at a restaurant in Virginia. There, a member advised everyone to delete all incriminating materials from their cell phones. Court documents say that when Wilson arrived at his home the next day, he attempted to conceal evidence from his Apple iCloud account. He even threw his cell phone into the Atlantic Ocean to prevent law enforcement from discovering the evidence, the DOJ says.
Wilson does not have a sentencing date yet.
The FBI is continuing to search for individuals who participated in the siege on the Capitol. More than 250 people have been charged with assaulting or impeding law enforcement in the insurrection.
Newsweek reached out to the Department of Justice for comment.