Oath Keepers Want to Arm Ferguson Protesters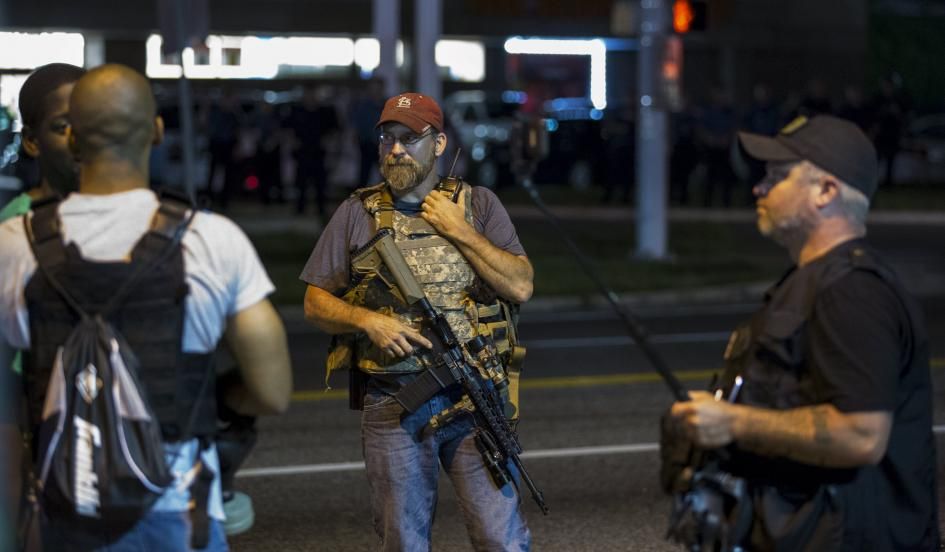 The Oath Keepers, an activist group comprised mostly of current and former soldiers, police and first responders who profess to defend the Constitution, especially the Second Amendment, are encouraging African-Americans in Ferguson, Missouri, to arm themselves to prevent police abuse, St. Louis–area Oath Keeper Sam Andrews tells Newsweek.
The Oath Keepers drew significant media attention last week when several heavily armed members arrived in Ferguson amid violent protests. On the anniversary of Michael Brown's death, 18-year-old Tyrone Harris was shot by police after allegedly firing at them. The Oath Keepers said they were there to protect local businesses and escort some journalists.
Andrews, an engineer who has worked as a Department of Defense contractor, says the Oath Keepers have learned that many African-American protesters and residents are fearful of bearing arms. He says many African-Americans in Ferguson told him they feel that if they carried the same weapons as Oath Keepers, police would kill them.
"I kept telling them, 'No, they won't,' and they kept saying, 'Yes, they will shoot us,'" Andrews says. "Then I realized we had a problem. It wasn't three people—it was everyone that felt that way." Andrews says he usually carries a .308 semiautomatic rifle and a sidearm.
"St. Louis County police have so violated the people's rights that the people in the black communities here believe if they even thought about publicly exercising their God-given right for protection, for carrying a firearm, that they would be shot dead by the police—that's a real issue," he says.
In Andrews's opinion, this fear has contributed to destructive protests.
"They don't know how to react to the abuse, so they throw rocks and bottles and do other silly stuff, but we are flying black Oath Keepers in from around the country to educate the black leaders and the people of Ferguson that not only can you open carry, you should open carry," he says. "The peaceful protesters, the lawful people which make up the vast majority of protesters, should be quietly standing there with rifles, saying: 'We're not going to take this abuse anymore.'"
"It's one thing to say, "I hate you, and I throw a rock at you,'" he continues. "It's another thing to stand there and say, 'Don't screw with me anymore,' and be able to back it up."
Did he think that bringing more weapons into Ferguson would further inflame tensions?
"Well, I would say, if you want to continue to believe those lies, go right ahead—then problems like Ferguson will never be solved," he says. "But if you can educate people to stand up for their rights and secure their own communities, then you don't need this militarized police force in your neighborhood every night."
While the Oath Keepers support protesters' right to bear arms, Andrews denies reports that the group planned on giving guns to them directly.
"The people of Ferguson are going to arm themselves. They're all going to have in their pockets permits to carry," he says. Still, "if I met a guy that I liked, and...he's been vetted and he's a good guy and he needs a gun, I might give him one—not as an Oath Keeper, but as a human being."
The group is working with other activists to organize community meetings focused on gun permit education.
Samuel Sinyangwe, a San Francisco–based activist and data scientist who has worked extensively on the ground in Ferguson, tells Newsweek that he doesn't know of anyone who has been armed by an Oath Keeper.
"I'm skeptical because I haven't seen anything to really suggest that the Oath Keepers have good intentions—that they are being conscious of the conflict that black folks armed in Ferguson will face by the police, that they are taking the necessary precautions to actually protect them, and that actually they have our best interest at heart," says Sinyangwe, who is on the planning team of the activist group We the Protesters. "Being armed and protesting, it's something that, to be honest, the police will likely respond [to] with lethal force. And I think that expectation is totally reasonable given what we've seen."
Asked about the Oath Keepers' idea that guns will allow African-Americans to defend themselves from police abuse, he says: "I think the police will be violent towards us anyway…. I don't think a weapon will save us."
A spokesperson for Ferguson, Missouri, declined to comment. The spokesperson also did not respond to allegations that black gun owners would face mortal dangers that white gun owners would not face.
"St. Louis County Police Chief Jon Belmar has always been on record respecting the constitutionally protected gun rights for all citizens," a spokesperson for the St. Louis County Police Department says. In response to the question whether Oath Keepers and others are allowed to openly carry firearms in Ferguson and the county, the spokesperson directed Newsweek to contact the St. Louis County Counselor's Office for questions on regulations. A spokesman for this office has not responded to Newsweek's requests for comment at press time.
Area Oath Keepers also plan a demonstration with African-American protesters, Andrews says.
"What I can tell you is we are going to march side by side with the black residents of Ferguson, armed. I can promise you that," he says. "The point of the march is to have every black child in America see law-abiding black citizens carrying weapons and not being attacked by the police."