Oath Keepers Founder Stewart Rhodes to Stay in Jail Until Seditious Conspiracy Trial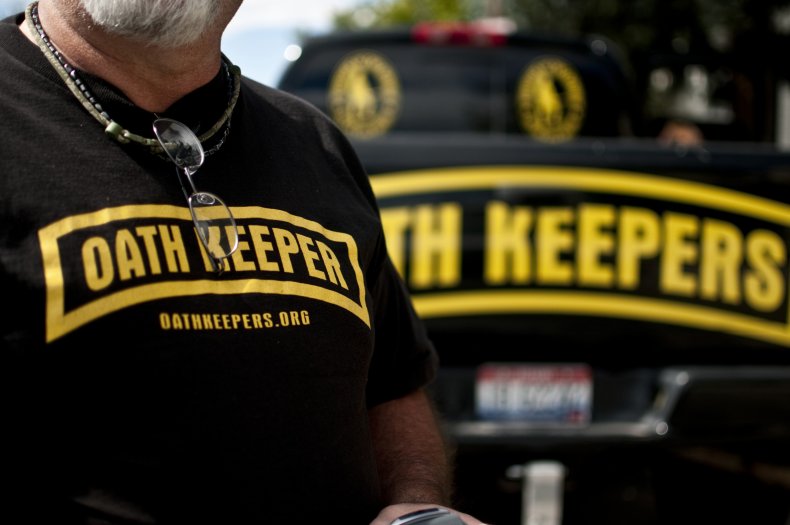 A federal judge in Texas has ordered Oath Keepers founder Stewart Rhodes to remain in jail ahead of his seditious conspiracy trial for activities related to the January 6 attack on the U.S. Capitol.
Federal Magistrate Judge Kimberly C. Priest Johnson denied bail for Rhodes, whose full name is Elmer Stewart Rhodes, in a 17-page order on Tuesday. Johnson wrote that Rhodes should remain locked up over concerns that he may pose a flight risk.
The judge wrote that Rhodes had hidden "unregistered cars in the woods" near his house and had "installed elaborate escape tunnels" in his backyard. She also maintained that releasing Rhodes could put the public in danger.
"The evidence in the record overall indicates [Rhodes'] release could endanger the safety and wellbeing of others," wrote Johnson. "This factor weighs in favor of detention."
The judge cited Rhodes' "authoritative role in the conspiracy," his access to weapons and money and his alleged advocacy for violence against the federal government as reasons that he "might endanger others by fostering the planning and execution of additional violent events."
Attorney Jonathan Moseley, who is representing Rhodes in a civil lawsuit against the Oath Keepers, told Newsweek that his criminal defense attorneys plan to appeal the decision to Judge Amit Mehta of the U.S. District Court for the District of Columbia.
Rhodes was arrested on the seditious conspiracy charge earlier this month alongside 10 other members of the Oath Keepers, the far-right militia group he founded in 2009. He and nine others have pleaded not guilty to the charges. Alleged co-conspirator Edward Vallejo was also denied bail last week.
While some Oath Keepers members have been accused of breaching the Capitol as part of an attempt to keep former President Donald Trump in power despite his 2020 election loss, the Department of Justice (DOJ) has not accused Rhodes of entering the building.
The DOJ has instead accused the militia leader of playing a leading role in orchestrating the plot to stop President Joe Biden from taking office. Prior to a detention hearing that took place on Monday, prosecutors issued a memo that highlighted his alleged central role in the conspiracy while arguing that he remain behind bars.
"Rhodes stood at the center of the seditious conspiracy—orchestrating plans to use force, recruiting and financing co-conspirators, purchasing weaponry and tactical gear, inciting support and action, and endeavoring to conceal his and other co-conspirators' crimes," the memo stated.
"Rhodes showed a contempt for the laws and Constitution of this country that make it impossible to trust that he would comply with any conditions fashioned by this Court for his release," it continued. "Rhodes must be detained pending trial to protect the safety of the community, ensure his return to court, and safeguard the integrity of evidence and the proceedings."
Attorneys for Rhodes argued that their client did not present a flight risk at the detention hearing, pointing out that he was easily recognizable due to his wearing of a black eyepatch and his large frame.
"You've seen what he looks like," said attorney James Lee Bright, according to The Washington Post. "Everyone in America knows what he looks like. In terms of flight risks, there are none."
Rhodes could face 20 years in prison if convicted.