Eating Through Oaxaca City: List of Best Restaurants and Bars to Try in Mexico's Flavorful Culinary Scene
You open your mouth expecting a light and delicate oozing to spill out of the soft, warm, perfectly enclosed corn tortilla, but the exact opposite happens. First, there's a crunch followed by a wave of salty goodness that coats the roof of your mouth. Your tongue is simultaneously zapped with smoky, creamy cheese—all the while, the freshness of the corn tortilla reigns supreme, calming the senses as it leads the electrifying flavors down your esophagus to your stomach. It's a completely retro yet balanced experience. You want to feel it again, and soon.
This, friends, is the first bite of the ever so delectable tetela, an addictively delicious combination of chicharrón and Oaxaca goat cheese encased in an undeniably good corn tortilla. You can find it at Oaxaca, Mexico's famous Itanoní Antojeria y Tortilleria, one of the city's most influential tortillerias, which specialize in corn tortillas, and one of the many restaurants highlighted during the state's 10th annual Oaxaca Flavors Saber del Sabor festival.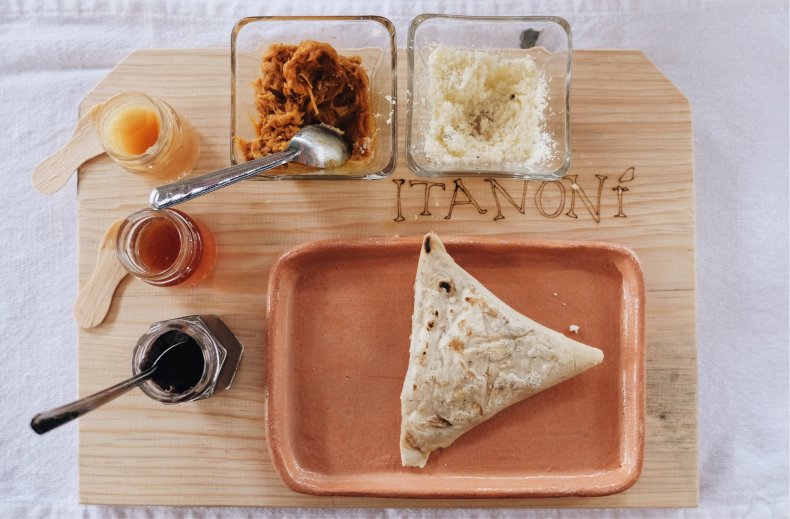 The festival—organized by co-founders Manuel Rivera, president of the Mexican media company Bialy, and renowned chef Alejandro Ruiz—is a weekend-long celebration in late September. During the event, people from all parts of Mexico come together to honor the many talented chefs, food and art of Oaxaca and the surrounding regions.
While the tetela is a staple item on Itanoní's menu, the heirloom corn is the restaurant's shining star. Flavorful organic corn that is stone ground is cooked to create tortillas ranging in vibrant hues of white, amarillo (yellow), rojo (red) and negro (black)—which isn't actually blue, as some tortilla packaging in the U.S. would lead you to believe. The tastes differ, from sweet and fresh to herbal, floral and salty. The corn is used to create simple traditional Mexican dishes like taco quesadillas, memelas with cheese and tamales de rajas. It's even incorporated into beverages like Pozol, a nutritional and refreshing drink of corn and water that exudes thirst-quenching notes of ginger.
The varieties of taste aren't just consistent across the corn used for tortillas at Itanoní—Oaxaca City itself is a mecca of flavor. Dozens of restaurants lining the cobblestone and graffiti-covered streets of the city feature mouthwatering menus with classic and experiential Mexican dishes.
Check out a list of the best restaurants and bars to visit in Oaxaca City, below.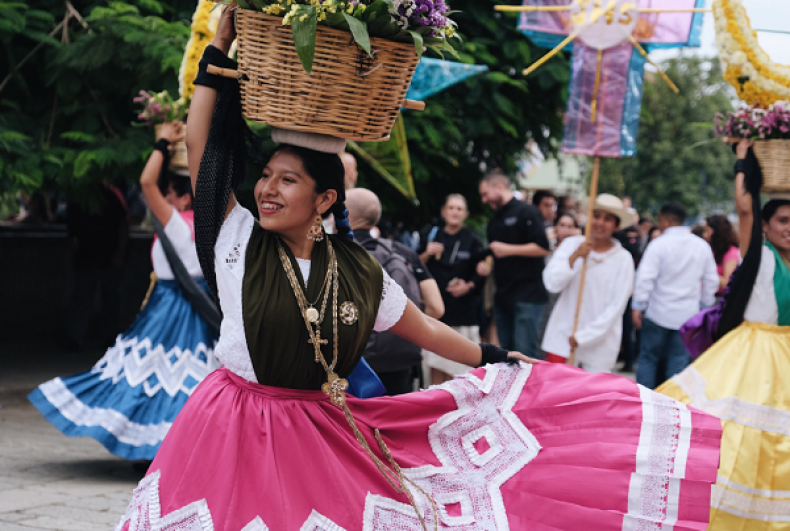 La Teca
The ambiance and food of La Teca can easily be summed up with one word: comfort. The mole, whether it's the cocoa smoky chicken or red and tangy stewed pork, is as fulfilling and soothing as your grandmother's hugs, while the fried plantains—crispy on the outside, melt-in-your-mouth soft on the inside—are as sweet as her kisses. The soulful menu is full of items made out of love.
Origen Oaxaca
Since 2011, chef Rodolfo Castellanos has curated dishes that speak not only to the evolution of Oaxaca but to its history too. Whether smoked, fermented or slow-cooked, many of the unique dishes created at Castellanos' restaurant incorporate ingredients found at local markets and farms throughout the city. The ceviche, the freshly caught pick of the day, is marinated in tusta chili sauce, passion fruit and spiced granita, and it's a standout for seafood lovers. And the toasted veal gizzards, served with grilled sweetbread, black bean paste, avocado and pasilla pepper, are a feast for the eyes and the palates of those who enjoy eating creatures of the land.
Oaxacalifornia
If fresh seafood makes your taste buds sing, treat them to the song of Oaxacalifornia, chef Alejandro Ruiz's love child born from flavors and ingredients of Oaxaca and Ensenada, Baja California. A type of ceviche, Baja-style fish tacos, octopus tacos sprinkled with pressed pork rinds, grilled tuna with chilhuacle chili crust, Zaachila-style barbecue off the carbon grill and fried rice with meats from the land and the sea are standouts. But the way Ruiz uses aspects of the sea, Oaxaca's love of corn and mescal (seriously, the mescal options alone are worth a trip to the restaurant) make just about everything on the menu worth trying.
Selva
It's late at night. Perhaps you just finished dancing off that huge plate of mole you had for dinner, and now you're ready for a nightcap. Selva, one of the finest speakeasies in Oaxaca's city center, is the place to go. It specializes in artisan drinks that put the mix in mixology. Come for the chill tropical vibes and friendly staff, who are as knowledgeable about their craft as they are polished, and stay for the drinks, obviously. The Don Alfredo, made with homemade tepache; Ron Artesanal Paranubes (Oaxaca rum); and Ancho Reyes Rojo (lemon juice and orange bitters) are a must.
Txalaparta
Live music? Check. Dancing? Double check. More mescal in one place than you've probably ever seen? All the checks. Txalaparta is a nightlife staple, and rightfully so. The mescal-heavy cocktail list is extensive and has a range of tastes, from sweet and refreshing to bold and smoky. The bar also serves supersized tortas, among other fulfilling bar foods, which come in a handy after a night of twirling on the dance floor and rounds of mescal.