Obama Administration Appoints New General Counsel for NSA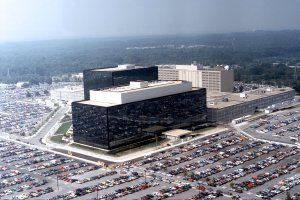 One of the most powerful, but least visible, legal jobs in the federal government is the post of general counsel—chief lawyer—at the National Security Agency. The ultrasecret agency, based in a huge complex at Fort Meade, Md., uses some of the world's most powerful computer systems in a global electronic-eavesdropping network that civil-liberties advocates call the closest thing the U.S. government has to Orwell's Big Brother.
As national-security blogger Spencer Ackerman recently reported, the general counsel's office has been vacant since the retirement of its latest occupant, Vito Potenza, last October. Potenza is described by a former intelligence official as someone who spent most or all of his career in NSA's legal department. As Ackerman mentions, he may be best known from a scene in Barton Gellman's biography of Dick Cheney, Angler, which describes the general counsel as finding himself on the wrong end of a screaming fit from Cheney's lawyer David Addington in 2003, when Potenza and the NSA's inspector general asked to review legal documentation behind the Bush administration's secret warrantless eavesdropping program.
Declassified has learned that the Obama administration has now asked a career Justice Department lawyer, Matthew Olsen, to become NSA's new general counsel, and that he has accepted the post. An official familiar with the appointment, requesting anonymity when discussing sensitive information, says Olsen won't actually move into the position until security checks are completed, a process that could take a few weeks.
Two intelligence officials, one current and one former, say no problems are expected to turn up, since Olson has handled some of the government's most sensitive intelligence and law-enforcement matters during his nearly 20 years at Justice. For much of that time he worked at the U.S. Attorney's Office in Washington, starting as a prosecutor in the 1990s and rising to head the office's national-security section, in which capacity he prosecuted major terrorism and spy cases. In 2006 he moved to Justice Department headquarters as deputy assistant attorney general for national security. One of his responsibilities there was to oversee implementation of new legal procedures and rules that were introduced after the Bush administration's electronic-surveillance program was publicly exposed. Among his other duties, Olsen represented federal investigators in hearings of the secret Foreign Intelligence Surveillance Court, which reviews government agencies' requests for authorization to conduct electronic monitoring of American citizens.
Last year he headed an interagency task force set up by the Obama administration to review the cases of 240 suspects held at Guantánamo and determine which could be safely released and which were too dangerous. (The review was ordered as a step toward keeping Obama's promise to close the terrorist detention facility—a goal that today seems more distant than ever.) Although six separate government agencies took part in the review, Olsen managed to get a unanimous decision from the participants on how to resolve each detainee's case.
Assuming he passes his security vetting, Olsen can move straight into his new office at NSA headquarters; his appointment does not require Senate confirmation.