Obama Administration Used Tear Gas, Pepper Spray at Border Dozens of Times, CBP Data Shows
As the Trump administration continues to face widespread backlash over its use of tear gas against Central American asylum seekers at the southern border on Sunday, data from the U.S. Customs and Border Protection agency has shone a light on just how common the use of tear gas and pepper spray at the border really is.
In a statement sent to Newsweek on Tuesday, the CBP said its personnel have been using tear gas, or 2-chlorobenzylidene malononitrile (CS), since 2010, deploying the substance a total of 126 times since fiscal year 2012.
Under President Donald Trump, CBP's use of the substance has hit a seven-year record high, with the agency deploying the substance a total of 29 times in fiscal year 2018, which ended on September 30, 2018, according to the agency's data.
Related: What is tear gas? Side effects of "chemical warfare agent" used on migrants at border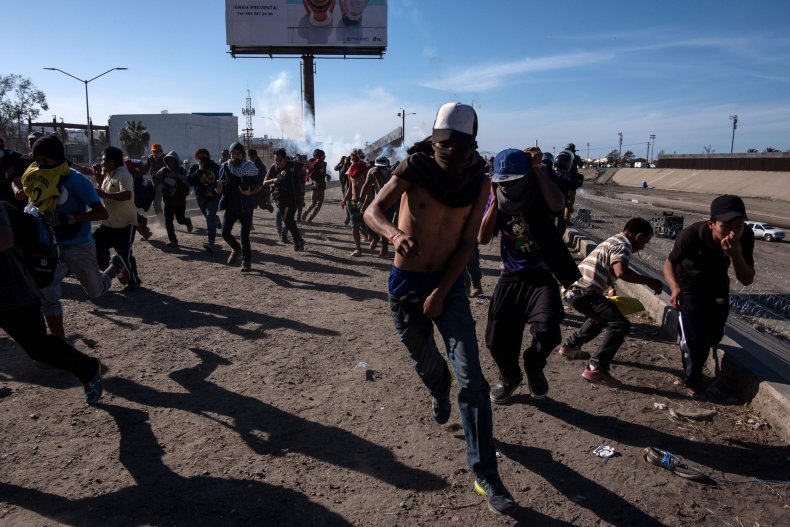 However, the data also showed that the substance was deployed nearly the same number of times in fiscal years 2012 and 2013 under former President Barack Obama, with CBP using the substance 26 times in fiscal year 2012 and 27 times in fiscal year 2013.
CBP's use of tear gas appeared to decline in the following years, with 15 uses in fiscal year 2014, eight in fiscal year 2015 and even fewer in fiscal year 2016, with three recorded instances.
As Trump took office, the numbers began to rise again in fiscal year 2017, climbing to 18 deployments of tear gas, before reaching fiscal year 2018's record high of 29 uses.
CBP also noted in its statement that in addition to using tear gas, the agency also "regularly uses" Pava Capsaicin, or pepper spray.
In terms of pepper spray use, deployments appeared to soar under the Obama administration, with CBP personnel using the substance 95 times in fiscal year 2012, a number that climbed to 151 in 2013, before dropping to 109 in fiscal year 2014.
Instances of pepper spray use appeared to drop significantly in fiscal year 2015, declining to 30 instances of use, before rising to 49 instances in fiscal year 2016 and 56 in fiscal year 2017, which would have seen some overlap between Obama and Trump's presidencies.
In fiscal year 2018, CBP said there were 43 recorded instances of pepper spray use under Trump.
CBP has not immediately responded to a request for records outlining why tear gas and pepper spray were used in instances recorded since fiscal year 2012.
In a statement emailed to Newsweek, CBP spokeswoman Stephanie Malin said that more than 1,000 individuals who were part of the "so-called caravan" "attempted to cross illegally into the U.S. by breaching section of the fence and using vehicle lanes in and near the San Ysidro Port of Entry" on Sunday.
"The group ignored law enforcement agencies in Mexico and assaulted U.S. Federal Officers and Agents assigned to respond to the situation in San Diego," Malin said.
The CBP spokesperson said that "in response to the assaults and to defuse this dangerous situation, trained CBP personnel employed less-lethal devices to stop the actions of assaultive individuals attempting to break into the U.S."
Malin said that CBP had been "preparing for weeks" for situations like the one that unfolded at the border on Sunday.
"We have seen the use of violence by members of this so-called caravan who have attacked law enforcement personnel in Guatemala, Mexico and now the U.S.," the CBP spokesperson said.
She said that the agency "takes Sunday's employment of use-of-force very seriously," adding that the agency "reviews and evaluates all uses of force incidents to ensure compliance with policy."
While CBP has said that some asylum seekers threw projectiles at Border Patrol agents, striking some personnel, the faction that rushed the border on Sunday represented a small group of the thousands of asylum seekers currently waiting in Mexican border town Tijuana to make their asylum claims at the U.S. border.
In a statement released by the Mexican government on Monday, Mexico's interior ministry reported through the National Institute of Migration that 98 people were slated to be deported to their home countries in connection with "violent" behavior at the U.S.-Mexico border.
Meanwhile, thousands of others face weeks, if not months of waiting in Tijuana to make their asylum claims in the U.S., with the San Ysidro Port of Entry only seeing around 100 claims or fewer processed each day.