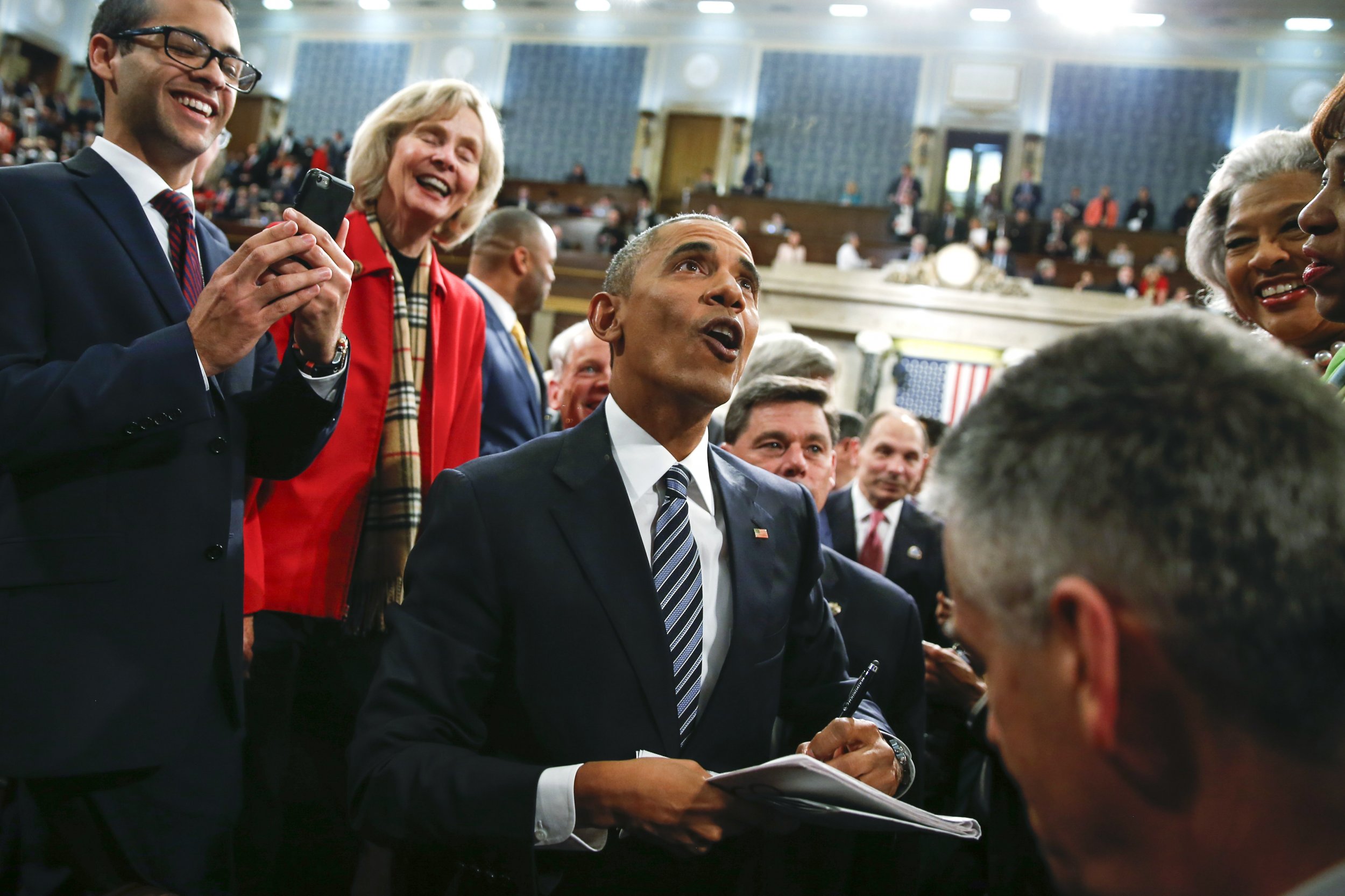 President Barack Obama's final State of the Union address to Congress Tuesday night kicked off his farewell tour as commander in chief. But his White House chief of staff said Wednesday morning that the administration still has plenty in store as the clock ticks down on Obama's eight years at 1600 Pennsylvania Avenue.
"The president said to us the other day...'What I'm going to demand of you is that everything we do is infused with the sense of possibility,'" his chief of staff, Dennis McDonough, told reporters at a breakfast in Washington. "And two, he said, 'I'm going to be asking myself, Why not?'"
The biggest headline out of Tuesday's speech was the president's appeal for a return to civility in American democracy, and his expression of regret that, under his watch, the nation's political dialogue has grown ever more hostile.
But, as Obama said in his address, "this can't be the work of just the president or anybody else," McDonough reiterated. "He really put the call out to American citizens to engage, and I think you'll see him engaging with American citizens directly…in small groups and living rooms and towns across the country. And those are going to be in red and blue states."
McDonough suggested the president planned to roll out new initiatives on this front but declined to elaborate.
He also expressed optimism that Republicans and Democrats will be able to come together to support an overhaul of the country's criminal justice system, an issue that's gained prominence since Michael Brown's fatal shooting in Ferguson, Missouri, in the summer 2014. And he said that drug addiction will be part of that discussion as well.
"The president very early in the speech talked about his hope that we can work together on the opioid and heroin addiction epidemics in this country. I think that can and should feed the criminal justice reform effort," McDonough told reporters.
Another bipartisan priority (and unexpected agenda item in the president's speech): fighting malaria. "The president's been doing a lot of reading on this," McDonough explained. "He came back over the summer having read some on malaria. And he said, 'Do you know how close we are to really breaking through on malaria and beating malaria?' And I confessed that I didn't."
Administration officials dug into the matter this past fall. And the White House believes it can build on the advancements made under predecessor George W. Bush. "I think they got us up the impact curve on HIV and on malaria and on TB in such a way that if we maybe give it a little extra push here, maybe we can close this out. And so we're going to push on this," McDonough said.
But don't expect Obama's 2016 agenda to be all bonhomie and bipartisanship. He also plans to move ahead with actions sure to divide Washington and the public. McDonough said the White House will continue to "pursue policies that maintain the United States's leadership role on refugees, generally, and in Syria, and, by the way, Central America in particular."
"It's our intention to continue to grow that top-line quota [for admitting refugees], and we believe that the budget agreement gives us the resources to continue to grow it," he said.
Asked if the president is stepping back from the contentious unilateral policy actions of recent years, McDonough responded with a smile. "We'll do audacious executive action throughout the course of the year, I'm confident of that."
But he added, "We do want to make sure that the executive actions that we undertake are not left hanging out there subject to Congress undoing them, and so we're very mindful of time frames by which we have to meet our targets."
Time is something the White House is very conscious of as the Obama presidency enters its final days. Discussing the prospects for criminal justice reform, McDonough acknowledged, "How much time do we got? We don't have much."