Former Obama Aide Working for Howard Schultz Defends Ex-Starbucks CEO Running for President: 'Elections Are Not Decided on Twitter'
Folks on Twitter largely are not happy with former Starbucks CEO Howard Schultz, who announced over the weekend that he was considering running for president as a centrist independent. But a former aide to President Barack Obama—now working for Schultz—wasn't worried about that.
"The good news is that presidential elections are not decided on Twitter," Bill Burton, who worked on Obama's campaign and in the White House, told Axios.
Burton added that, Schultz' ultimate "decision on whether or not to run won't be decided" on Twitter, either.
Schultz's potential bid has not been well received by many on the left, especially, over worries that his independent run would pull votes from a Democratic candidate and deliver the election to President Donald Trump.
"Don't help elect Trump, you egotistical, billionaire a**hole," a heckler yelled at Schultz at a book event in New York City, for instance.
And nearly every post on Twitter made by Schultz is accompanied by replies urging him not to run along with, well, more direct comments. An op-ed in The New York Times called his potential bid "reckless idiocy" while adding "by flirting with such a risk [re-electing Trump], Schultz is demonstrating a level of megalomaniacal recklessness that is itself disqualifying."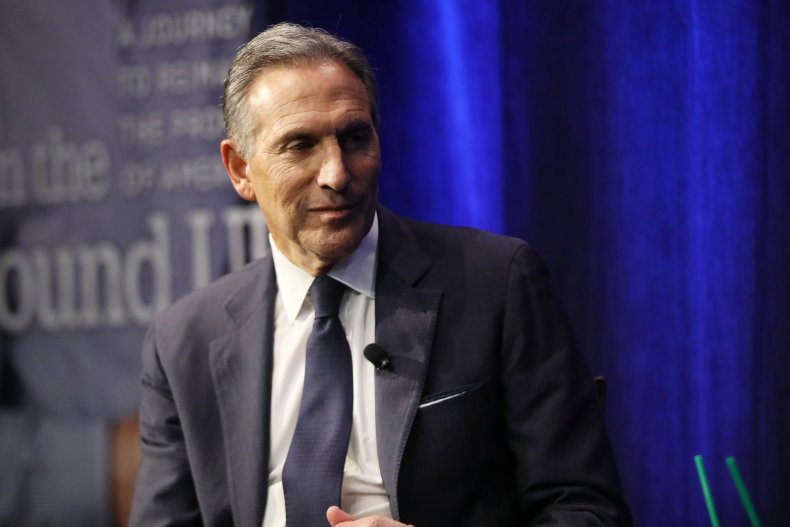 Schultz's adviser was undeterred by political observers who felt his client had no shot.
"The level of certainty by the pundits about how this'll play out reminds me of the certainty that President Obama couldn't win or President Trump couldn't win," Burton said to Axios.
Thus far, Schultz has made a number of media appearances, throwing light barbs at the president and criticizing Democratic ideas that would increase taxes on the wealthiest Americans, such as himself. But he has mostly lamented the American two-party system.
"I think it's clear that the country that we are living in needs significant change, not only change because of this president, but change because of the toxicity and the lack of compromise of both parties," Schultz said on ABC's The View.