'We Met Working for Obama. Life Was Perfect—Until a Devastating Diagnosis'
When you meet someone and fall in love, you imagine that you'll live out your love story together, without an audience—just you, your family and your friends. It never crosses your mind that a diagnosis, and how your family responds to it, will lead to perfect strangers asking about your story. I never expected that would happen to me, but it did.
Our story started in New Hampshire in 2008, where we both worked as campaign staffers during the election of Barack Obama as President of the United States. We were living and working surrounded by other campaign staffers in a single building serving as both our home and our office, that we affectionately dubbed the "hoffice".
Brian Wallach, the man who would later become my husband, had matinée idol looks. He was actually annoyingly good looking, and I was convinced that there was no way that someone who looked like that could also be cool, interesting, or fun. But I was wrong.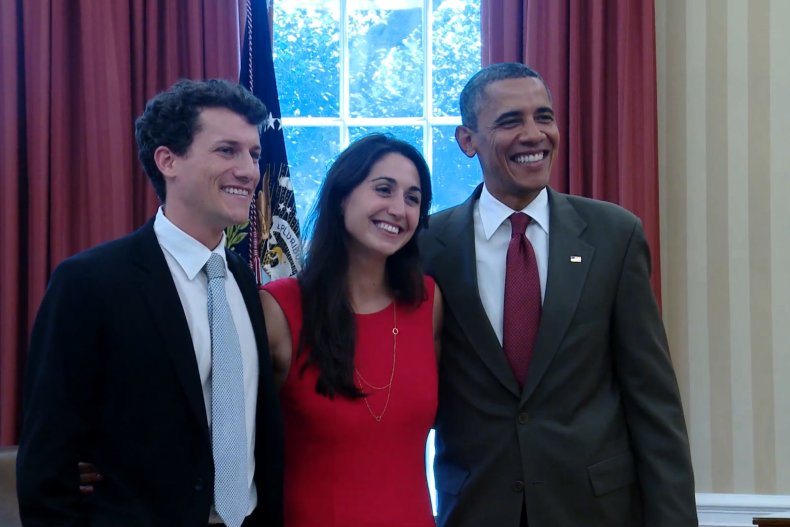 Not only was he all those things, but he was also really smart and stubborn, two things I admired. To be clear, I had no interest in being interested in this guy. I was here to win an election. But I was smitten with Brian Wallach.
One day, we were sitting across from each other at the kitchen table and instead of talking to him, I instant messaged him. "Look," I typed: "The person you're dating now is definitely attractive. Very attractive. But the deal is, I'm funny. Very funny. I think you should probably go on a date with me. Maybe a movie or something."
He thought it was a joke. But soon I made it clear I was pretty darn serious and we started "secretly" dating on the campaign. Later everyone told us it was the worst-kept secret in New Hampshire.
By 2012 we were both working in the Obama White House—Brian in the White House Counsel's office and me as White House Associate Communications Director. We loved our work, we loved the people around us, and we loved each other. And the scenery wasn't bad, either. Not every couple gets to announce their engagement in the West Wing. The immediate reaction from everyone? "FINALLY!"
We had some amazing adventures after getting married, but in the blink of an eye we were living in my hometown of Chicago, filling up a little bungalow in Andersonville with a mutt and a toddler, and lots of love and laughs.
Then everything changed.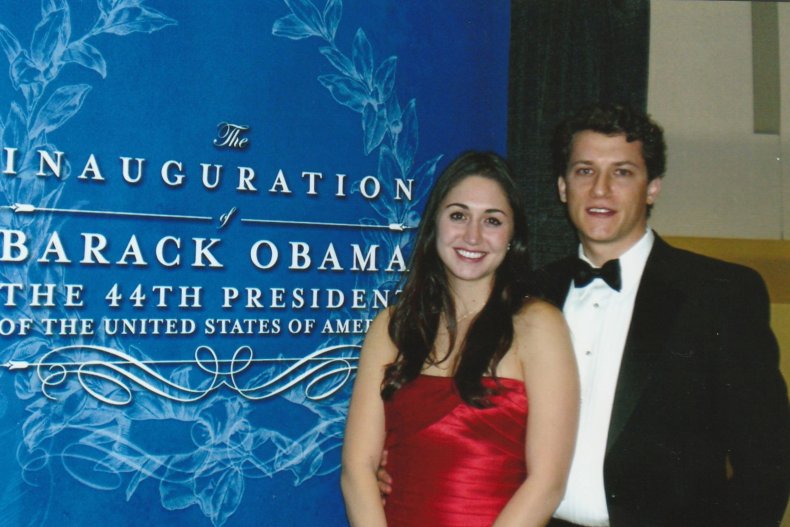 August 9, 2017, was the day we brought our second daughter home from the hospital. Like every parent of a newborn, we were just happy that she was healthy. It was also the day Brian went in for what I thought was a routine checkup.
Anxious for him to get home, I called to see why he was running late. When he answered he was unusually quiet. I asked him if everything was ok, and for the first time in nine years he didn't automatically say yes.
"Let's talk when I get home."
As soon as he pulled up in front of our house, I ran to the car and jumped in. Brian was on the phone with his friend Nick, a doctor. I had been pacing our living room for what seemed like an eternity. I was in the dark, and I hated it. I yelled that we would call Nick back. We sat in the car and Brian told me that the doctor was 99 percent sure he had a type of motor neuron disease called ALS.
My mind raced. I remembered the ice bucket challenge that went viral on social media a few years prior. I assumed that had helped make progress. "It's not that bad, right?" I said to Brian. I'll never forget his reply.
"It's 100% terminal," he said. "I may have six months left to live."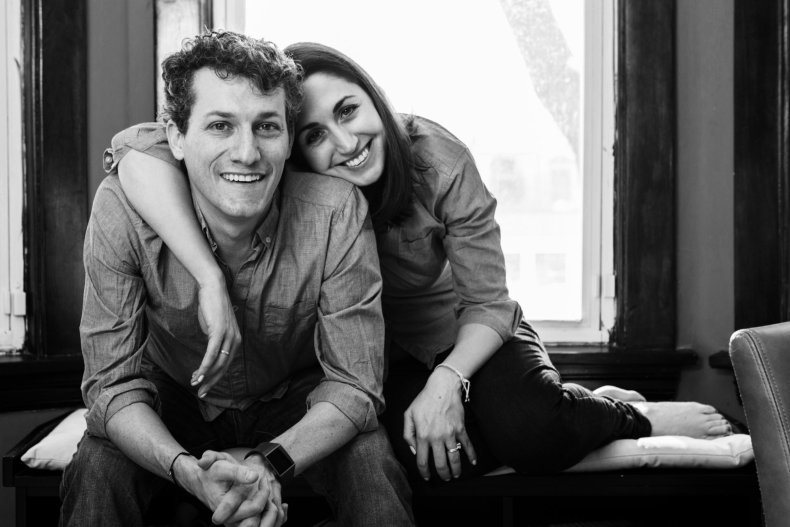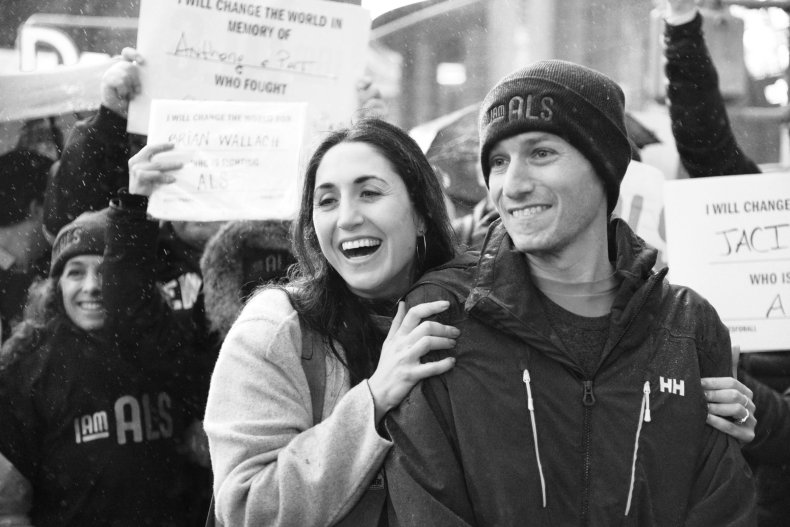 People always ask what we did when we found out. They always expect something dramatic. Brian, it turns out, wanted to go to the Verizon store.
"Why?" I asked.
"Because I want to add more video capacity to my phone so that the girls have videos of me," Brian told me, sitting in the car. "And remember me."
So, we took our babies, put them in a double stroller, and spent the next two hours at the Verizon store down the block.
We spent the next six months flying around the country, chasing a different diagnosis. We saw every top ALS doctor. By November it was confirmed. That confirmation, that elimination of any other possible explanation, consumed me. It was impossible to enjoy anything. Terror interrupted every moment.
Brian's response was different. He seemed detached from it. He worked late nights on his cases, hanging on to that purpose. I became consumed by fear, he chose to be consumed by work. Together, we were consumed by keeping it a secret. We were the fun couple. Young and successful and full of life. We didn't want to be the sad, dying people.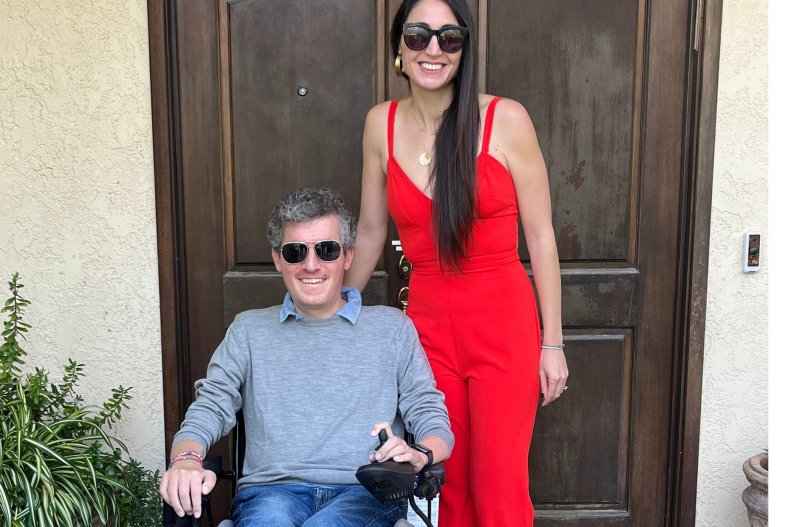 By spring something started to shift. Signs pointed to Brian being a slower-progressing patient. We realized that he might have more time. If he had more than six months, he decided he might have a chance to fight whatever was broken about ALS. He decided to throw himself, and me, into that work.
We started with who we were and what we knew. We were political kids. Even before I met Brian, I had worked on campaigns and in congress. We might not know science or medicine, but we knew politics and government. Federal funding for ALS had flatlined for the last 10 years because there wasn't effective advocacy. We saw an opportunity.
We decided to mobilize a community. To share our story. To organize. To become advocates. And we started an organization called I AM ALS, which aims to empower and mobilize ALS patients by engaging with policy-makers, to do so. We couldn't have planned any of it, but looking back it feels like a movie. And now it is.
The film No Ordinary Campaign chronicles what happened next. How a couple of ordinary people, put in an extraordinary set of circumstances, chose to be relentless to end this terminal illness. How our newfound community came together to increase federal funding for ALS by $600 million and help pass laws that were designed to help people living with ALS now gain access to promising new treatments and receive disability right away. How we took what we had, what we knew how to do, and used it to fight.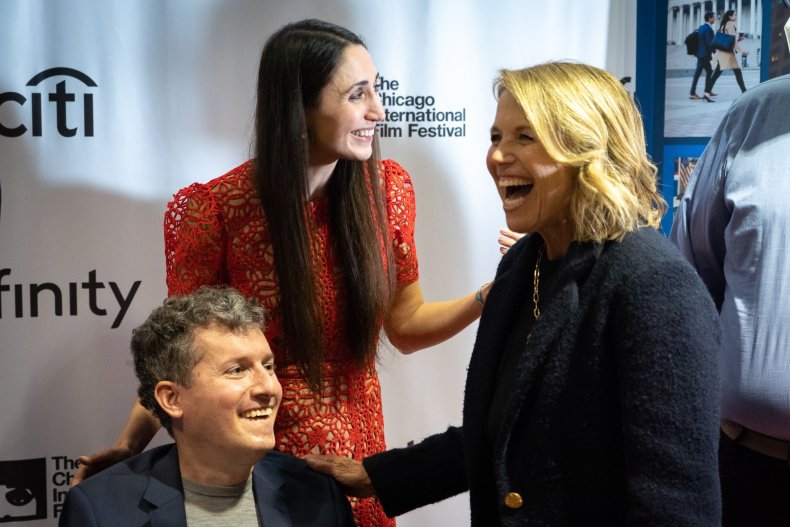 We also helped get an approval for the third drug ever to slow the progression of ALS. Right now, we're working on approvals for two more treatments: One called Tofersen which is able to slow progression in a particularly aggressive version of ALS, and a second called NurOwn which uses stem cells to slow ALS.
At the center of these approvals is our request that the FDA treat ALS like cancer by allowing real-world evidence to support an approval and to treat ALS therapies with the same urgency and flexibility as they do for other fatal diseases.
We believe the path to turning ALS from fatal to chronic requires that we speed up drug approvals for rare diseases with critical unmet needs. If we can do it for cancer and COVID, we believe we can do it for ALS.
Anyone who works in politics will tell you that the right story can change people's minds and move people to action. You just never think it will be your story.
We were behind-the-scenes people, and now we are out front, asking for help, answering people's questions.
Strangers will ask: "With so little time, why are you doing all this?" The answer is the simplest part of our story. We want to live. That's all we want. That's all any ALS family wants. I hope the FDA gives us our chance.
Sandra Abrevaya is married to Brian Wallach. She is the CEO and co-founder of Synapticure, a national telehealth company serving ALS, PLS and Parkinson's patients and co-Founder of I AM ALS. She is the executive producer of No Ordinary Campaign . You can find follow Sandra on social media at @noc_film, @iamalsorg or @sabrevaya.
All views expressed in this article are the author's own.
Do you have a unique experience or personal story to share? Email the My Turn team at myturn@newsweek.com