Obama Announces Deployment of Military Advisers to Iraq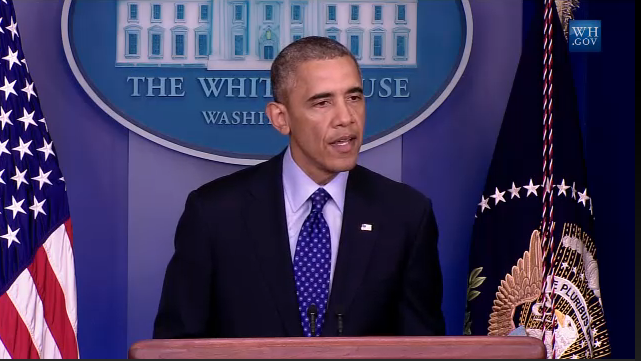 President Barack Obama announced at a press briefing Thursday that he will deploy up to 300 American military advisers to Iraq, as instability in the country mounts.
Obama also said the U.S. has no immediate plans for airstrikes on Iraq, but has positioned military assets to execute targeted strikes if necessary.
"Because of our increased intelligence resources, we're developing more information about the potential targets associated with [the Islamic State of Iraq and the Levant]," Obama said, "and going forward, we will be prepared to take targeted and precise military action if and when we determine that the situation on the ground requires it."
Obama added, "There is no military solution to the situation in Iraq, certainly not one led by the United States. The United States won't support one sect in Iraq at the expense of another."
He emphasized that "American forces will not be returning to combat in Iraq."
Reuters reported that the U.S. is flying F-18 attack aircraft over Iraq to conduct surveillance of the insurgents.
Obama also said that Secretary of State John Kerry will travel to the Middle East this weekend for diplomatic meetings concerning Iraq.
Iraqi Prime Minister Nouri al-Maliki, who is Shiite, has asked the U.S. to launch airstrikes against the Islamic State of Iraq and the Levant (ISIL), a Sunni militant group that has seized Mosul, Tikrit and other cities. ISIL battled for control of the country's biggest oil refinery, located near Tikrit, on Thursday, and is reported to be occupying what was once Saddam Hussein's chemical weapons facility. Meanwhile, the Iraqi military is rapidly melting away: Close to 50,000 Iraqi troops capitulated last week, refusing to fight and withdrawing from military service.
U.S. senators have called for al-Maliki's resignation, but a spokesman for his administration said Wednesday that al-Maliki has no intention of stepping down. Vice President Joe Biden spoke with al-Maliki by telephone Wednesday to urge him to work harder to include Iraq's minority communities in government activities. The Associated Press reports that the Obama administration is weighing whether to urge al-Maliki to step down to avoid a full-scale civil war.
The last American troops left Iraq in late 2011 after more than eight years of war.