Obama Assails Republican Push to Restrict Voting as He Stumps for McAuliffe in Virginia
Former President Barack Obama delivered a scathing rebuke of Republican efforts to restrict voting and the politics of former President Donald Trump on Saturday, as he stumped for Democratic gubernatorial candidate Terry McAuliffe in Virginia.
"All across the country, Democrats are trying to make it easier to vote, not make it harder to vote, and push back on Republicans who are trying to systematically prevent ordinary citizens from making their voices heard," Obama told a crowd of roughly 2,000 people gathered outside in Richmond.
"You have to ask yourself, why is it Republicans don't want you to vote?"
With less than two weeks until the November 2 election, Obama framed the race as one between McAuliffe, who he said would stand up for democracy, and Republican candidate Glenn Youngkin, who has been "encouraging the lies and conspiracy theories" surrounding the last presidential election.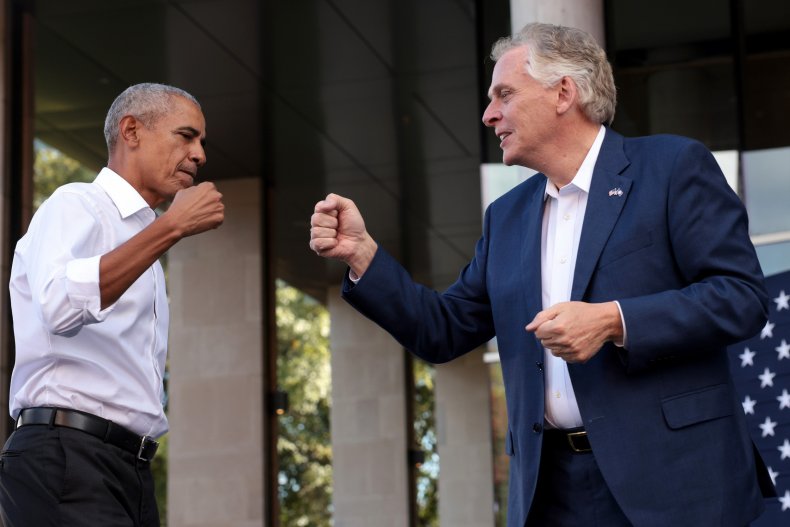 After receiving Trump's endorsement in July, the Republican candidate has sidestepped direct comparisons to the former president, avoided his most aggressive rhetoric, and steered clear of campaigning with him in a state that Democrats won in 2016 and 2020.
In the early stages of his campaign, Youngkin focused on Trump's voter fraud claims, refusing for weeks to acknowledge President Joe Biden's victory in November.
"We're at a turning point right now, both here in America and around the world," Obama said. "Because there's a mood out there. There's a politics of meanness and division and conflict, of tribalism and cynicism. That's one path. But the good news is there's another path where we pull together and we solve big problems."
He added that McAuliffe, who served as Virginia's governor from 2014 to 2018, would "show the country and the world that we're not going to indulge in our worst instincts."
In a statement to Newsweek, Youngkin spokesperson Christian Martinez called Obama's remarks "false statements," and accused media outlets of "indulging Terry's fantasies and lies because he can't run on his failed record and radical vision for the future."
Recent polling shows Youngkin and McAuliffe deadlocked, with the Republican candidate gaining in the final weeks of the race. In the latest Monmouth University survey, both were tied with 46 percent support among registered voters—a dip for McAuliffe, who held a five-point lead just one month earlier.
Virginia's race has been spotlighted on the national stage as a possible early test of voter sentiment and Black turnout ahead of the 2022 midterm elections.
A slew of high-profile Democrats have visited the state to campaign for McAuliffe in the closely watched race, including Atlanta Mayor Keisha Lance Bottoms, Vice President Kamala Harris, and former Georgia gubernatorial candidate Stacey Abrams.
Biden is scheduled to campaign with the former governor in Arlington Tuesday, one week before Election Day.
This story was updated to include a statement from a spokesperson for Youngkin.