The Most Interesting Parts of The Atlantic's Cover Story About Obama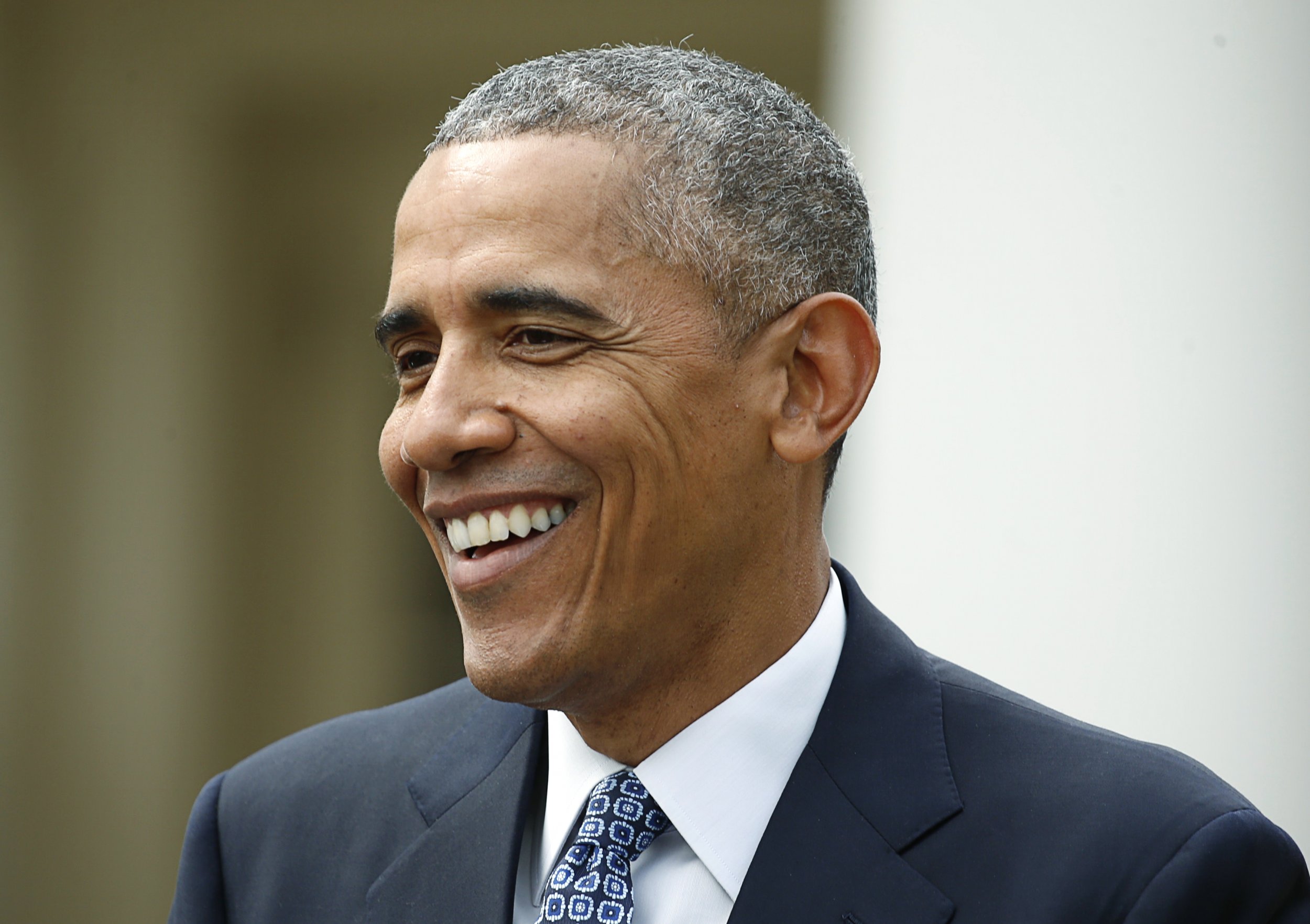 On Thursday morning, The Atlantic published an informative and hefty story by Jeffrey Goldberg titled "The Obama Doctrine." Coming in at 20,000 words and based on an exclusive lengthy interview with the president, the story describes Barack Obama's views on the Middle East, the application of American power, other world leaders and more. It is worth a read. But, if you don't have time, here are the best bits.
On Hillary Clinton:
Obama became "rip-shit angry" with Clinton in 2014 after she criticized him for saying that the "first task of an American president in the post-Bush international arena was 'Don't do stupid shit.'" Goldberg writes:
Obama's reticence frustrated [United Nations Ambassador Samantha] Power and others on his national-security team who had a preference for action. Hillary Clinton, when she was Obama's secretary of state, argued for an early and assertive response to Assad's violence. In 2014, after she left office, Clinton told me that "the failure to help build up a credible fighting force of the people who were the originators of the protests against Assad…left a big vacuum, which the jihadists have now filled." When The Atlantic published this statement, and also published Clinton's assessment that "great nations need organizing principles, and 'Don't do stupid stuff' is not an organizing principle," Obama became "rip-shit angry," according to one of his senior advisers. The president did not understand how "Don't do stupid shit" could be considered a controversial slogan. [Deputy National Security Advisor] Ben Rhodes recalls that "the questions we were asking in the White House were 'Who exactly is in the stupid-shit caucus? Who is pro–stupid shit?'" The Iraq invasion, Obama believed, should have taught Democratic interventionists like Clinton, who had voted for its authorization, the dangers of doing stupid shit. (Clinton quickly apologized to Obama for her comments, and a Clinton spokesman announced that the two would "hug it out" on Martha's Vineyard when they crossed paths there later.)
Clinton didn't like Obama's decision in 2013 to reverse course on hitting Syria with cruise missiles.
For some foreign-policy experts, even within his own administration, Obama's about-face on enforcing the red line was a dispiriting moment in which he displayed irresolution and naïveté, and did lasting damage to America's standing in the world. "Once the commander in chief draws that red line," Leon Panetta, who served as CIA director and then as secretary of defense in Obama's first term, told me recently, "then I think the credibility of the commander in chief and this nation is at stake if he doesn't enforce it." Right after Obama's reversal, Hillary Clinton said privately, "If you say you're going to strike, you have to strike. There's no choice."
Obama and Clinton disagreed at first over whether to intervene in Libya. Obama wanted to stay out. Clinton favored going in (and Vice President Joe Biden said she "just wants to be Golda Meir").
But what sealed Obama's fatalistic view was the failure of his administration's intervention in Libya, in 2011. That intervention was meant to prevent the country's then-dictator, Muammar Qaddafi, from slaughtering the people of Benghazi, as he was threatening to do. Obama did not want to join the fight; he was counseled by Joe Biden and his first-term secretary of defense Robert Gates, among others, to steer clear. But a strong faction within the national-security team—Secretary of State Hillary Clinton and [National Security Adviser] Susan Rice, who was then the ambassador to the United Nations, along with Samantha Power, Ben Rhodes, and Antony Blinken, who was then Biden's national-security adviser—lobbied hard to protect Benghazi, and prevailed. (Biden, who is acerbic about Clinton's foreign-policy judgment, has said privately, "Hillary just wants to be Golda Meir.") American bombs fell, the people of Benghazi were spared from what may or may not have been a massacre, and Qaddafi was captured and executed.
Clinton doesn't want her grandchildren to live in a world dominated by the Chinese.
Many people, I noted, want the president to be more forceful in confronting China, especially in the South China Sea. Hillary Clinton, for one, has been heard to say in private settings, "I don't want my grandchildren to live in a world dominated by the Chinese."
On other Obama advisers:
Even Obama's secretary of state, John Kerry, wasn't always kept in the loop. When Obama reversed course on striking Syria in 2014, Kerry didn't know it was coming.
Obama's decision caused tremors across Washington as well. John McCain and Lindsey Graham, the two leading Republican hawks in the Senate, had met with Obama in the White House earlier in the week and had been promised an attack. They were angered by the about-face. Damage was done even inside the administration. Neither Chuck Hagel, then the secretary of defense, nor John Kerry was in the Oval Office when the president informed his team of his thinking. Kerry would not learn about the change until later that evening. "I just got fucked over," he told a friend shortly after talking to the president that night.
Nor was his former secretary of defense, Leon Panetta.
Given Obama's reticence about intervention, the bright-red line he drew for Assad in the summer of 2012 was striking. Even his own advisers were surprised. "I didn't know it was coming," his secretary of defense at the time, Leon Panetta, told me. I was told that Vice President Joe Biden repeatedly warned Obama against drawing a red line on chemical weapons, fearing that it would one day have to be enforced.
On the Washington establishment:
Obama doesn't much care for the Washington foreign policy establishment.
Obama generally believes that the Washington foreign-policy establishment, which he secretly disdains, makes a fetish of "credibility"—particularly the sort of credibility purchased with force. The preservation of credibility, he says, led to Vietnam. Within the White House, Obama would argue that "dropping bombs on someone to prove that you're willing to drop bombs on someone is just about the worst reason to use force."
On other world leaders:
Obama thinks Vladimir Putin is very polite, and weak.
"The truth is, actually, Putin, in all of our meetings, is scrupulously polite, very frank. Our meetings are very businesslike. He never keeps me waiting two hours like he does a bunch of these other folks." Obama said that Putin believes his relationship with the U.S. is more important than Americans tend to think. "He's constantly interested in being seen as our peer and as working with us, because he's not completely stupid. He understands that Russia's overall position in the world is significantly diminished. And the fact that he invades Crimea or is trying to prop up Assad doesn't suddenly make him a player. You don't see him in any of these meetings out here helping to shape the agenda. For that matter, there's not a G20 meeting where the Russians set the agenda around any of the issues that are important."
Obama's not a huge fan of the Saudis. He blames them for the radicalization of Indonesia, the world's most populous Muslim country.
Though he has argued, controversially, that the Middle East's conflicts "date back millennia," he also believes that the intensified Muslim fury of recent years was encouraged by countries considered friends of the U.S. In a [2015] meeting during APEC with Malcolm Turnbull, the new prime minister of Australia, Obama described how he has watched Indonesia gradually move from a relaxed, syncretistic Islam to a more fundamentalist, unforgiving interpretation; large numbers of Indonesian women, he observed, have now adopted the hijab, the Muslim head covering.

Why, Turnbull asked, was this happening?

Because, Obama answered, the Saudis and other Gulf Arabs have funneled money, and large numbers of imams and teachers, into the country. In the 1990s, the Saudis heavily funded Wahhabist madrassas, seminaries that teach the fundamentalist version of Islam favored by the Saudi ruling family, Obama told Turnbull. Today, Islam in Indonesia is much more Arab in orientation than it was when he lived there, he said.

"Aren't the Saudis your friends?," Turnbull asked.

Obama smiled. "It's complicated," he said.
Obama thinks Ronald Reagan's legacy is misused by the right.
"When you think of the military actions that Reagan took, you have Grenada—which is hard to argue helped our ability to shape world events, although it was good politics for him back home. You have the Iran-Contra affair, in which we supported right-wing paramilitaries and did nothing to enhance our image in Central America, and it wasn't successful at all." He reminded me that Reagan's great foe, Daniel Ortega, is today the unrepentant president of Nicaragua.

Obama also cited Reagan's decision to almost immediately pull U.S. forces from Lebanon after 241 servicemen were killed in a Hezbollah attack in 1983. "Apparently all these things really helped us gain credibility with the Russians and the Chinese," because "that's the narrative that is told," he said sarcastically. "Now, I actually think that Ronald Reagan had a great success in foreign policy, which was to recognize the opportunity that Gorbachev presented and to engage in extensive diplomacy—which was roundly criticized by some of the same people who now use Ronald Reagan to promote the notion that we should go around bombing people."
On the Middle East in general:
The Middle East is to Obama's presidency what organized crime was to Michael Corleone.
I once mentioned to Obama a scene from The Godfather: Part III, in which Michael Corleone complains angrily about his failure to escape the grasp of organized crime. I told Obama that the Middle East is to his presidency what the Mob is to Corleone, and I started to quote the Al Pacino line: "Just when I thought I was out—"

"It pulls you back in," Obama said, completing the thought.
The Islamic State militant group (ISIS) is like the Joker from Batman.
Advisers recall that Obama would cite a pivotal moment in The Dark Knight, the 2008 Batman movie, to help explain not only how he understood the role of ISIS, but how he understood the larger ecosystem in which it grew. "There's a scene in the beginning in which the gang leaders of Gotham are meeting," the president would say. "These are men who had the city divided up. They were thugs, but there was a kind of order. Everyone had his turf. And then the Joker comes in and lights the whole city on fire. ISIL is the Joker. It has the capacity to set the whole region on fire. That's why we have to fight it."
But Obama could fix the whole thing if he could just get "a few smart autocrats."
"All I need in the Middle East is a few smart autocrats." Obama has always had a fondness for pragmatic, emotionally contained technocrats, telling aides, "If only everyone could be like the Scandinavians, this would all be easy."
And he thinks U.S. intervention in Libya led to a "shit show."
"So we actually executed this plan as well as I could have expected: We got a UN mandate, we built a coalition, it cost us $1 billion—which, when it comes to military operations, is very cheap. We averted large-scale civilian casualties, we prevented what almost surely would have been a prolonged and bloody civil conflict. And despite all that, Libya is a mess."

Mess is the president's diplomatic term; privately, he calls Libya a "shit show," in part because it's subsequently become an ISIS haven.