All the Times Obama Was Attacked in the Republican Debate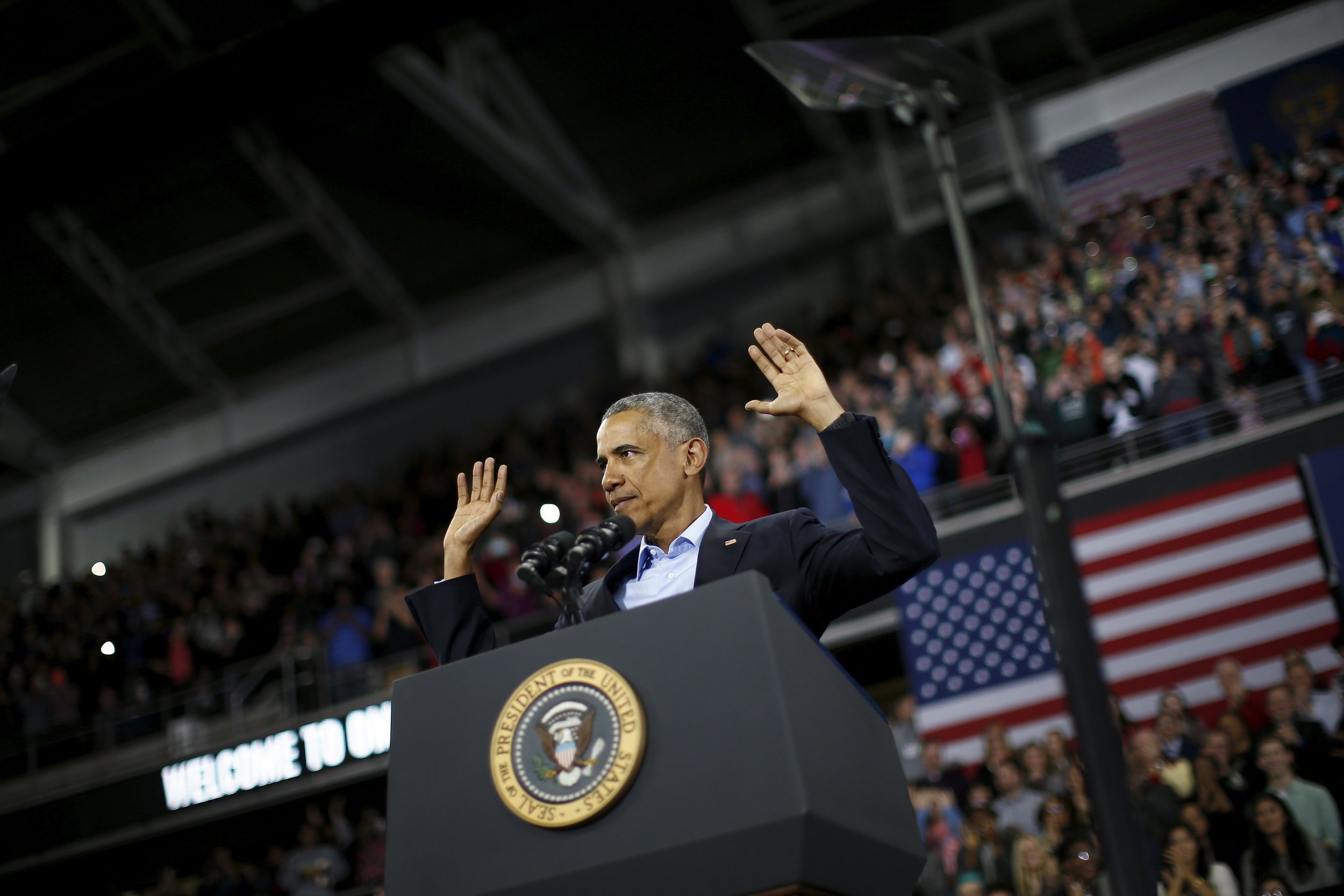 Although he won't be on the election ballot in November, President Obama's name and leadership dominated much of the conversation at Thursday's sixth Republican debate—a reminder that denouncing the president still rallies Republicans.
The presidential hopefuls who gathered in South Carolina called Obama a child, dictator and certified job killer. More than once, they said the country would be in a better place if they were in charge and initiating reforms. From foreign policy, national security and taxes, to the Second Amendment, health care and the Syrian refugee crisis, the candidates didn't leave out many topics as a way to criticize Obama. In a single answer, front-runner Donald Trump at one point expressed his anger toward Obamacare, immigration and veterans affairs.
When he gave his final State of the Union address on Tuesday night, Obama inserted himself into a week that included debates for both parties. He spent most of his speech highlighting the country's progress over the last decade and reassuring Americans about the future. He urged Congress to work together on bipartisan priorities and asked voters to stay active in public life. His speech proved more uplifting than his previous six addresses.
But during the two-hour debate, New Jersey Governor Chris Christie chastised Obama for his positive views and referred to the speech as "story time with Barack Obama." He said the next president will have a long list of tasks to "clean up this mess" that Obama created. Texas Senator Ted Cruz ridiculed the president for not mentioning the temporary Iranian capture of 10 U.S. sailors just hours before the State of the Union, and former Florida Governor Jeb Bush chimed in about Obama "missing the whole point," that America's leadership is required for peace in the world.
"The idea that somehow we're better off today than the day that Barack Obama was inaugurated president of the United States is totally an alternative universe," Bush said.
Not surprisingly, the candidates mentioned Democratic front-runner Hillary Clinton—but only as an addendum to Obama. At one point Florida Senator Marco Rubio referenced Clinton as "the next Barack Obama." He warned Americans that another Democratic president will leave the next generation "worse off than ourselves." What's more, Rubio prodded Christie in their ongoing feud by saying the governor has endorsed many of Obama's ideas, including donating to Planned Parenthood and supporting the appointment of Sonia Sotomayor to the Supreme Court and gun control. Christie, who warned voters of giving Clinton "a third term of Barack Obama's leadership," denied such claims.
As expected, Obama's recently revealed executive actions on gun control were one of the central topics during both the top-tier and undercard debates. Five of the seven candidates directly accused Obama—and some Clinton, who has been an advocate for stricter gun laws—of side-stepping Congress and stripping law-abiding citizens of their constitutional rights. They said Obama always blames acts of violence on gun control before he knows the facts of a situation.
Rubio stressed that the Second Amendment is not an option nor a suggestion. "I am convinced that if this president could confiscate every gun in America, he would. I am convinced that this president, if he could get rid of the Second Amendment, he would," he said.
Christie directly addressed the president, telling him the GOP candidates are against his policies and Americans reject his agenda.
Much of the conversation about Obama began with the Fox Business Network moderators, who included the president or candidates' comment about him in almost all of their questions.
The three lowest polling candidates also criticized Obama during the earlier undercard debate. The fourth contender, Kentucky Senator Rand Paul, boycotted the event after he was demoted from the prime-time debate. Former Pennsylvania Senator Rick Santorum blamed Obama for the loss of 2 million manufacturing jobs, and former HP Chief Executive Officer Carly Fiorina said the president and his Cabinet fail to respond when the country is provoked. And during her opening remarks, Fiorina took a personal dig at Clinton by saying: "Unlike another woman in this race, I actually love spending time with my husband."
To laughs from the crowd, former Arkansas Governor Mike Huckabee appeared happy to confirm he had called Obama's gun executive actions "unconstitutional" and "completely insane" in a previous interview.
As candidates in both parties increase their public appearances in the remaining two weeks ahead of the Iowa caucuses on February 1, Obama has repeated his intent not to campaign or vote for anyone—even in his own party—who doesn't support stricter gun laws. When he announced his executive actions on guns earlier this month, he encouraged voters to remember the leaders who have stood in the way of gun reform when election time comes.
"If you make it hard for them to win an election if they block those laws," he said, "they'll change course, I promise you."
Trump continues to lead the 11-candidate Republican field with a 13-point lead over Cruz in the most recent poll published Thursday. Some polls indicate Sanders has taken the lead from Clinton in the crucial states of Iowa and New Hampshire.