President Barack H. Obama Ave.? Nearly 400,000 Have Signed Petition to Rename Street Outside Trump Tower
A petition to rename a stretch of the block of Fifth Avenue between 56th and 57th Street to "President Barack H. Obama Avenue" has gained nearly 400,000 signatures. That specific part of the street is exactly where President Donald Trump's famous Trump Tower is located.
The MoveOn petition, launched by Elizabeth Rowin in October, had 385,547 signatures—just 14,453 signatures away from its 400,000 goal—at press time on Saturday.
Originally Rowin was seeking just 75,000 signatures. However, social media solidarity has helped the petition receive signatures far beyond her initial goal as people all across the country have encouraged others to sign by sharing the trending hashtag #ObamaAve.
Over the weekend, dozens of people took to the platform to suggest Obama's many accomplishments as commander-in-chief were more than enough reasons to honor him with a street in the Big Apple. "The best president in American history. The best health program of all time, opening millions jobs, no foreign war, no hate, no immigrant children held, all the people were in love without racial discrimination #ObamaAve #EmptySeatMAGATour," one user wrote on Saturday morning.
Some folks recommended for other city streets housing Trump Towers to follow the New York City pursuit. "#ObamaAve This is great news for New York! Maybe we should start a Las Vegas petition to change the street name in Vegas where the drump hotel is. The street name is currently "Fashion Show Drive" but I think #MichelleObamaDrive would be a great new name!" another commenter wrote.
Addressing New York City Mayor Bill De Blasio, the petition requests for all addresses located within that stretch of Fifth Avenue to be updated with the new street name, which would mean Trump Tower's address would change to "725 Barack H. Obama Avenue, New York, NY 10022."
Citing Los Angeles' recent recognition of Obama, of which a portion of the 134 Freeway near Downtown Los Angeles was renamed after the former president, the petition suggested renaming the Fifth Avenue block after him would be a way for New York City to celebrate Obama's eight-year presidency.
"We request the New York City Mayor and City Council do the same by renaming a block of Fifth Avenue after the former president whose many accomplishments include: saving our nation from the Great Recession; serving two completely scandal-free terms in office; and taking out Osama bin Laden, the mastermind behind September 11th, which killed over 3,000 New Yorkers," the petition read.
Rownin previously told Newsweek the petition "started out as just a joke."
"I saw a comedian joke about how it would make Trump so mad if it was named after former President Obama and thought why not," she explained.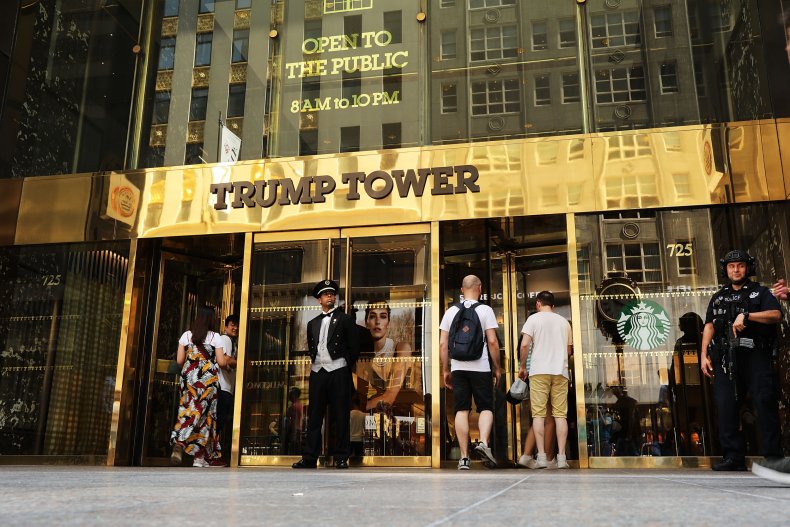 City ordinances for co-naming a street require an honoree to be deceased for at least two years before a petition to rename a street is launched. However, Rownin said she still had plans to write to De Blasio and New York City with her heavily-supported request.
"I am sure the conditions can be changed, there are two streets in LA named after former President Obama. These laws are arbitrary and can be worked around," the 56-year-old said.
Cities all across America have established landmarks bearing Obama's name, including Albany Township, Indiana, where a strip of road is named Barack Obama Way and Barack Obama Boulevard in Pahokee, Florida. In Illinois, where Obama was once a Senator, a section of Interstate 55 was renamed Barack Obama's Presidential Expressway.