Obama Awards Jewish and Black WWI Veterans Posthumous Medals of Honor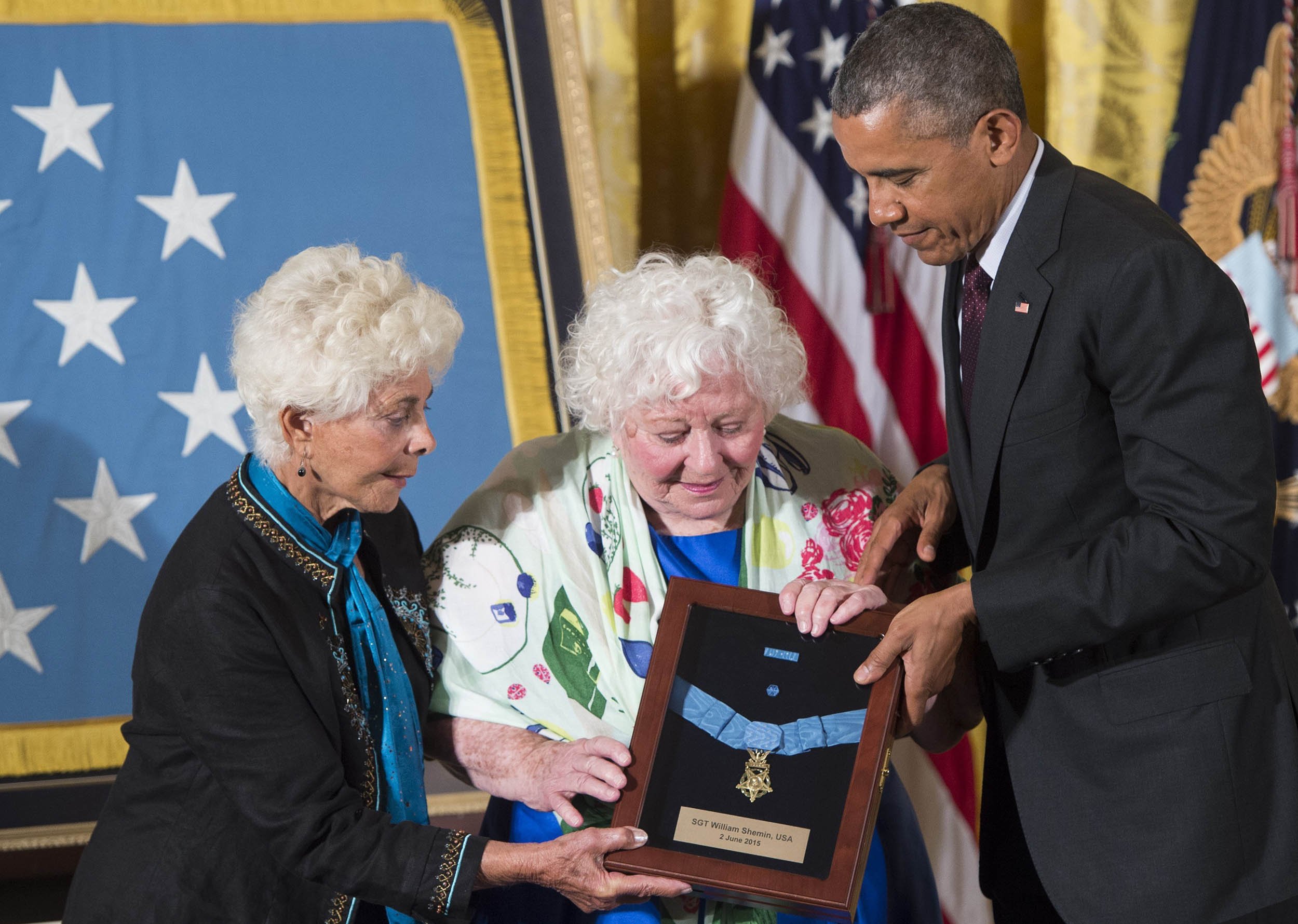 A black veteran and a Jewish veteran have been posthumously awarded the Medal of Honor nearly 100 years after performing acts of bravery and sacrifice during World War I. President Barack Obama awarded Army Private Henry Johnson and Army Sergeant William Shemin the highest military honor the U.S. can bestow in a ceremony at the White House Tuesday.
Though the White House did not specify in its May announcement of the upcoming ceremony why it took the better part of a century to recognize Johnson and Shemin, outsiders have said the delay is couched in discrimination.
"Henry Johnson, Albany resident and Harlem Hellfighter, is a true American hero, who displayed the most profound battlefield bravery in World War I, yet the nation for which he was willing to give his life shamefully failed to recognize his heroics, just because he was a black man," Senator Chuck Schumer (D-N.Y.) said in a statement after the White House announced the news last month.
Tuesday's ceremony is a "profound gesture that will rectify a sad chapter in American history," Schumer added. "And our nation will finally say thank you to Sergeant Johnson and the countless other African-Americans who put their lives on the line for a nation that failed to treat them with full equality before the law."
In his remarks Tuesday, Obama echoed Schumer's sentiments. America can't change what happened to Johnson and others like him whose bravery went unrecognized because "our nation judged them by the color of their skin and not the content of their character," he said. "But we can make it right."
"No one who serves our country should ever be forgotten. We are a nation, a people who remembers our heroes," Obama said Tuesday. "We never forget their sacrifices and believe it's never too late to say thank you. Today, America honors two of her sons who served in WWI."
The Medal of Honor is given to those "who distinguish themselves conspicuously by gallantry above and beyond the call of duty," according to the White House, and "the meritorious conduct must involve great personal bravery or self-sacrifice so conspicuous as to clearly distinguish the individual above his or her comrades and must have involved risk of life." There must also be incontestable proof as to such conduct, the White House says.
Johnson and Shemin were roughly the same age when they served, at roughly the same time, Obama said. In August 1918, Shemin left the trench and risked his life in heavy machine gun and rifle fire to rescue wounded comrades, the White House says. "After officers and senior non-commissioned officers had become casualties, Shemin took command of the platoon and displayed great initiative under fire, until he was wounded."
Johnson retaliated against a surprise attack by German forces while on sentry duty in May 1918, according to the same White House release. He prevented a wounded fellow soldier from being taken prisoner and fought the Germans until they retreated, despite being wounded himself. Johnson died in 1929 and Shemin in 1973.
Elsie Shemin-Roth, Shemin's daughter, who is now 86, fought to get Congress to pass an exemption from the five-year deadline usually imposed on awarding a Medal of Honor. When Congress passed the exemption in December, she told the Associated Press, "This was anti-Semitism, no question about it," but "now a wrong has been made right and all is forgiven."
"Shemin served at a time when the contributions and heroism of Jewish Americans in uniform were too often overlooked," Obama said Tuesday. "It is my privilege on behalf of the American people to make this right."
Shemin-Roth attended the ceremony with her sister to accept the award on their father's behalf, while Command Sergeant Major Louis Wilson of the New York National Guard accepted the award on behalf of Johnson, who reportedly has no next of kin.
"America is the country it is today because of people like Henry Johnson and William Shemin," Obama concluded at the end of the ceremony. "The least we can do is to say we know who you are we know what you did for us. We are forever grateful."