Obama's Back: Campaigning for Democratic Candidates and Hanging With Chance the Rapper, Gloria Estefan and The National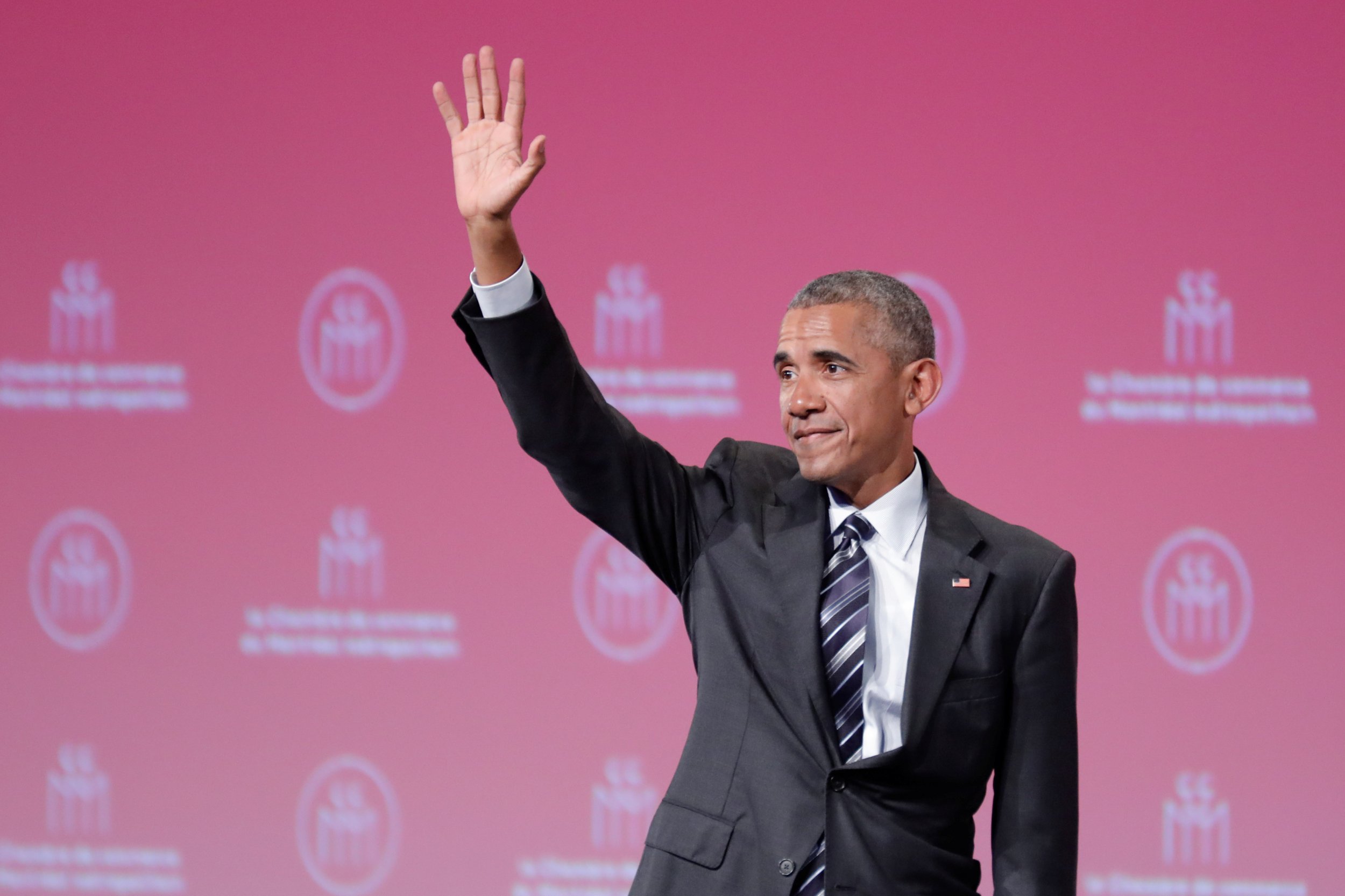 This marks the beginning of a big couple of weeks for former President Barack Obama, as he campaigns for Democratic candidates in New Jersey and Virginia, sees personal letters released to the public and plans for his foundation's summit, which will include performances by Chance the Rapper, Gloria Estefan and The National.
Ex-presidents tend to carefully calibrate their public appearances, trying to strike a balance between being too available and too reclusive. Obama, who has kept his such appearances to a minimum while he a raises money for his foundation and builds a nest egg for his family, will be erring on the side of being before the cameras over the next two weeks.
On Thursday, Obama is in New Jersey trying to help Democratic gubernatorial candidate Phil Murphy capture the governorship now held by Republican Chris Christie, who is coming to the end of his eight years in office. Christie has the lowest approval rating of any U.S. governor, just 16 percent according to a September poll, in part owing to the George Washington Bridge closure scandal that led to convictions of two of his close aides. Murphy is leading in the polls by as much as 25 percent over the state's Republican lieutenant governor, Kim Guadagno , and the former president's appearance at a rally in Newark didn't hurt. "Let's go out and get to work," Obama told the crowd which greeted him with chants of "Four More Years!" He won the state twice, and Murphy is promising to carry on the 44th president's legacy by adhering to the Paris climate accord that President Donald Trump abandoned and by promoting the Affordable Care Act that Republicans have long vowed to "repeal and replace."
On Thursday night, Obama will appear at a rally in Richmond, Virginia, to help Democrats in the only other gubernatorial race this year. Ralph Northam, the Democratic nominee, is locked in a competitive race with former Republican National Committee Chairman Ed Gillespie. Northam maintains a modest lead in polls in this purple state that twice backed Obama but Gillespie has campaigned hard on Northam's support for sanctuary cities, even dubiously—and some say with racist overtones—linking it to MS-13, the criminal gang.
By coincidence, just as Obama is helping gubernatorial candidates, Emory University in Atlanta is releasing a smattering of personal letters that Obama wrote as a college student in the 1980s. The letters are among the future president's correspondence with a girlfriend, Alexandra McNear, who he dated when he was a student at Columbia and she was at Occidental College in Los Angeles. Obama transferred to Columbia after his sophomore year, and in the letters, the two manage their long-distance relationship as they try to remain friends. He also meditates on his career and values. "I feel sunk in that long corridor between old values, actions, modes of thought, and those that I seek, that I'm working towards," he wrote in a 1983 letter. McNear's letters to Obama are not on display at the Stuart A. Rose Manuscript, Archives and Rare Book Library at Emory. The university did not release the source of the letters except to say they were from someone in the "rare book world."
At the end of the month, the Obama Foundation, headquartered in Chicago, will host its inaugural Obama Foundation Summit—a gathering of governmental, civic engagement and artistic leaders from around the world. The November 1 concert that concludes the summit will be an eclectic affair that includes Chance the Rapper, who is curating the concert, Gloria Estefan and indie darlings The National, whose "Mr. November" became an unofficial anthem for Obama's 2008 campaign. The Obama Presidential Center and buildings are still in the planning phase, but the president's visibility will help drive donations to build the complex on Chicago's South Side.
This story has been updated