Obama: Be Tolerant, Listen and Let Your Opponents Speak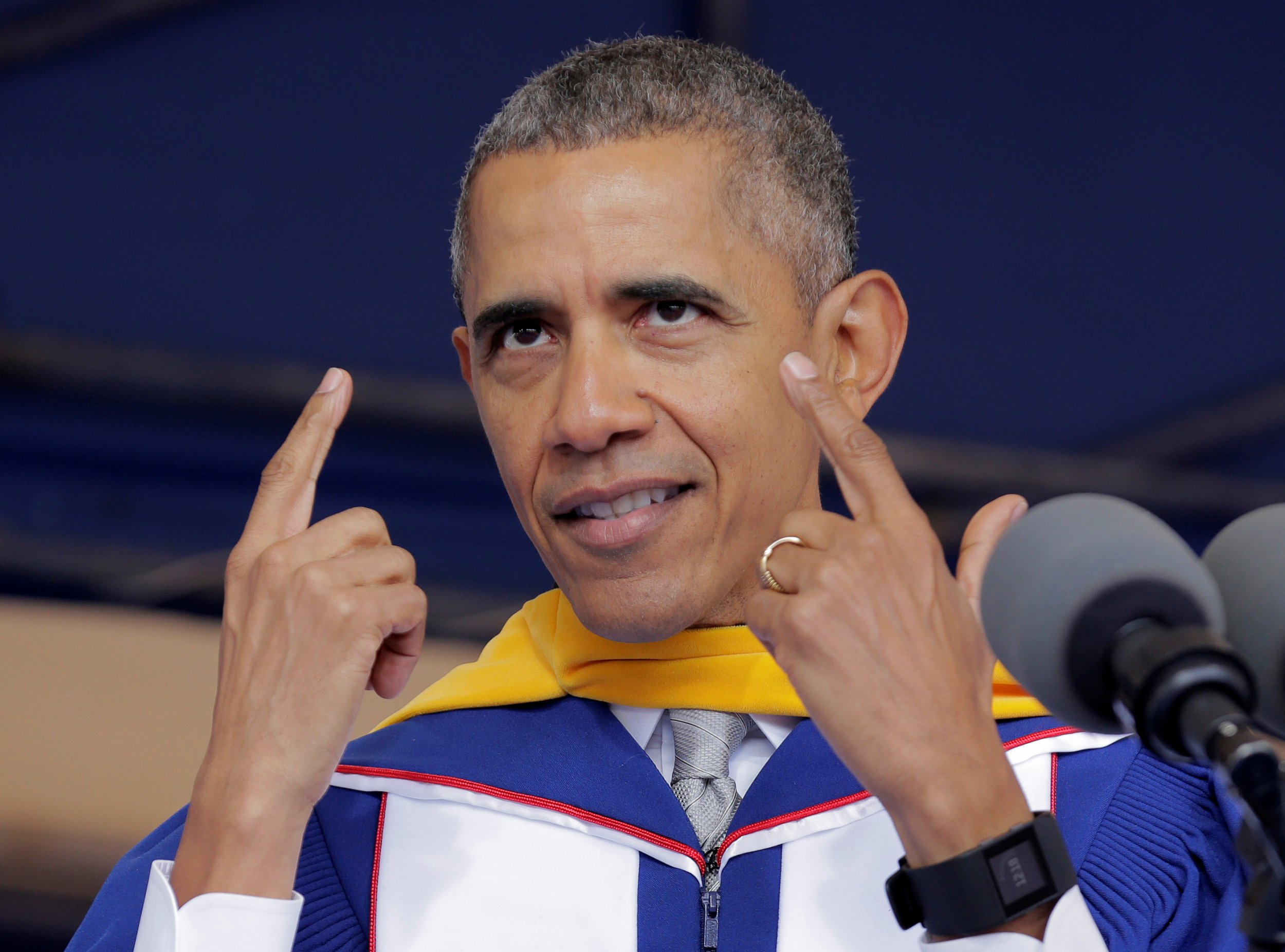 President Barack Obama's remarks on compromise and tolerance were made at Howard University's commencement ceremony on May 7. A full transcript can be found on the White House site.
Change requires more than just speaking out—it requires listening as well. In particular, it requires listening to those with whom you disagree and being prepared to compromise.
When I was a state senator, I helped pass Illinois's first racial profiling law, and one of the first laws in the nation requiring the videotaping of confessions in capital cases. And we were successful because, early on, I engaged law enforcement.
I didn't say to them, "Oh, you guys are so racist. You need to do something." I understood, as many of you do, that the overwhelming majority of police officers are good, and honest, and courageous, and fair, and love the communities they serve.
And we knew there were some bad apples and that even the good cops with the best of intentions—including, by the way, African-American police officers—might have unconscious biases, as we all do.
So we engaged, and we listened, and we kept working until we built consensus. And because we took the time to listen, we crafted legislation that was good for the police—because it improved the trust and cooperation of the community—and it was good for the communities, who were less likely to be treated unfairly. And I can say this unequivocally: Without at least the acceptance of the police organizations in Illinois, I could never have gotten those bills passed. Very simple. They would have blocked them.
The point is, you need allies in a democracy. That's just the way it is. It can be frustrating, and it can be slow. But history teaches us that the alternative to democracy is always worse.
That's not just true in this country. It's not a black or white thing. Go to any country where the give-and-take of democracy has been repealed by one-party rule, and I will show you a country that does not work.
And democracy requires compromise, even when you are 100 percent right. This is hard to explain sometimes. You can be completely right, and you still are going to have to engage folks who disagree with you.
If you think that the only way forward is to be as uncompromising as possible, you will feel good about yourself, you will enjoy a certain moral purity, but you're not going to get what you want. And if you don't get what you want long enough, you will eventually think the whole system is rigged.
And that will lead to more cynicism, and less participation, and a downward spiral of more injustice and more anger and more despair. And that's never been the source of our progress. That's how we cheat ourselves of progress.
America is big, and it is boisterous, and it is more diverse than ever. The president told me that we've got a significant Nepalese contingent here at Howard. I would not have guessed that. Right on. But it just tells you how interconnected we're becoming. And with so many folks from so many places, converging, we are not always going to agree with each other.
Another Howard alum, Zora Neale Hurston, once said—this is a good quote here: "Nothing that God ever made is the same thing to more than one person." Think about that. That's why our democracy gives us a process designed for us to settle our disputes with argument and ideas and votes instead of violence and simple majority rule.
So don't try to shut folks out. Don't try to shut them down, no matter how much you might disagree with them. There's been a trend around the country of trying to get colleges to disinvite speakers with a different point of view or disrupt a politician's rally. Don't do that—no matter how ridiculous or offensive you might find the things that come out of their mouths.
Because, as my grandmother used to tell me, every time a fool speaks, they are just advertising their own ignorance. Let them talk. Let them talk. If you don't, you just make them a victim, and then they can avoid accountability.
That doesn't mean you shouldn't challenge them. Have the confidence to challenge them, the confidence in the rightness of your position.
There will be times when you shouldn't compromise your core values, your integrity, and you will have the responsibility to speak up in the face of injustice. But listen. Engage. If the other side has a point, learn from them. If they're wrong, rebut them. Teach them. Beat them on the battlefield of ideas.
And you might as well start practicing now, because one thing I can guarantee you—you will have to deal with ignorance, hatred, racism, foolishness, trifling folks. [Laughter.] I promise you, you will have to deal with all that at every stage of your life. That may not seem fair, but life has never been completely fair. Nobody promised you a crystal stair. And if you want to make life fair, then you've got to start with the world as it is.
So that's my advice. That's how you change things. Change isn't something that happens every four years or eight years; change is not placing your faith in any particular politician and then just putting your feet up and saying, "OK, go." Change is the effort of committed citizens who hitch their wagons to something bigger than themselves and fight for it every single day.