Obama Beat Jordan Spieth in Golf (While Joking About Aliens)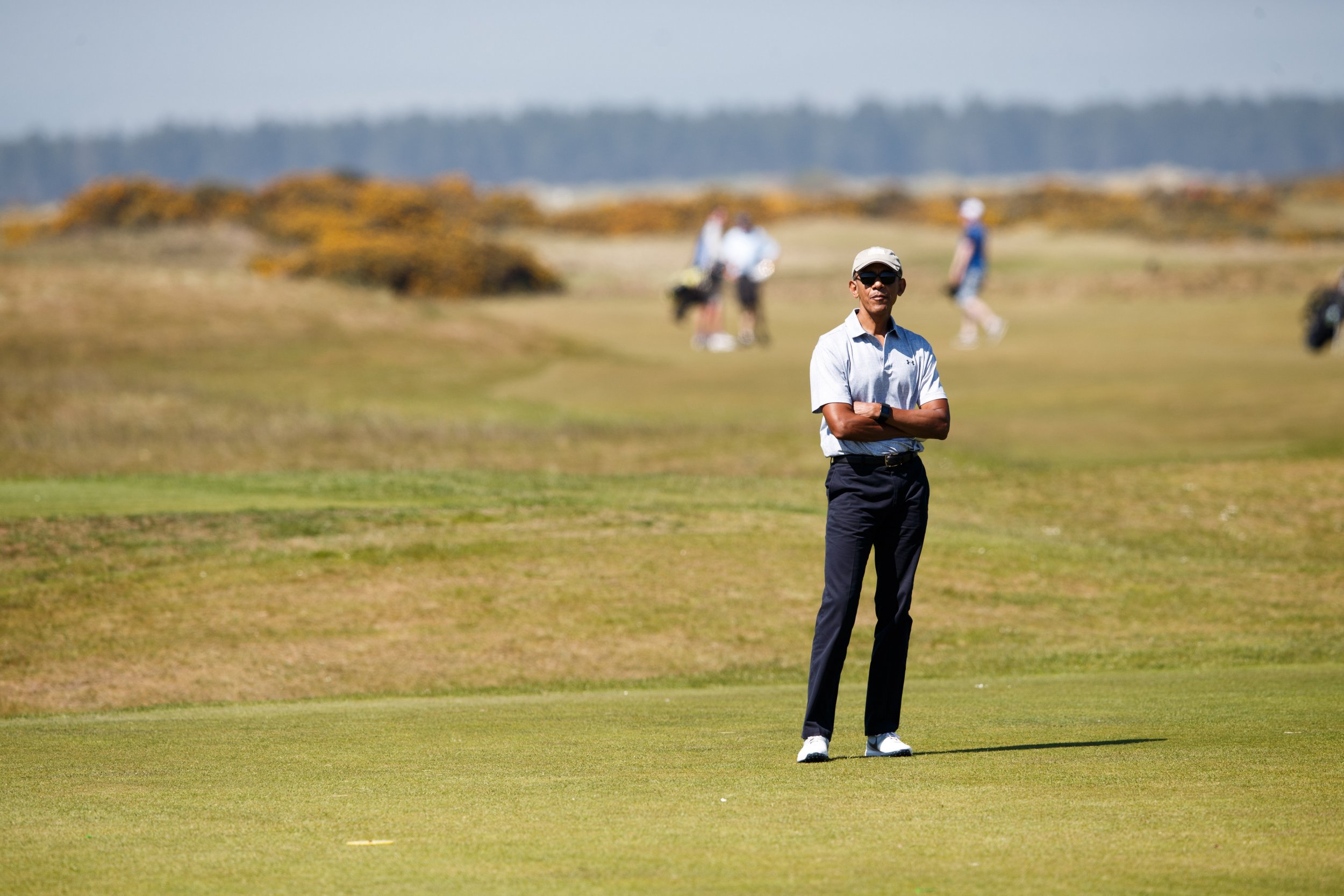 Jordan Spieth, one of the best golfers in the world (if not the best golfer in the world), posted a photo this week showing himself at a golf course with former President Barack Obama and NBA superstar Steph Curry, among others.
Spieth appeared Thursday on the Late Late Show,hosted by James Corden, who of course asked about the outing. "What an incredible experience—what do you talk about with Obama while you golf?" Corden asked him.
"He was incredibly cool. We had a great time," Spieth answered. "And like I would expect any former president—like, if you were a former president, one of the highlights would be once your presidency is over, you can kind of mess with everybody, right? And he was—I asked him a question, 'President Obama, what's the one thing you would tell a president-elect—what's the one thing you weren't prepared for in your two terms that you kind of had to learn on the go?' He went into this really intense, five-minute spiel before he hit his putt, talking about just how important the job is—you run the country, but you also have such a place in the world that you have to be the first to act in a lot of different places. Whether it be Europe, Asia, whatever; whether it's military, financial. So he kinda goes through this whole serious spiel and then, right before he goes up to hit his putt, he goes, 'And you won't believe what the aliens look like.'"
Everybody—Corden, the audience, other guests—laughed. Spieth then picked the story back up.
"He goes, 'They're freaking crazy-looking.' Then he walks up, makes his putt, turns back, he just walks off the green, leaves it at that and gives me a wink and just walks off. And I'm sitting there like, 'I'm not going to sleep for a week.' We've all wondered, right?" Spieth said. "That was on the 7th hole, so we had 11 more holes to play. What a neat experience it was; he couldn't have been kinder."
"Do you have to let the president win if you play him in golf?" actor Kenneth Branagh, who was also a guest, asked.
"So, no," Spieth said to audience laughter. "Quite the opposite. You can't lose to him or else he's going to be telling people, 'I beat Jordan when we played.' So we had a two-on-two match, it came down to the last hole and the president had a 10-foot, double-breaking putt. This is my home course, and I've never seen anybody make the putt. And a small crowd had gathered, you know, like you'd expect, and he kinda said, 'You know when there's a crowd on the last hole, I never miss.' And he knocks in this [putt]—perfect speed, right in the middle of the hole—he won the match on that putt. And he said, 'Told ya.'"
President Donald Trump, a good (and avid) golfer himself, has said in the past that he would beat Obama easily on the links. Maybe so, but it seems like the 44th president might be getting better with all his newfound free time.