As Joe Biden's job performance ratings continue to slide, the president Americans would most likely vote for in hypothetical matchups since the Reagan era is Barack Obama, according to a new survey.
The polling was conducted by data and survey company Dynata and commissioned by the producers of the upcoming film Reagan. The biopic, which stars Dennis Quaid as the 40th president, is set for release early next year.
The poll asked 1,058 American respondents whom they'd vote for in a matchup between Ronald Reagan and the other presidents who have held office since his administration. Obama beat Reagan by 14 percentage points—57 percent to 43 percent—but Reagan won against every other past president.
"It's like voting for a rock star. He was all personality," Reagan biographer and presidential historian Craig Shirley told Newsweek, referring to Obama's strong likability and Obamacare, arguably his one big legislative legacy.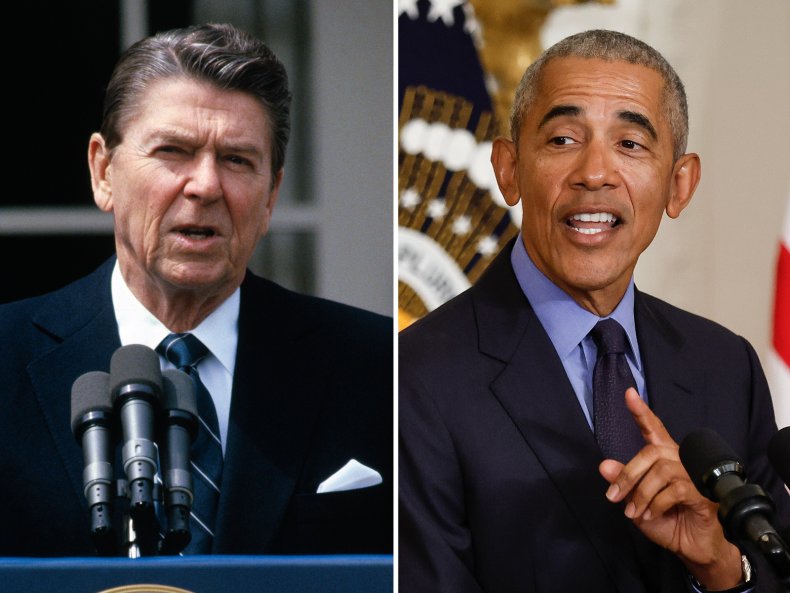 But given his overall popularity, Shirley said, Reagan will go down in history as one of the nation's four greatest presidents, along with George Washington, Abraham Lincoln and Franklin D. Roosevelt.
"That Reagan, who left office in 1989, over 30 years ago, remains popular is indicative and a testament to his staying power as a great president," said Shirley, who noted the 40th president's two terms in office and his 73 percent approval rating when he departed the White House.
As for the current commander-in-chief, just 45 percent of those polled said they'd vote for Biden in a race against the "Gipper," with Reagan receiving 55 percent.
Meanwhile, a poll conducted June 28 by Reuters/Ipsos showed that Biden's public approval rating fell for the third straight week, to 39 percent, and found that 56 percent of Americans are unhappy with his leadership.
The poll, which gathered responses from 1,005 adults, including 432 Democrats and 381 Republicans, also showed that support for Biden in his own party has waned substantially. The results revealed that 72 percent of Democrats approved of his performance, compared with 85 percent in August of last year. The poll also showed his approval rating has stayed below 50 percent since last August.
That's as Americans continue to see a surge in consumer prices, including at the gas pump and the grocery store.
In the Dynata poll, the largest voting gap was between Reagan and Donald Trump, with 65 percent saying they'd vote for Reagan and 35 percent choosing Trump.
Shirley racked that up to Trump getting attacked in pop culture, the news media and academia, as well as the divisiveness that surrounds him in general.
"He got pummeled on Twitter, and he can't respond," Shirley noted.
The closest matchup was between Reagan and Bill Clinton. That theoretical race had Reagan winning 51 percent to 49 percent.
Reagan scored 61 percent when matched up with George W. Bush, who got 39 percent. Similarly, Bush's father, George H.W. Bush, received 38 percent of the vote, compared with Reagan's 62 percent.