Former President Barack Obama said President Donald Trump's "petulance" was delaying the transition to the incoming Biden administration as the commander-in-chief continued to refuse to accept the result of the 2020 election.
In an interview with The Atlantic published on Monday, Obama said time was being "lost" as a result of Trump's behavior and the Republican Party's reluctance to "call him" on his refusal to concede to Biden.
The former president also contrasted the delayed Trump-Biden transition with the "smooth handoff" between George W. Bush's team and the first Obama administration, despite their political differences.
Speaking to The Atlantic ahead of the release of his new memoir, Obama said: "For all the differences between myself and George W. Bush, he and his administration could not have been more gracious and intentional about ensuring a smooth handoff.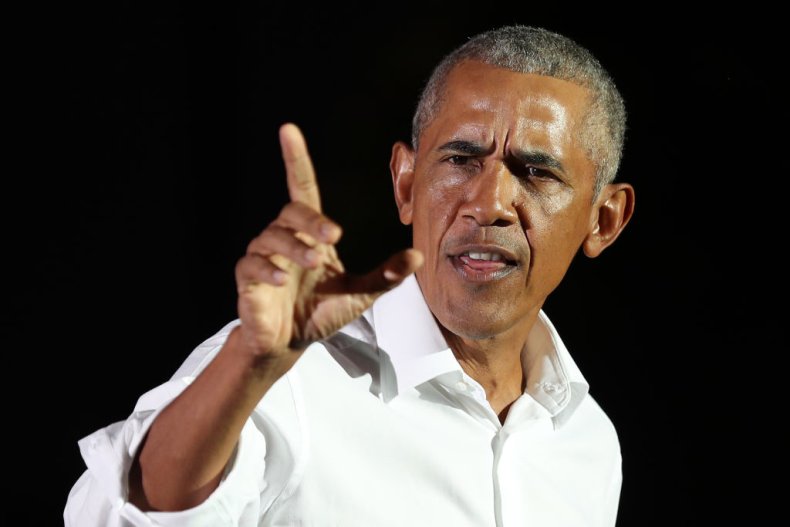 "One of the really distressing things about the current situation is the amount of time that is being lost because of Donald Trump's petulance and the unwillingness of other Republicans to call him on it."
The ex-president later added that President-Elect Joe Biden and Vice President-Elect Kamala Harris had "won pretty decisively," even if their election victory "wasn't a blowout," as had been indicated by pre-election polls.
"And almost every Republican elected official knows that," he added. "There were no howls of voting irregularities the first day or two. They waited to get the signal from Trump."
Obama raised his complaint about Trump's supposed "petulance" after President-Elect Biden said it was "an embarrassment" that the commander-in-chief was still refusing to concede the election to him more than a week after the fact.
"The only thing that, how can I say this tactfully, I think it will not help the president's legacy," Biden said last week. "I know from my discussions with foreign leaders thus far that they are hopeful that the United States' democratic institutions are viewed once again as being strong and enduring."
The former vice president of the Obama era has already formed a transition team to ready his Cabinet for January 20 next year—the slated date of Biden's inauguration.
NBC News reported last week that the transition spokeswoman Jen Psaki said Biden's team were "charging ahead" regardless of whether or not the General Services Administration had declared the president-elect the winner of the 2020 election.
The GSA has not yet provided an ascertainment letter recognizing Biden as the winner of the contest, limiting the access his transition team has to their counterparts in federal agencies, as well as funding and other resources typically provided to transition teams.
Newsweek has contacted the White House for comment. This article will be updated with any response.