Obama on Brown, Garner and Race in America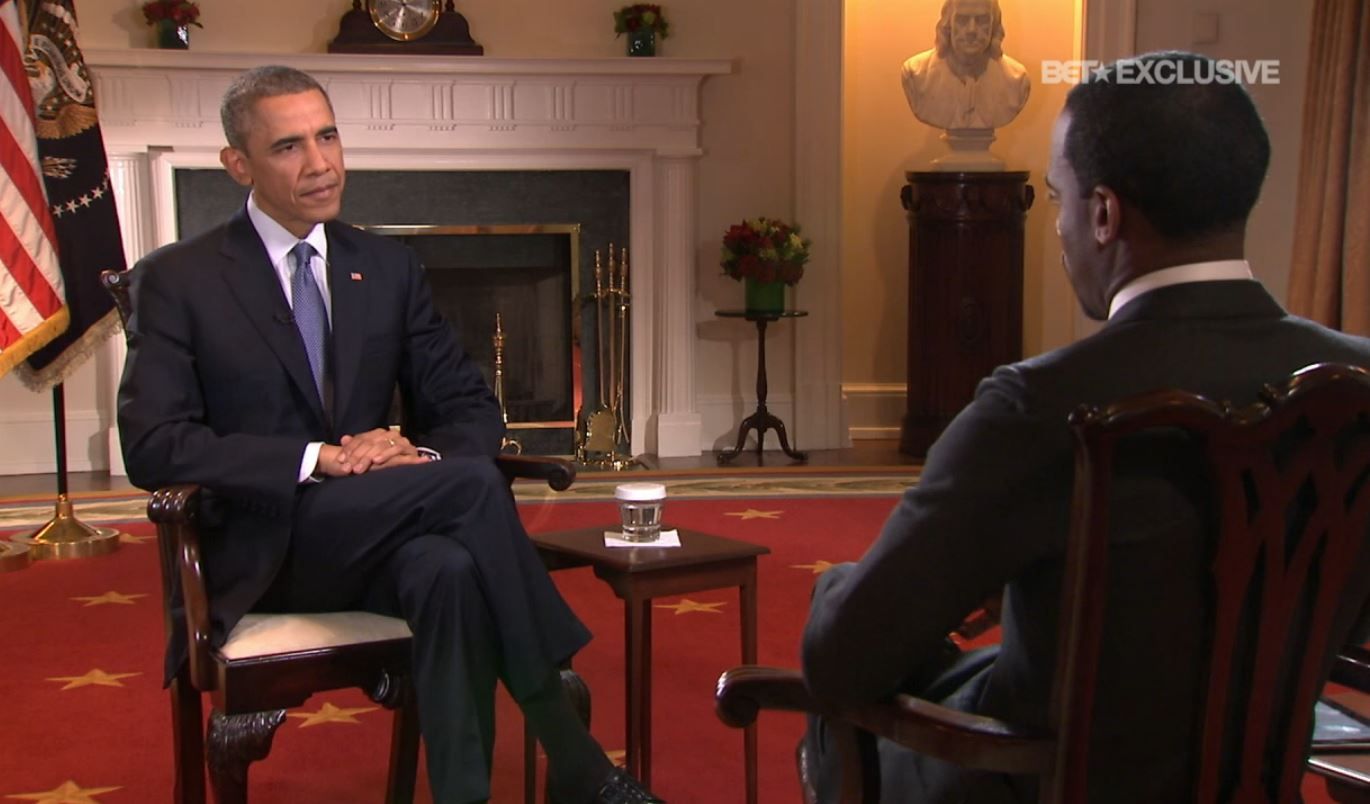 In light of the unrest across the country following the recent police-involved deaths of Michael Brown, Eric Garner, Tamir Rice and others, President Barack Obama sat down with BET's Jeff Johnson recently to share his thoughts on race relations in America, and our next steps forward as a country.
Here are some extracts.
On his responsibility as president
At the top of the interview, the president said he feels "an enormous amount" of responsibility for improving the relationship between law enforcement and communities across the country. Not just because he's president and is "always responsible for what happens in this country," but because of the "particular experiences that [he brings] to this office."
The president talked briefly about his meeting with a number of young activists last week at the White House, and explained how many of their comments reminded him of his own experiences growing up:
When they described their own personal experiences of having been stopped for no reason, or having generated suspicion because they were in a community that supposedly they didn't belong, my mind went back to what it was like for me when I was 17, 18, 20. And as I told them, not only do I hear the pain and frustration of being subjected to that kind of constant suspicion, but part of the reason I got into politics was to figure out how can I bridge some of those gaps in understanding so that the larger country understands this is not just a black problem or a brown problem. This is an American problem.
President Obama highlighted that we have made progress over the last six years on a number of criminal justice issues, such as how our drug laws are enforced. He also noted that the incarceration rate in federal prisons went down last year while crime also decreased, calling it "a testament to the ability to have good policing and good law enforcement, and be fair and smart."
But he also emphasized that work remains to be done—and that recent events have helped to ignite a necessary national conversation:
It used to be, folks would say, "Well, maybe blacks are exaggerating, maybe some of these situations aren't what they described." What we've now seen on television, for everybody to see, gives us an opportunity, I think, to finally have the kind of conversation that's been a long time coming.
On the nationwide protests
Quoting former President John F. Kennedy—who stated that "those who make peaceful revolution impossible will make violent revolution inevitable"—Johnson asked President Obama whether he believes the current nationwide protests are necessary to catalyze positive change in our country.
"As long as they're peaceful, I think they're necessary," he said. "When they turn violent, then they're counter-productive."
President Obama made clear that the vast majority of protesters are peaceful and not violent—which is why he invited some of the protest organizers to the Oval Office last week—and explained why these protests are necessary to spur national change:
The old adage, power concedes nothing without a fight -- I think that's true. But what's also true is that a country's conscience sometimes has to be triggered by some inconvenience, because I think a lot of people who saw the Eric Garner video are troubled, even if they haven't had that same experience themselves, even if they're not African American or Latino. I think there are a lot of good, well-meaning people; I think there are probably a lot of police officers who might have looked at that and said, "That is a tragedy, what happened, and we've got to figure out how to bring an end to these kinds of tragedies."
On his commitment to addressing the problem of race
President Obama affirmed his personal commitment to staying on this issue, and continuing to take steps to drive positive change:
But then, attention spans move on, right? There's the next thing. There's some international crisis. There's something that happens here. And change doesn't really occur. And the value of peaceful protests, activism, organizing, is it reminds the society, "This is not yet done."

And part of what I said when we convened the meeting on Monday here at the White House was not only that I was announcing a Task Force -- that has to report in 90 days with specific, concrete steps around training, around how we are equipping police, how we're holding police officers more accountable -- not only were we going to put more funding into some of the training and technology that can prevent these things from happening, but I'm going to stay on this. And not only am I going to stay on it, [but] by virtue of this staying in the news because of some of these protests, hopefully the entire society says, "Let's finally try to make some real progress on this."
"This isn't going to be solved overnight," he added. "This is something that is deeply rooted in our society. It's deeply rooted in our history." But Obama also made two key points:
We have made progress -- and we have to remember that. As disturbing as these recent events are, the President emphasized that things are still better -- not good, but better -- than they were 50 years ago. The importance of understanding this, he said, is to give us hope that we can continue to make even more progress going forward.
We have to be persistent. The President also noted that progress typically comes in steps and increments. "You have to have vigilance, but you have to realize that it's going to take some time," he said. "We're not going to make it perfect, but we can make it better. Better is good because, over time, if you have enough 'better,' 10 years, 20 years from now, our kids are safer, the community's more confident about its place, the police officers are going to be in a position to do a better job."
While reiterating that the vast majority of America's law enforcement officers are doing their jobs well, the president also noted that some officers have received poor training, are in departments that tolerate sloppy police work and have a subconscious fear of people who look different. All of this, he said, contributes to "a national problem that's going to require a national solution."
Now isn't the time for rhetoric, Obama said, but rather to figure out what works as far as police training, equipment, accountability measures, review systems and prosecution practices. He also underlined the importance of changing people's hearts and minds, but noted that hearts and minds will catch up with the laws:
Dr. King once said, when he was asked about anti-lynching legislation -- somebody said, "Well, you know, you can't change what's in the hearts and minds of the white folks in the South. You can't legislate what's in their hearts." He says, "Well, you can't legislate what's in their hearts, but I tell you what: If you can just stop them from lynching me, that's progress. That's a pretty good thing." And over time, hearts and minds catch up with laws. That's been the history of progress in this country.
On his hopes for the future
In his final question, Johnson asked the President Obama what his hopes and visions are for his children and grandchildren.
"I want my children to be seen as the individuals that they are, and I want them to be judged based on the content of their character and their behavior and their talents and their gifts," Obama said. "I don't want them to be objects of fear simply because of misguided attitudes."
You know, part of what I think is so heartbreaking and frustrating for a lot of folks when they watch this is the recognition that simply by virtue of color, you've got less margin for error. That's particularly true for black boys.
Young men, teenage boys -- sometimes they're going to do stupid stuff. That's true whether they're white, black, Hispanic -- it doesn't matter. You did stupid stuff, I did stupid stuff. Most of the time it's harmless. Sometimes it's careless. And then we grow and we progress and we become, hopefully, solid citizens and men who are contributing to our society.

And so, it's not simply that we want to make sure that the perfect young man is treated okay. We also want a boy who's a boy, or a young man who is maybe a little confused, maybe makes a mistake -- we want them to be given the same benefit of the doubt as any other man would, or any other boy would be given. And that, I think, is going to be the test of whether or not our society and our law enforcement and our schools are operating the way they should be.
While pointing out that successive generations usually have more empathy than their predecessors, the president also noted that "we can't just wait for that process to happen on its own. It also requires policy changes. It requires training. It requires specific steps by police departments, starting from the top, in order to change some of these mindsets."
"I guess the answer to your question is pretty simple: I want my grandsons to be treated like anyone else's grandsons," he said.
I think the biggest message I want to give to all your viewers is, this is not only personal for me, because of who I am, and who Michelle is, and who our family members are, and what our experiences are. But as President, I consider this to be one of the most important issues we face, because America works when everybody feels as if they are being treated fairly, and that they've got a fair shot. And whenever we are unified in trying to uphold our ideals, then this country can't be stopped. And when we are divided, and people feel as if those ideals are being betrayed, that holds us back in every aspect of life. And I'm confident we're going to be able to make progress.
Reproduced from the White House website.
Watch the interview, in which President Obama addresses issues or race, racism and the Eric Garner and Michael Brown protests in an exclusive interview with BET: