Obama Calls on Fellow World Leaders to Curb Global Warming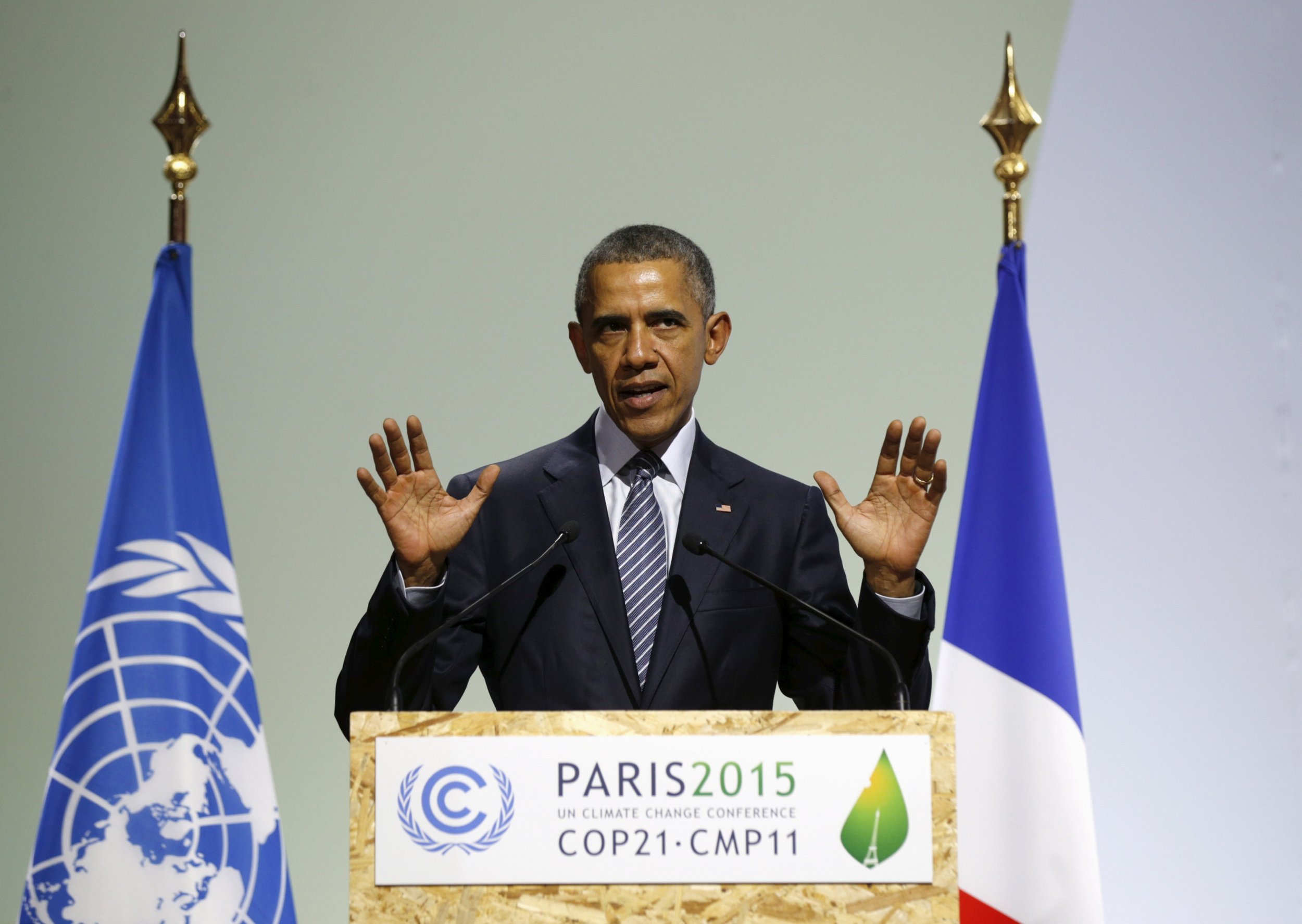 Updated | U.S. President Barack Obama on Monday urged dozens of other world leaders gathered near Paris at the COP21 United Nations climate change conference to curb global warming before it's too late.
"I come here personally as the leader of the world's biggest economy and second biggest emitter to say that America not only acknowledges its role in climate change but embraces doing something about it," Obama said.
He spoke during the opening session of the COP21, a summit that will host heads of state and other government representatives from nearly 200 countries this week in France. The leaders at the two-week international Conference of the Parties aim to tackle global warming and agree on a deal that would commit the entire world to curbing greenhouse gas emissions. More than 180 countries have submitted individual national plans, but there's no guarantee that all of the states will agree on a universal deal.
Later, Obama met with Indian Prime Minister Narendra Modi. Both leaders agreed that climate change is an "urgent threat," according to the press pool of reporters. Obama said he welcomes India's leadership on the issue. Obama also said the Paris meeting should protect the ability of developing countries, such as India, to pursue their fight against poverty, but that serious climate commitments from all parties is necessary.
"We are going to be making a very important contribution," Modi said about his country's "ambitious targets" in combating climate change, according to the press pool.
October 2015 was the hottest October on the globe ever recorded. It beat the previous October record, set just last year, by 0.36 degrees Fahrenheit. Obama has made combating global warming one of his ongoing efforts during his presidency.
Other world leaders addressed the conference on Monday as well. In his speech, Russian President Vladimir Putin called climate change "one of the gravest challenges that humanity is facing." He said his country will continue to contribute to joint efforts aimed at preventing global warming.
German Chancellor Angela Merkel said the Paris deal should deliver what the leaders promised six years ago in Copenhagen: $100 billion a year in climate aid to help the world's developing countries by 2020. The money will be used to assist in both climate change mitigation and resilience.
In his remarks, Chinese President Xi Jinping said addressing climate change shouldn't hinder countries' abilities to develop. The deal, he said, should put effective control on atmospheric concentrations of greenhouse gases, motivate global efforts to cut emissions and encourage nongovernmental organizations to take part in international cooperation on climate change.
Last year, Obama and Xi reached an unprecedented agreement to reduce carbon emissions and tackle the growing crisis of global climate change. The deal included the first-ever commitment by China to stop its emissions from increasing after 2030.
In a meeting with Xi on Monday, Obama said coordination with Beijing on climate change is critical, and praised China's leadership's pledge to cut emissions.
The conference started just weeks after the series of coordinated attacks in Paris that killed 130 people and injured hundreds more on November 13.
"We stand united in solidarity, not only to deliver justice to the terrorist network responsible for those attacks but to protect our people," Obama said Monday. The conference continuing in the wake of the attacks was what he called "an act of defiance that proves nothing will deter us from building the future we want for our children."
"What greater rejection of those who would tear down our world than marshaling our best efforts to save it," Obama added.
With increased security measures in the wake of the attacks, French leaders banned climate change protesters in the capital. But on Sunday, authorities detained dozens of demonstrators who clashed with police in central Paris.
Earlier Monday, Obama made a surprise visit to the Bataclan, the concert hall where 90 people were killed in the attacks on November 13. He is scheduled to stay in Paris until Tuesday.
The conference is being held at Le Bourget, located just outside of the French capital. It is scheduled to end on December 11.
This story has been updated to include developments at the conference.