Obama Calls for Prison Reform While Visiting Federal Penitentiary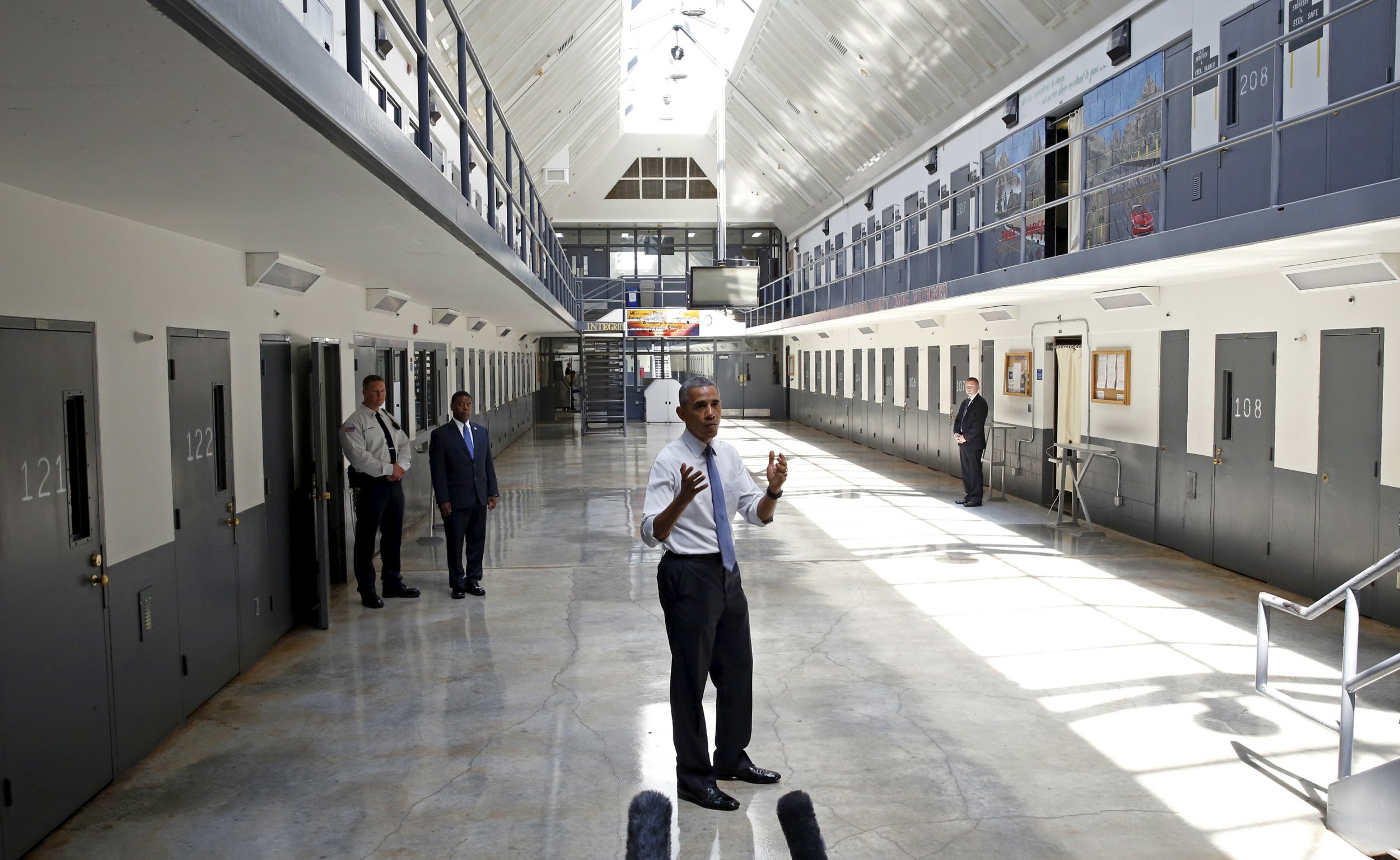 President Barack Obama on Thursday called for prison reform while becoming the first sitting president to visit a federal prison.
Obama advocated for reducing sentences for non-violent drug offenders and brought up the issue of overcrowding in prisons while at the El Reno Federal Prison in Oklahoma. He also spoke about gang activity and sexual assault, according to Mark Knoller, a White House correspondent for CBS News.
Obama spoke for just under 10 minutes at the prison. Discussing rehabilitation, the White House press pool reported he said: "The question is, not only, how do we make sure we sustain those programs here in the prison, but how do we make sure that those same kind of institutional supports are there for kids and teenagers before they get into the criminal justice system. We have to consider whether this is the smartest way for us to both control crime and rehabilitate individuals."
When asked what part of the visit had the most impact on him, Obama said it was meeting with the prisoners. "We have a tendency sometimes to take for granted or think it's normal that so many young people end up in our criminal justice system. It's not normal, it's not what happens in other countries. What is normal is teenagers doing stupid things. What is normal is young people who make mistakes. And we've got to be able to distinguish between dangerous individuals who need to be incapacitated and incarcerated versus young people who are in an environment in which they are adapting, but if given different opportunities, a different vision of life, they could thrive," the president said.
Earlier this week, Obama took to Twitter to share statistics about incarceration:
Obama also addressed prison reform on Wednesday afternoon, speaking at a press conference on the Iran nuclear deal:
I am very appreciative of folks like Dick Durbin and Cory Booker, alongside Mike Lee and Rand Paul and other folks in the House who are working together to see if we can both reduce some of these mandatory minimums around non-violent drug offenses. Because again, I tend not to have a lot of sympathy when it comes to violent crime. But when it comes to non-violent drug offenses, is there work that we can do to reduce mandatory minimums, create more diversion programs like drug courts? Then, can we do a better job on the rehabilitation side inside of prisons so that we are preparing these folks who are eventually going to be released to reenter the workforce? On the back end, are we doing more to link them up with reentry programs that are effective?