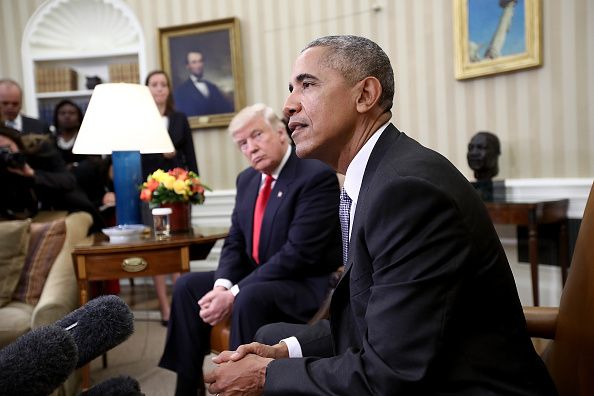 President Barack Obama has warned U.S. President-elect Donald Trump to stand up to Russia if the country does not follow American "values and international norms."
Obama made his comments at a joint press conference with German Chancellor Angela Merkel in Berlin on Thursday as fears grow that Trump will grow increasingly close with his Russian counterpart Vladimir Putin.
Obama said that Trump should not just "cut some deals" with Russia when it was convenient.
He said that while he did not expect his successor to "follow exactly our blueprint or our approach," he hoped that Trump would continue to defend the values of democracy around the world.
Obama said the president-elect should seek a "constructive relationship" with Moscow as his administration has for two terms, but warned that he should be "realistic in recognizing there are some significant differences" in how both countries view the world.
"My hope is he does not simply take a realpolitik approach and suggest that... if we just cut some deals with Russia, even if it hurts people or even if it violates international norms or even if it leaves smaller countries vulnerable, or creates long-term problems in regions like Syria, that we just do whatever's convenient at the time," he said.
Washington and Moscow remain at odds over Russia's incursion into Ukraine, with subsequent Western sanctions on the Russian economy, and the Syrian conflict, now in its sixth year. Putin continues to back Syrian President Bashar al-Assad with air power that the U.S. says has killed civilians and targeted medical facilities.
Trump has suggested that he would revoke U.S. support for moderate rebels in Syria that Washington has been backing against Assad. In the final presidential debate, he said that Assad is "killing ISIS," implying that it was better to have him in power rather than out of power.
This would mark a change in U.S. policy as Washington has sought to have Assad removed and usher a transition of power. But Russia's intervention into the conflict in September 2015 emboldened Assad and his forces are now on the front-foot in the conflict. If his campaign rhetoric is to be believed, Trump's ascendance to the White House may allow this trend to continue.