Obama Administration Launches Celebrity-Studded Campaign to End Campus Sexual Assaults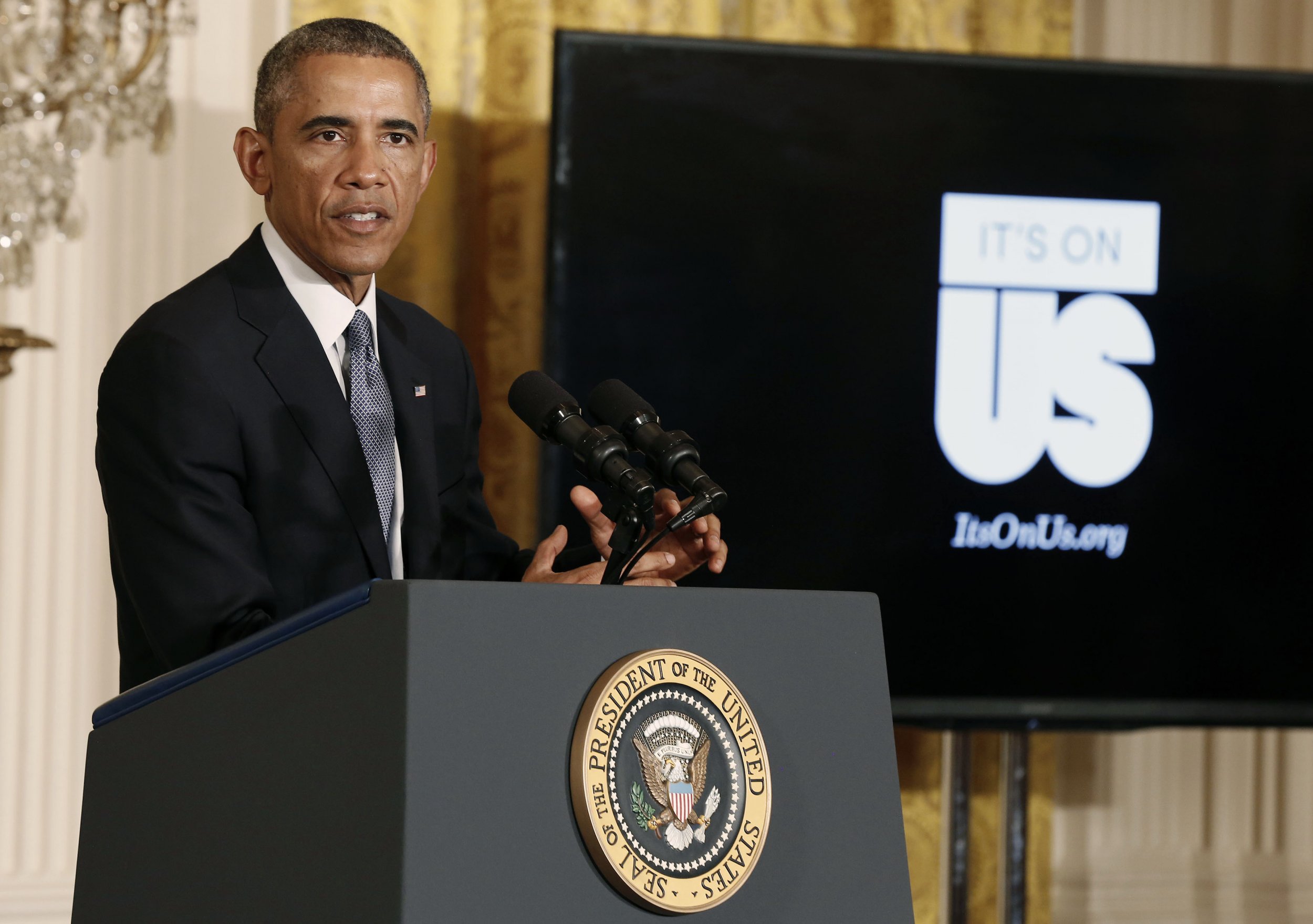 On Friday, the Obama administration announced the launch of a public service campaign, "It's on Us," aimed at eradicating sexual assault on college campuses. The campaign is intended to create an environment where assault is not tolerated through educational efforts and viral marketing.
Notable public figures appeared in a video on the campaign's website, Itsonus.org, on Friday. The PSA includes statements from Scandal's Kerry Washington, Mad Men's Jon Hamm and musician Questlove, among others. The Obama administration has frequently enlisted celebrities in campaigns, such as the videos supporting the Affordable Care Act back in February, to engage with supporters and young people. High-profile organizations, including MTV, Electronic Arts, Tumblr and Newsweek, have also pledged to spread the word for "It's on Us" through their online and programming platforms.
In January, Obama launched the White House Task Force to Protect Students From Sexual Assault, which has worked with schools to prevent sexual assaults, following a Washington Post report that roughly 55 percent of colleges with 1,000 or more students reported at least one incidence of sexual violence in 2012. The task force unveiled its "1is2many" public service announcement back in April, which helped students and administrations with strategies for curbing sexual assaults on campus.
According to an "It's on Us" fact sheet, the new campaign focuses on "transparency," presumably a response to a May report by the U.S. Department of Education revealing that 55 colleges and universities are under federal investigation for violating laws over their handling of sexual assault cases.
A report earlier this summer indicates that more people are reporting sexual assault on campus, although research says that only 12 percent of women assaulted on campus report attacks to authorities. "It's on Us," which is being launched near the beginning of the school year, announced its partnership with over 200 colleges and universities, the National Collegiate Athletic Association and Generation Progress, a youth-centered advocacy organization affiliated with the Center for American Progress. While the campaign is aimed at students, officials say the highly publicized recent cases of domestic violence involving NFL players also incited the change in sexual violence rhetoric.
The campaign hopes to spur bystanders, particularly men, to take more active roles in prevention. Itsonus.org encourages people to use the "It's on Us" logo in their social media profile photos and sign a pledge online. The site also provides educational materials and tips about what to do if you observe an assault or suspect one may happen.
In addition to spreading the word, "It's on Us" partners are expected to create original content for their audiences that will help mobilize young people to prevent sexual assaults.