Obama Celebrates Victories Over Trumpism And The GOP In Virginia And New Jersey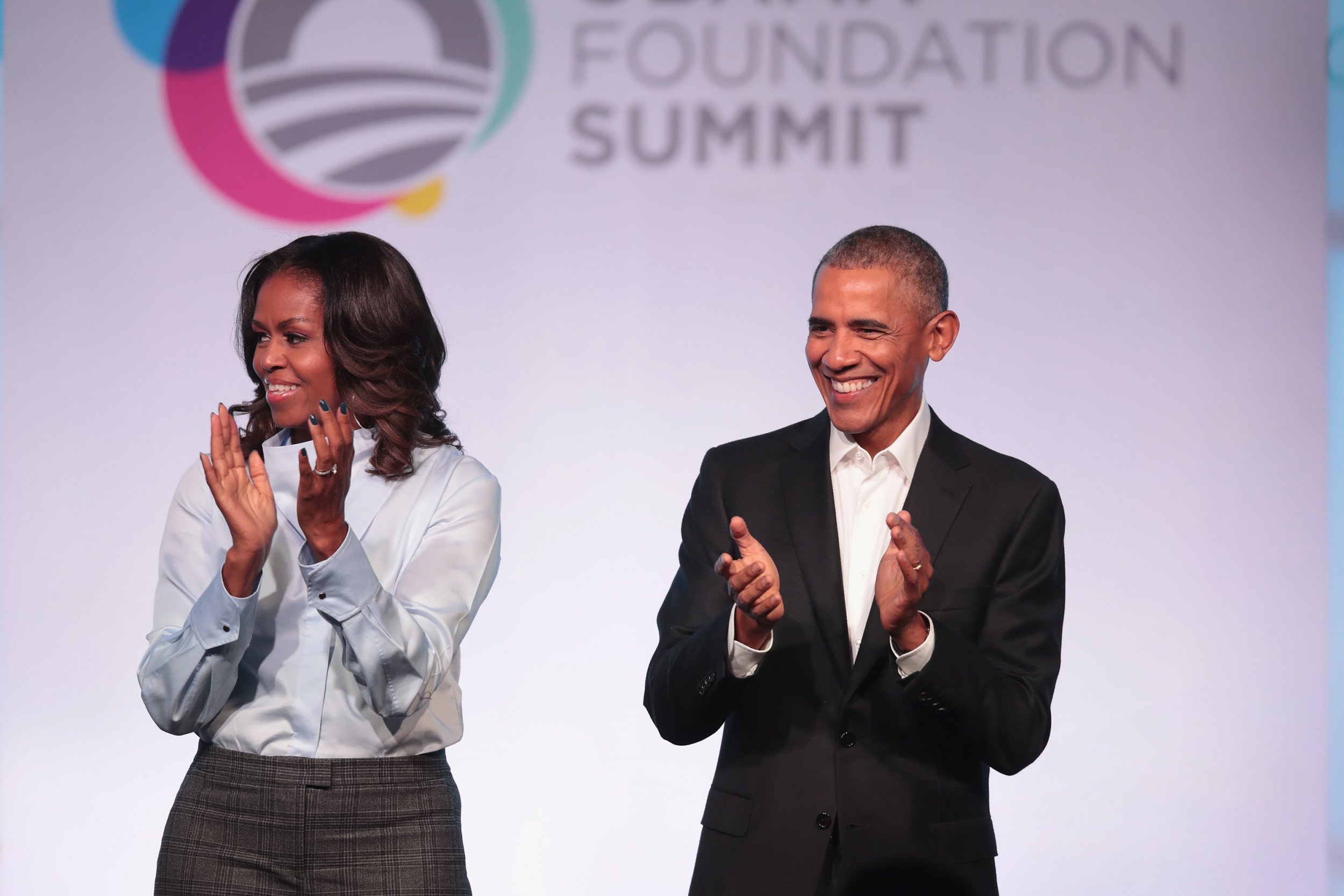 Former President Barack Obama was in a very good mood Wednesday morning after major triumphs for the Democratic Party in gubernatorial elections in Virginia and New Jersey on Tuesday.
Celebrating the victories of Democrats Ralph Northam and Phil Murphy, among others, Obama tweeted, "This is what happens when the people vote. Congrats @RalphNortham and @PhilMurphyNJ. And congratulations to all the victors in state legislative, county and mayors' races. Every office in a democracy counts!"
In mid-October, Obama made visits to both Virginia and New Jersey to support Northam's and Murphy's respective campaigns for governor. "Our democracy is at stake," Obama said while speaking in Virginia on October 19. "Elections matter. Voting matters. You can't take anything for granted. You can't sit this one out. It's up to you."
In his appearances, Obama rebuked Trump's worldview and urged voters to reject the politics of fear—and it appears to have paid off.
Northam defeated Ed Gillespie, a Republican candidate who embraced Trump's hard-line stances on immigration and crime while somewhat distancing himself from the president and his low approval ratings. Northam won by an even wider margin than Hillary Clinton's 5 percent win over Trump in Virginia just one year ago, a possible indication of Trump's weakening position.
On the morning of the election, Trump had tweeted his support for Gillespie: "@EdWGillespie will totally turn around the high crime and poor economic performance of VA. MS-13 and crime will be gone. Vote today, ASAP!
After Gillespie's defeat, however, Trump tweeted, "Ed Gillespie worked hard but did not embrace me or what I stand for."
Meanwhile, Murphy defeated the Republican candidate, Lieutenant Governor Kim Guadagno, as New Jersey says goodbye to Chris Christie's turbulent tenure. "This is the first major election since Donald Trump was elected. Tonight, New Jersey sent an unmistakable message to the entire nation—we are better than this," Murphy said Tuesday night during his victory speech.
Northam's and Murphy's victories are being characterized as major defeats for Trumpism and the GOP. Trump's approval rating nationally is at its lowest point, and a large portion of New Jersey voters said they pulled the lever purely in opposition to the president, according to CNN.
On Tuesday night, Democratic National Committee Chairman Tom Perez celebrated his party's success in Virginia alongside Northam. Perez told voters, "You have sent a message tonight not simply to the voters in the Commonwealth of Virginia; you have sent a message across the globe.... Donald Trump, you do not stand for our values."
The next big test will come in the midterm elections, one year from now.