Is Obama Coming Back? Democrats Cry for Help Beating Trump Because 'There's F*****g No One Else'
There is a vacuum at the top of the Democratic Party that activists are demanding be filled by former president Barack Obama who is accused of sitting too quietly on the sidelines, leaving Democrats disorganized while Donald Trump wreaks havoc in America.
Some Democrats feel rudderless since their presidential candidate Hillary Clinton lost in November 2016 after a bitter and at times vicious election campaign. Defeated and tarnished, she has largely stepped back. Obama, too, slunk off into the shadows to give space for a new hope to emerge from the party and take the lead. Abortively, it seems.
Now, with the midterms looming, there is a sense of urgency that someone with gravitas and credibility steers the party through the next political fight this fall to land Trump with a bloody nose—and that someone should be Obama.
"There's fucking no one else," an unnamed Democratic strategist told The Hill. "Bill Clinton is toxic, [Jimmy] Carter is too old, and there's no one else around for miles."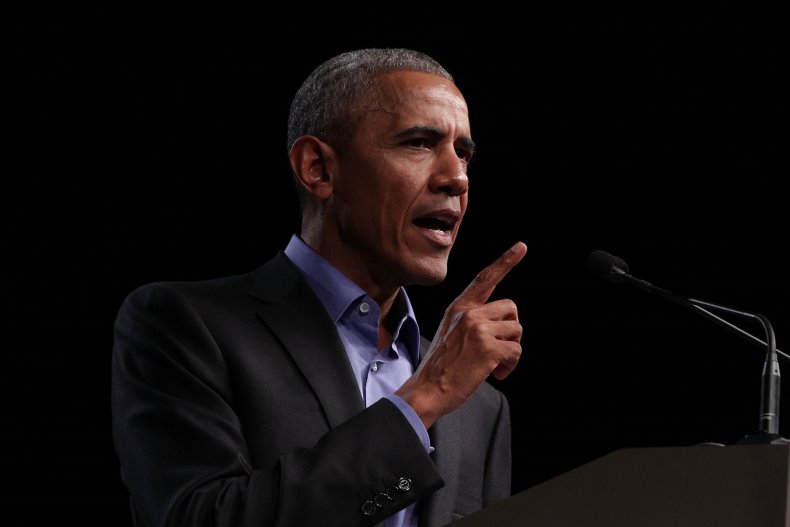 Bernie Sanders, Joe Biden and Elizabeth Warren—three of the party's most popular grandees—are all mulling becoming the Democrat nominee for president in 2020, ruling them out from stepping up as the party honcho in the meantime.
The reason Bill Clinton is toxic? Two decades later, the Monica Lewinsky scandal is being cast in a new light amid the #MeToo movement. And historic allegations against him of sexual assault—which he denies—are getting a fresh hearing.
Clinton also sparked a backlash when he told PBS Newshour that "the norms have really changed in terms of what you can do to somebody against their will," and then in another interview with NBC's Today show grew frustrated with questioning about Lewinsky.
And the former president Jimmy Carter, at 93 years old, is well and truly into his retirement.
But there are signs that Obama is gearing up to become more active. He reportedly held one-on-one meetings with several of the Democrats thinking about running in 2020 to offer advice and discuss party strategy in taking on Trump, who has an unorthodox campaign style.
His PAC, Organizing for America, is also gearing up for the 2018 midterms. It launched the Organizing for '18 campaign to support grassroots campaigning across America because "the stakes couldn't be higher."
And he is expected to hit the campaign trail and make endorsements as Election Day nears.
Obama's intervention could make a big difference in swing states—his post-office approval rating, according to Gallup, is 63 percent as Americans view his presidency largely positively in hindsight. President Trump's current approval rating is just 42 percent.
Obama did not respond to a request for comment.