Obama vs. Trump: Barack Urges Vote Against Roy Moore With His Own Robocall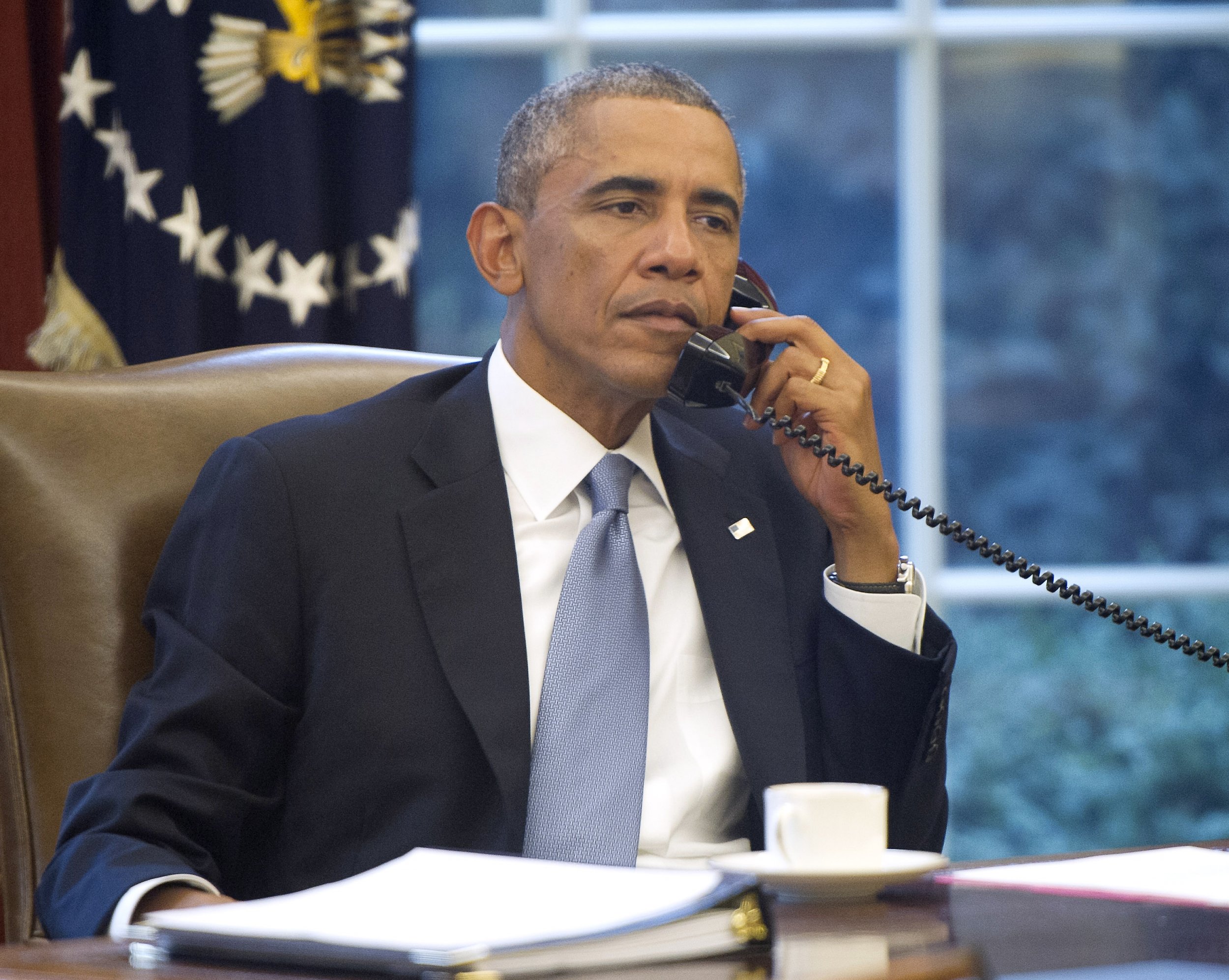 Barack Obama is out of power, but he's not powerless to attack his successor's pick for the Alabama Senate seat, taping a robocall as the race comes to a dramatic close.
The former president released a voice message to Alabama voters telling them to back Doug Jones in the controversial race, where President Donald Trump has offered his public support to former Alabama Judge Roy Moore, who has been accused of sexual misconduct with underage girls. CNN first reported that Obama was voicing his support for Jones with the calls.
"This one's serious," the former president said in the call. "You can't sit it out."
Obama's call comes as Trump publicly endorsed the Republican candidate and released a robocall of his own telling voters to back Moore.
"We need Roy voting for us," Trump said in the call. "I am stopping illegal immigration and crime. We're building a stronger military and protecting the Second Amendment and our pro-life values. But if Alabama elects liberal Democrat Doug Jones, all of our progress will be stopped cold. We already know Democrat Doug Jones is a puppet of Nancy Pelosi and Chuck Schumer, and he will vote with the Washington liberals every single time."
Obama's call does not mention Moore, but he tells voters that Jones would mean progress for Alabama countering Trump.
"Doug Jones is a fighter for equality, for progress," Obama said in the message. "Doug will be our champion for justice. So get out and vote, Alabama."
Trump told supporters at a rally in Pensacola, Florida, on Friday that Moore was the "right choice" for the Senate seat. Trump told the crowd that Republicans cannot "afford to lose a seat" in the Senate, where they currently hold a 52-48 majority.
Controversy erupted over the Senate seat after The Washington Post reported that several women say Moore sexually harassed or assaulted them when they were minors. At the rally, Trump attacked one of Moore's accusers, Beverly Young Nelson, who said Moore had molested her and showed her high school yearbook with an inscription by Moore, who was in his 30s at the time. Trump questioned the validity of Nelson's accusation at the rally and criticized her attorney, Gloria Allred, after Nelson admitted she added the date and the location under Moore's suggestive inscription.
"So did you see what happened today?" he said. "You know, the yearbook? Did you see that? There was a little mistake made. She started writing things in the yearbook," he said at the rally, which was held about 20 miles from the Alabama border. "Gloria Allred, anytime you see her, you know something's going wrong."
Celebrities, elected officials and now Obama have spoken out about the special election. Obama's call could help Jones reach out to black voters, whom he will need to win the election. On Saturday, the former U.S. attorney for the northern district of Alabama backed Jones at the Brown Chapel AME Church in Selma, along with local black leaders. The historic church marks the site where Reverend Martin Luther King Jr. made the march to the Edmund Pettus Bridge in 1965.
But Jones's effort to appeal to black people was hurt after his campaign released a flyer last week that many viewed as racially supercharged.
"Think if a black man went after high school girls anyone would try to make him a senator?" the ad asked.