Obama Criticizes Trump for 'Fussing' About 2017 Inauguration Crowd Size As COVID Death Toll Surpasses 225K
Former President Barack Obama on Tuesday accused President Donald Trump of being "jealous" of the COVID-19 pandemic's media coverage while "fussing" about the size of the crowd that attended his 2017 inauguration.
Obama made the remarks during campaign event for Democratic presidential nominee Joe Biden in Orlando, Florida. The former president suggested that Trump was more concerned with a vain attempt to prove that he had a larger inauguration audience than his predecessor than attempting to combat COVID-19 as the U.S. continues to lead the world in deaths caused by the virus.
"With everything that's happening, you know what he brought up?" Obama said. "He was fussing about the crowd size at the inauguration again. Saying his was bigger. Who is thinking about that right now? Nobody except him. But the rest of us have had to live with the consequences."
"More than 225,000 people in this country are dead," added Obama. "More than 100,000 small businesses have closed. Half a million jobs are gone in Florida alone, think about that. And what's his closing argument? That people are too focused on COVID... He's jealous of COVID's media coverage."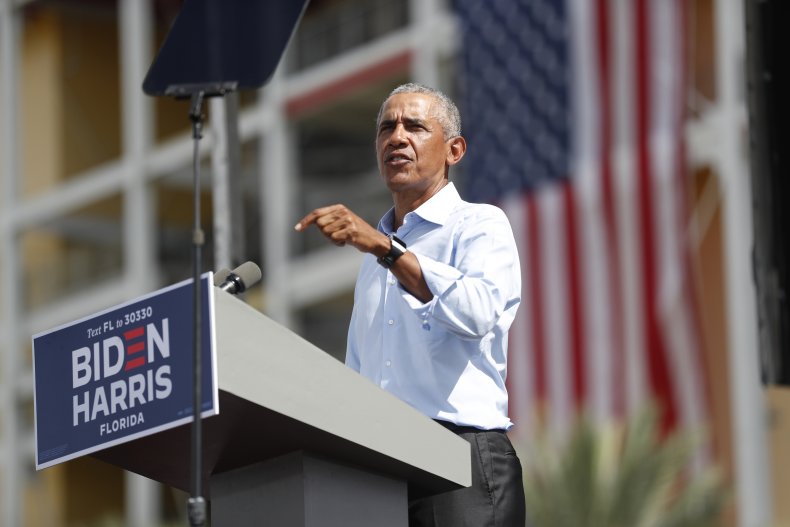 Trump has boasted about the crowd at his January 2017 inauguration since shortly after it took place, suggesting that far more people attended than any reasonable estimates have concluded. Trump revisited the topic at a rally in Gastonia, North Carolina on October 21, falsely claiming that the media unfairly compared photographs from long before he was sworn in as president to those taken during the swearing in of Obama.
"When we had the inauguration, I said, 'we had the biggest crowd,' and then they show empty space and they show Barack Hussein Obama's crowd?" Trump said. "When I was speaking, it was full. But when they show the field, it was all empty."
"They took the pictures way early," added Trump "When I was speaking, I'm looking at this thing all the way back, it was so beautiful... largest audience, and I think it was the largest audience. And we suffered."
One day after the inauguration, former White House Press Secretary Sean Spicer fiercely defended the claim that the crowd was larger than Obama's despite evidence—including photographs taken at the same point during both events that suggested far fewer people attended—insisting that it was "the largest audience ever to witness an inauguration, period."
The Trump campaign's efforts to shift focus away from the pandemic have intensified during the final stage of election. With new cases of the virus recently reaching all-time highs as the death toll rises, the president has repeatedly complained about continued media coverage of the pandemic while attempting to minimize the health impact of the virus.
"COVID, COVID, COVID... well, we have a spike in cases," Trump said at a Michigan rally on Tuesday. "You ever notice they don't use the word 'death,' they use the word 'cases?' Cases, like Barron Trump is a case. He has sniffles, he was sniffling. One Kleenex, that's all he needed. One and he was better."
"And you know why we have so many cases?" Trump added. "Because we test more... in many ways I hate it... if I tested half, if I said we are going to cut our testing down in half, they'd go crazy because the cases would go down in approximately half."
The U.S. leads the world in both cases of COVID-19 and deaths caused by the virus, with 8,704,192 cases and 225,706 deaths as of Tuesday, according to Johns Hopkins University. Although the country trails only China in terms of the total number of tests conducted, many other countries have tested more per capita, when accounting for relative population size.
Newsweek reached out to the Trump campaign for comment.