Barack Obama Crushed Donald Trump in the Midterms With Endorsements Winning Far More Races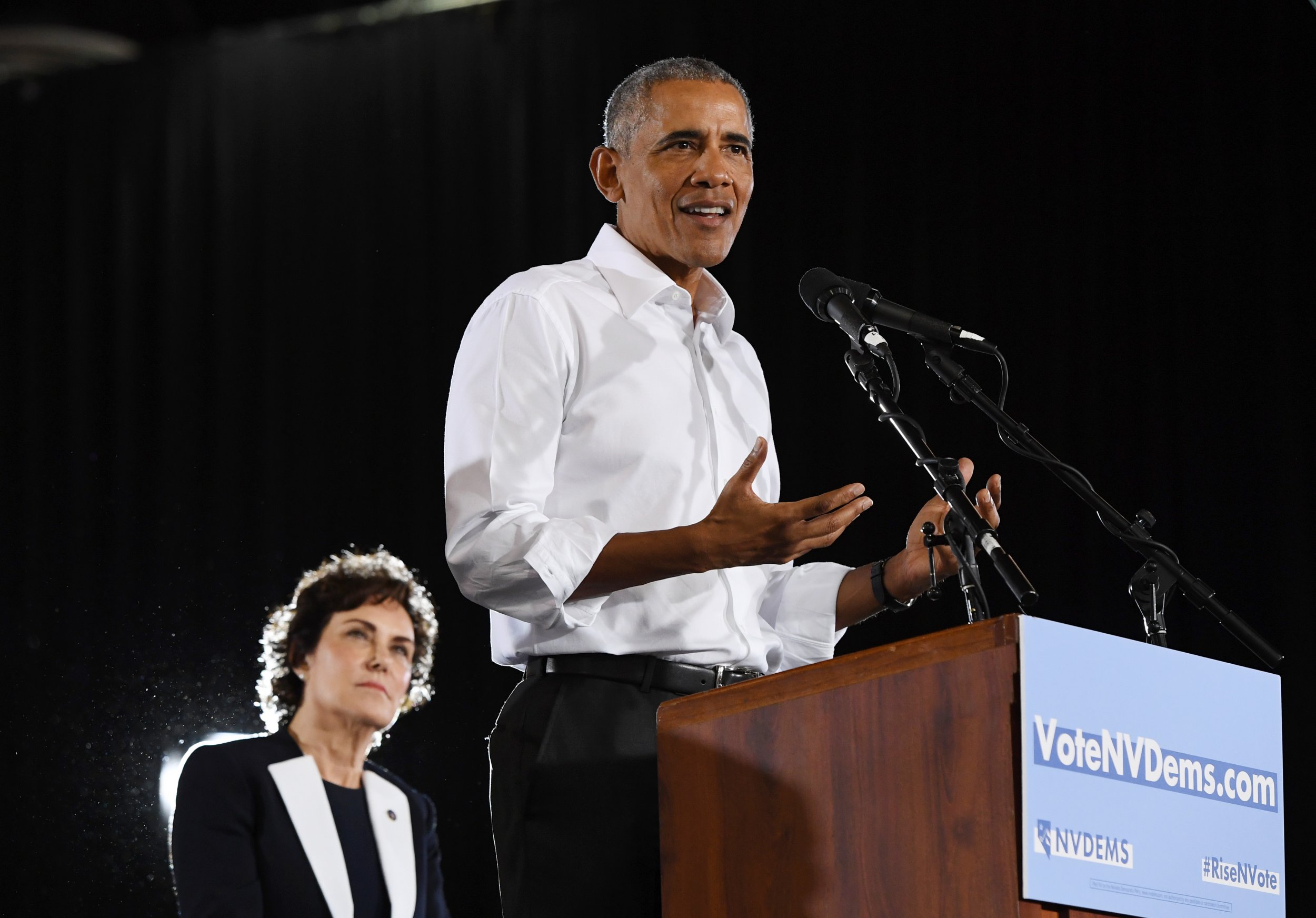 The backing of former President Barack Obama was a far more valuable commodity to a midterm candidate this year when compared to the endorsement of current commander-in-chief Donald Trump.
Obama endorsed 74 candidates in House and Senate races around the country ahead of Tuesday's midterms and 39 of them, or 52.7 percent, won their respective races. In contrast, only 21 of the 75 candidates endorsed by Trump claimed victory, according to an analysis by The Brookings Institution.
Trump registered a success rate of only 28 percent, lower than his second in command, Vice President Mike Pence. The former Indiana governor endorsed 61 candidates and 27, or just over 44 percent, won.
The success rate for Obama and Trump could increase depending on the results of Florida and Georgia's contentious elections. Obama heavily backed Georgia gubernatorial candidate Stacy Abrams while Trump supported now-former Georgia secretary of state Brian Kemp. Abrams is claiming voters were suppressed and votes are still being counted as a possible runoff looms.
Trump also rallied for Florida Governor Rick Scott in his race against incumbent Senator Bill Nelson, and for Representative Ron DeSantis against Obama's pick, Tallahassee Mayor Andrew Gillum. A recount for each race could occur as Trump and other Republicans accuse officials from Broward and Palm Beach counties of potential voter fraud.
The analysts also looked at the success of candidates endorsed by former Vice President Joe Biden and Senator Bernie Sanders of Vermont, each fairing far better than Trump. Biden got behind 57 candidates and 35 won, and 16 of Sanders's 24 endorsees won.
Trump called the midterms a "tremendous success" as Republicans improved their hold of the Senate by at least one seat, but the analysis showed the president largely shied away from difficult or close races when campaigning even though he called the midterms a referendum on his first two years in office.
Using the Cook Political Report's partisan voter index, or PVI, the analysis showed Trump only offered endorsements to candidates in districts with an average PVI of +7.6 percent in favor of Republicans. PVI is based on how a district voted in the two previous presidential elections and rates which party it likely favors.
In contrast, Pence had much heavier lifting to do. He endorsed candidates from districts with a +1.7 PVI for Republicans. Both Obama and Sanders also focused endorsements in districts that leaned Democratic, while Biden "endorsed in true swing (or purple) districts," according to the report.
However, the analysis did find that when Trump actually campaigned for a candidate he had a much higher success rate. The analysis defined campaigning for a candidate as "only public appearances where the candidate was present and the principal actually spoke his or her name. "
The president showed up for 36 of his 75 candidates and 21 of them won for a much stronger rate of 58.3 percent. Pence's rate dropped to 37.8 percent, or only 14 victories for the 37 candidates he campaigned for.
A candidate with Obama's public support won at a rate of 54.1 percent if the former president swung through their district, a slight improvement.