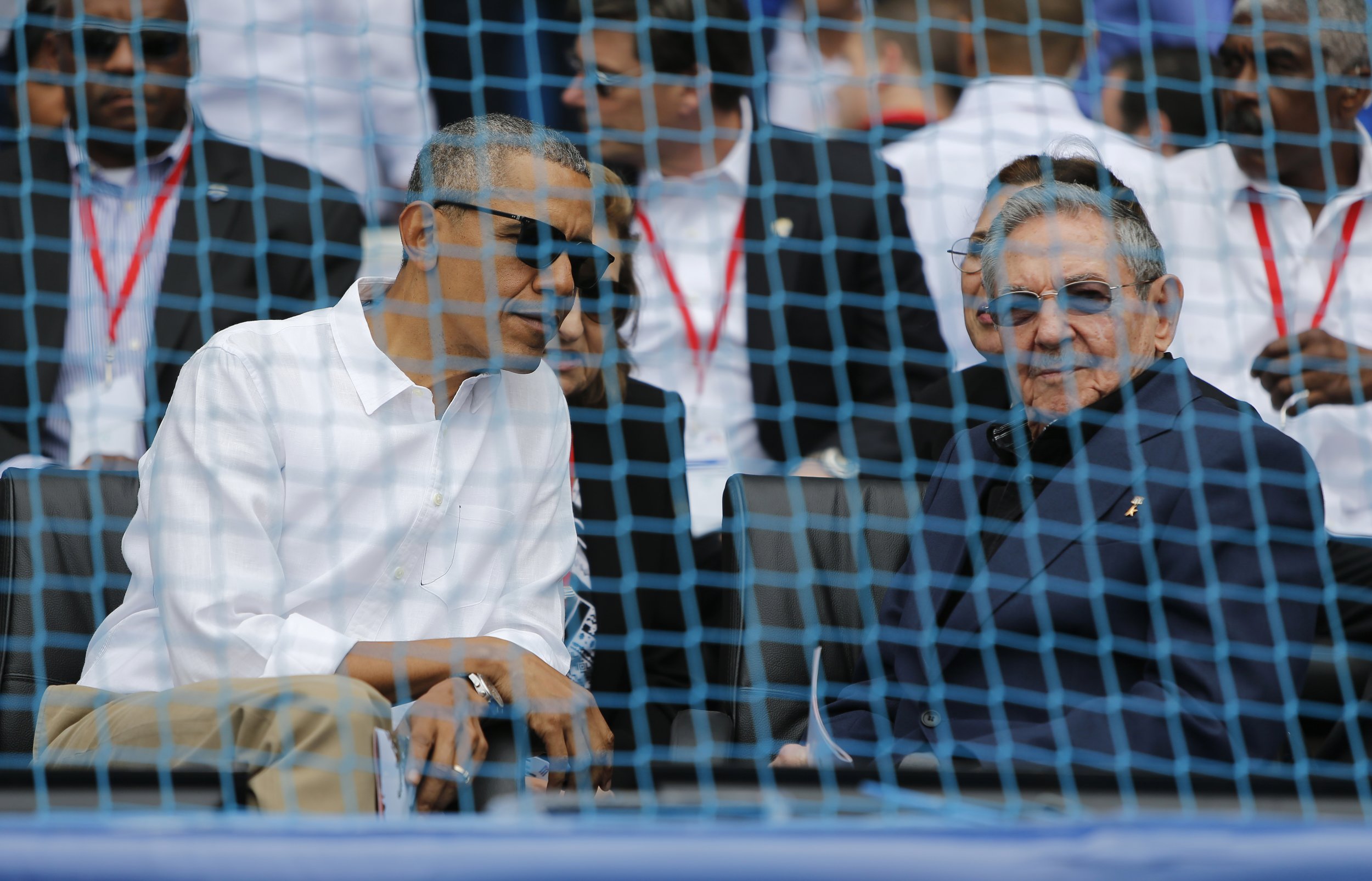 On Tuesday afternoon, a Major League Baseball team took the field in Cuba for the first time since 1999. In attendance was the president of the United States, the first to visit the island nation in 88 years. It was a historic afternoon.
The exhibition game between the Tampa Bay Rays and the Cuban National Team was scheduled to begin at 1:30 p.m. EST in Havana's Estadio Latinoamericano, but there was plenty of ceremony prior to the first pitch. Despite their differences, the U.S. and Cuba have always shared a love of baseball, so it's fitting that the game could be used to symbolize recent efforts to mend relations between the two countries. Before the game, a choreographed dance was performed, players from both teams took the field holding the hands of Cuban children and members of the Rays shook Obama's hand through the protective netting behind home plate. A particularly moving moment came when doves were released after each country's national anthem was sung.
The president and the first family were not the only notable figures in attendance. Seated next to Obama was, of course, Cuban President Raul Castro. The two appeared to get along well as they took in the game, a good sign for the continuing effort to normalize relations. "Our belief is that if you have more Americans traveling, if you have more commerce, if you have more interaction, if our ideas and culture is penetrating this society, that over time that gives us more leverage to advocate for the values that we care about," Obama told ESPN during the third inning. "The Cuban-American community is such a central part of the American experience."
"My view has been that if you do something for 50 years and it doesn't work, you've got to try something else," he added.
Also at the game was Rachel Robinson, the wife of Jackie Robinson, who, as Obama mentioned earlier on Tuesday, played a game at Estadio Latinoamericano as a member of the Montreal Royals before breaking the Major League color barrier in 1947.
"If you think about Jackie Robinson playing in this ballpark a couple of months before he breaks the color barrier, and then you have his wife [here now], that's the power of baseball, that's the power of sports," Obama told ESPN. "It can change attitudes in a way that a politician can never change, that a speech can never change."
But what about the actual game, which both Obama and the first lady appeared to be enjoying thoroughly?
"The strike zone is a little wide so far," the president said.
About the writer
Ryan Bort is a staff writer covering culture for Newsweek. Previously, he was a freelance writer and editor, and his work has appeared at Esquire, Quartz, Paste, Grantland, VICE Sports, and elsewhere. He is originally from Dallas, Texas.