On Cuban Television, Obama Presses Raúl Castro for More Freedom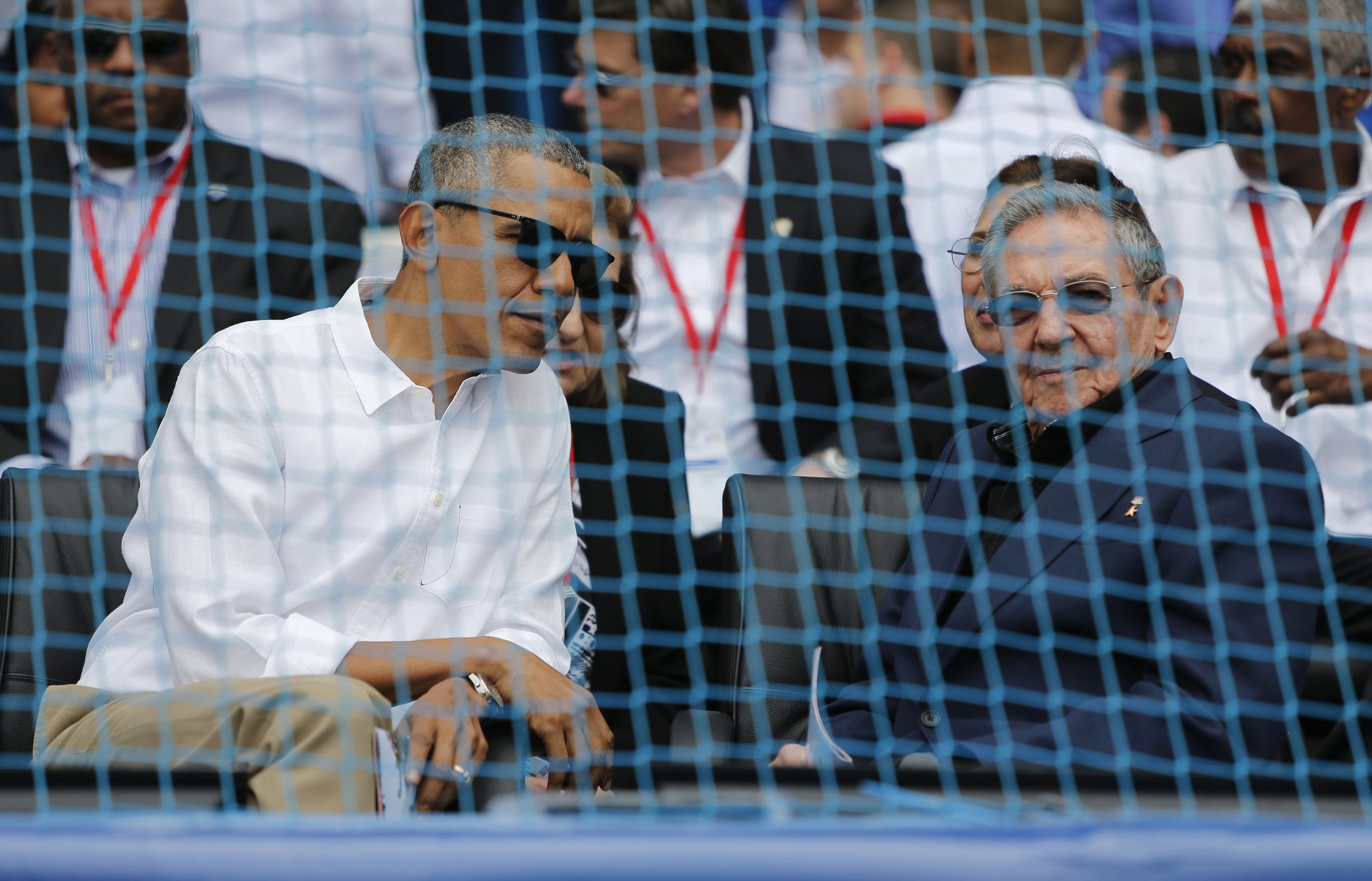 President Barack Obama laid out his vision for Cuba Tuesday in a keynote speech in Havana on the third and final day of his visit to the Communist-run island nation. It was the first visit by a sitting U.S. president since Calvin Coolidge.
"Havana is only 90 miles from Florida, but to get here we had to travel a great distance," Obama told an audience at the newly remodeled Gran Teatro Alicia Alonso, named for Alicia Alonso, who at 94 is Cuba's most famous ballerina. Alonso was greeted with applause from the audience, a mix of Cuban civil servants and American reporters, as she entered the theater.
Obama recounted a rocky period in U.S.-Cuban relations, including the Spanish-American War, when American ships sailed to Cuba "to liberate but also to exert control." The president also spoke of Cuban revolutionaries who sought support in the U.S. Among them was Cuba's national hero—and the only man whose visage appears more often in Havana than Che Guevara—José Martí. And he reminded his audience of the CIA-backed Bay of Pigs invasion in 1961 and the 1962 Cuban Missile Crisis, both low points in the history of the neighboring countries' relationship.
But Obama called that chapter of U.S.-Cuban relations an aberration. "I have come here to bury the last remnant of the Cold War in the Americas," he said, before comparing the U.S. and Cuba to "two brothers who have been estranged for many years but who share the same blood."
But brothers quarrel. The speech, which was broadcast live on Cuban state television, was the second time in as many days—and as many decades—that an American leader has spoken directly to the Cuban people and challenged their leaders.
"You do not need to fear the different voices of the Cuban people," Obama said. He wasn't speaking directly to Raúl Castro, but the message was clearly intended for Cuba's president, who continues to detain nonviolent protesters. Even as Air Force One landed in Cuba, police in Havana rounded up 50 members of Damas de Blanco, or the Ladies in White, a pro-human rights protest group. The president also called for free and fair elections, something Cuba hasn't seen for decades.
It remains difficult to gauge public sentiment in the country, with three-quarters of Cubans saying they feel as if they have to be careful about what they say in public. Still, Obama's speech was undoubtedly an exciting moment for most of the island's approximately 11 million inhabitants, who have long been told that their poor economic conditions are caused solely by the U.S. embargo.
Obama also reiterated his view that the U.S. embargo should end. "As president of the United States, I have called on our Congress to lift the embargo," he said. "But even if we lifted the embargo tomorrow, Cubans would not realize their potential without continued change here in Cuba."
The Obama administration continues to push the Castro regime to approve more business deals with U.S. companies, but American businesses and government officials say the Cuban government continues to drag its feet.
One issue left unresolved by Obama's trip is whether Cuban leaders will marry the ideals of the Cuban Revolution—namely, socialism and top-down economic control—with more democratic governance. In his speech, Obama seemed to suggest a path forward for Cuban leaders. "The ideals that are the starting point for every revolution...those ideals find their truest expression, I believe, in democracy," he said.
As proof that Democracy can bring change, Obama, who was born two years after Fidel Castro assumed power in 1959, cited the current American presidential campaign.
"Stop and consider this fact about the American campaign that's taking place right now," he said. "You had two Cuban-Americans in the Republican Party running against the legacy of a black man who was president while arguing that they're the best person to beat the Democratic nominee who will either be a woman or a democratic socialist. Who would have believed that in 1959?"