Obama Joins Stephen Curry and Chance the Rapper For Video Telling Young Men of Color, 'You Matter'
Former President Barack Obama is teaming up with celebrities to send a message to young men of color: "You matter."
Hip-hop hitmaker Chance the Rapper and NBA superstar Stephen Curry joined the former president for a public service announcement for My Brother's Keeper, a federal initiative Obama launched in 2014 to help boys and young men of color. The video was posted to YouTube on Christmas Eve.
"I want you to know, you matter," Obama says in the minute-long ad.
"There is nothing, not a single thing, that's more important to the future of America than whether or not young people all across this country can achieve their dreams."
The video then cuts to a black man speaking in a park as other people watch the speech live-streamed to their phones. One of the spectators is wearing an "I am a man" shirt, a phrase that became a rallying call and denunciation of oppression during the Civil Rights movement at the Memphis sanitation strike in 1968.
"We are the ones to inspire our generation, to rise up, take action and stand for the idea of opportunity for everyone," the man in the shirt says, "not just for the sake of young men like me but for sake of America's future.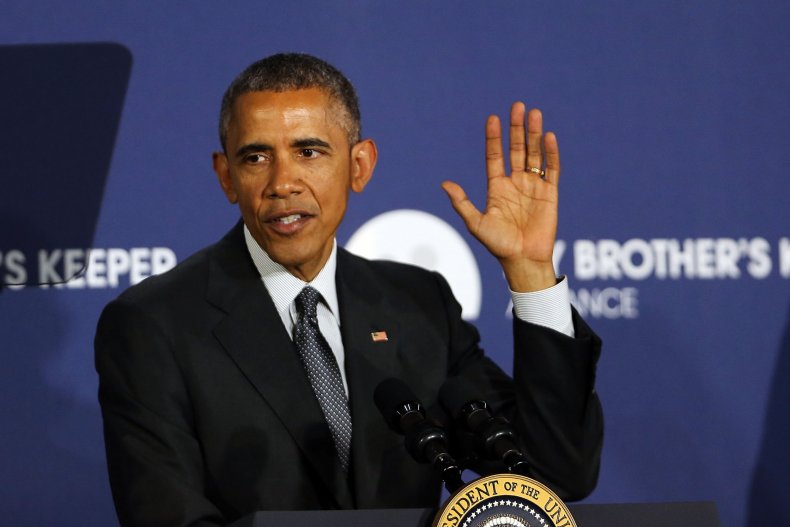 Throughout the video, Obama, Curry, Chance the Rapper and others chime in. The all-star point guard repeats, "We are the ones," while the Grammy-winning rapper says, "I am my brother's keeper."
Obama teamed up with Curry last year to bring attention to the nonprofit, nonpartisan organization, which works to close the opportunity gaps faced by young men of color.
"That's what My Brother's Keeper is all about," Obama said at the program's launch in February 2014. "Helping more of our young people stay on track. Providing the support they need to think more broadly about their future. Building on what works – when it works, in those critical life-changing moments."