Obama Defends His Record in U.N. Speech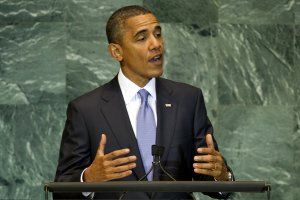 One can read a lot into the muted anticipation for President Obama's speech at the United Nations Thursday morning. Neither Obama nor the U.N. has the stature they once did—though one year ago, the president still had the rock-star status to make people pay attention to Turtle Bay.
And if people weren't expecting a blockbuster, all the better. In comparison with last year's address, which was both an invitation and a challenge to his fellow world leaders to step up in collaboration, Obama's speech Thursday was itself muted, offering a strong defense of his administration's work so far, but not giving much in the way of prospects (there's a reason people are treating his announcement that he'll go to Indonesia as the headline news).
Instead, he offered a point-by-point summary of what he's done so far (you can read the full text of the speech here). How does his defense hold up?
Wisely, he began with two areas in which he can claim reasonable success: financial regulatory legislation and the war on terror. While domestically the president still faces high unemployment—indeed, the continuing struggles of the U.S. economy seem likely to sink Democratic control of Congress in November—he can point to financial regulatory reform at home and close coordination with allies through the G20 (despite some disagreements within the group). He also claimed credit for waging an effective campaign of picking off Al Qaeda and allied leaders via drones and for withdrawing U.S. troops from Iraq.
After that, Obama's report card shows mostly incompletes—and a few less-pleasant grades. On Afghanistan, he claimed that "the United States and our allies are pursuing a strategy to break the Taliban's momentum and build the capacity of Afghanistan's government and security forces, so that a transition to Afghan responsibility can begin next July." While that may be true, it's far from clear it's going to work, as the hubbub over Bob Woodward's forthcoming book has reminded us. He's also on thin ice talking about terror-stopping work in the Horn of Africa and in South Asia.
Iran remains a looming issue for the U.N. and, despite some diplomatic victories, including the imposition of new sanctions, Obama hasn't moved the ball forward very far, while proliferation goes on. Similarly, the president hailed the Copenhagen accord on global warming ("we helped forge an accord in Copenhagen that—for the first time—commits all major economies to reduce their emissions"), an agreement that has been slammed for lacking teeth or real effects.
The two big incompletes, however, are nuclear security and Israeli-Palestinian peace talks. Obama has made the nuclear issue a signature one on the global stage. It may not be a sexy issue, but it could form a large part of Obama's foreign-policy legacy. Problem is, it's way too soon to say.
Obama also devoted a good chunk of his speech to the peace talks. Much of what he said was standard: the need for a just two-state solution, Israel's right to exist, the importance of security for Israelis, and the dignity of nationhood for Palestinians. But he also boldly argued that a resolution could come very soon, rejecting the usual cynicism that accompanies such talks:
"This time, we should draw upon the teachings of tolerance that lie at the heart of three great religions that see Jerusalem's soil as sacred. This time we should reach for what's best within ourselves. If we do, when we come back here next year, we can have an agreement that will lead to a new member of the United Nations—an independent, sovereign state of Palestine, living in peace with Israel."
In closing, Obama reprised his call from last year for cooperation between world leaders, saying that American leadership could only work in concert with others, and couldn't force things. But what was a clarion call last year sounds a bit more humble this time around. The question is whether Obama will be able to marshal that cooperation over the next year, and have a few more completes on his record next time he speaks to the General Assembly.