Obama DHS Secretary Withdrew From USC Speech After Immigration Criticism—Here's His Advice to Grads
After some faculty and students criticized his immigration policies, former Department of Homeland Security Secretary Jeh Johnson withdrew from speaking at the University of Southern California's law school commencement. Had he given his speech, he would have offered three main pieces of wisdom to the graduates, including that they are capable of more than they know.
Johnson, who served as DHS secretary under President Barack Obama, received an email from Dean Andrew Guzman about the concerns of some students and faculty members. It made clear the invitation was not rescinded, but Johnson, now a private citizen, decided to pull out to keep the event focused on graduates and their families.
The former DHS secretary is far from the first political figure to be the target of commencement criticism. Pushback covers both sides of the political aisle, and Vice President Mike Pence, Obama and former Secretary of State Condoleezza Rice have all been on the receiving end.
Each speech Johnson writes differs slightly because of the "flavor" of the school, he told Newsweek, and he speaks with a small group of students ahead of the event to gain insight into what they want to hear.
"I want to say something that they will remember, which I had the benefit of when I finished Morehouse College and Columbia Law School," Johnson said.
USC's law school commencement carried on without him on Friday, but had he been there, he would have shared some wisdom that former U.S. Ambassador to the United Nations Andrew Young told him when he graduated from Columbia.
"You have it within you, more than you know, to do great things. You're stronger than you know, you're smarter than you realize," Johnson said. "Andrew Young said what I just said: 'You will see and do things beyond your current comprehension in the course of your life,' and I now know what he meant."
Johnson, a C and D student in high school, did not impress his guidance counselor, who didn't see a four-year college education in his future. It wasn't until his sophomore year of college that he became inspired to become an A student and realized he could do things he never thought possible.
Young's point was further illustrated almost 40 years after Johnson heard his speech. When Johnson was graduating from Columbia's law school in 1982, there was an undergraduate on campus who would later become the nation's first black president.
"I did not expect to see [that] in my lifetime, and I was going to be in his Cabinet, which I did not expect to ever succeed to in my lifetime. And I was going to lead something called the Department of Homeland Security, which did not exist at the time, and I used that to demonstrate the point," Johnson said.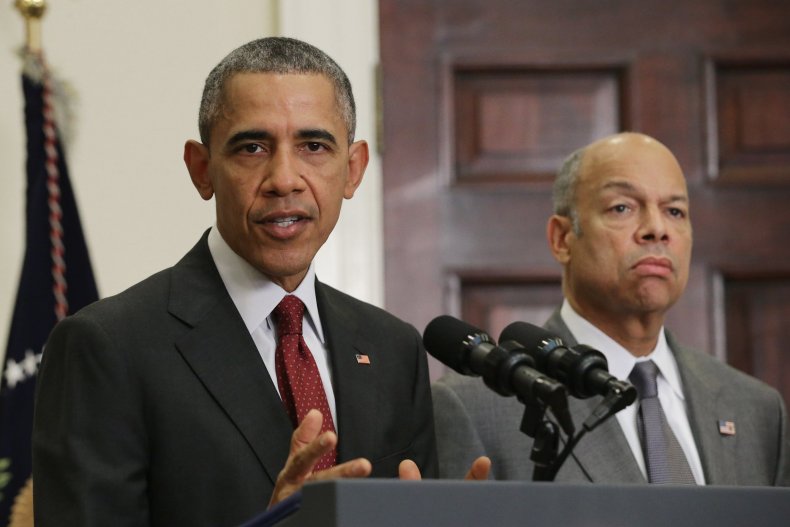 Like other commencement speakers, Johnson would have congratulated the graduates, crediting their law degree with enabling them to do "great things" and positively affect the world.
While pointing to the current climate of political leaders participating in a "downward spiral" of behavior, civility and rhetoric standards, he would have reminded graduates to rededicate themselves to basic principles.
"Number one, particularly for lawyers, is your word has to be your bond. Trust is everything. You should not give a promise you know you cannot keep. You should not say something you know is not true," Johnson said. "Trust is your bond, and if people trust you to be a person of your word, that will carry you far in the profession."
Given the number of leaks in Washington, D.C., Johnson would have encouraged the law graduates to rededicate themselves to the "sanctity of attorney-client privilege and client confidences." Rededication also requires them to treat each other with respect and, when they pass certain milestones, to remember how they were treated as a first-year law student, a first-year associate or a new law clerk. Then, treat the people in those positions either how they were treated or how they wish they were treated.
This isn't the first time Johnson has experienced pushback about a commencement speech. Ahead of his 2016 commencement address at Georgetown University, Johnson met with students, who criticized his invitation, and gave a speech that directly addressed the students' concerns.
"Your level of activism and commitment is something I encourage in my own college-age children," Johnson said in 2016. "In this free country, you have an important role, your views matter, and they contribute to the policymaking of our government."
Graduations, Johnson said, aren't necessarily the place for political debate because it should be about the graduates and their families. As someone who often finds himself on campus for various events, he noted that commencement speeches are different from lectures, where students should be prepared to have their assumptions and thinking challenged.
However, solely selecting speakers that everyone can rally behind would limit the pool of candidates.
"The only thing I would add to that, as a caveat, is if we come to expect graduation speakers who offend no one in a class of 150, 200, 300, then you will probably leave off the list just about anybody who's been in government or certainly national security," Johnson said.