Obama Endorses Democrats Seeking to Unseat Republicans Lindsey Graham, Susan Collins and Joni Ernst
Former President Barack Obama's initial endorsement of "thoughtful, empathetic, and highly qualified Democrats" includes candidates looking to oust Republican Senators Joni Ernst, Lindsey Graham and Susan Collins.
In a Medium post, Obama released a list of 119 Democratic candidates he was supporting in the upcoming election, whom he credited for sticking up for the working class and fighting for the good of all Americans "not just those at the top." Among those listed were Theresa Greenfield, Jaime Harrison and State Speaker Sara Gideon, who are fighting hard campaigns against Ernst, Graham and Collins respectively.
"They make me optimistic not just about our party's chances in November, but about our country's future long after that," Obama wrote.
Following the former president's endorsement, Harrison posted on Twitter that he was running to "bring hope back" to South Carolina and noted that Obama knows "a thing or two about hope." Gideon wrote that she was "honored" to receive the endorsement" and Greenfield said she was "proud" to be endorsed by Obama.
Both Gideon and Greenfield noted in their tweets that the "stakes in this election couldn't be higher" and encouraged people to join their campaign teams.
Newsweek reached out to Senators Graham, Collins and Ernst for comment but did not receive a response in time for publication.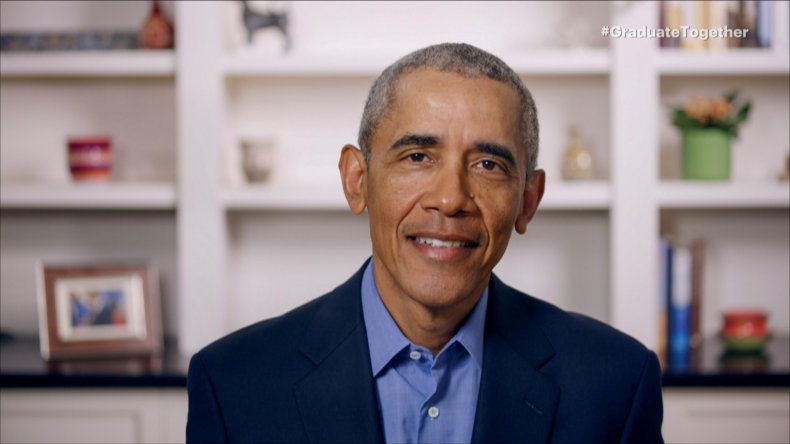 Harrison is fully confident he can best Graham and an internal poll conducted by Harrison's campaign found the two were in a statistical tie. About 33 percent of South Carolina voters polled responded that Graham deserved to be reelected while 59 percent said it was time for someone new to take over the position, according to The Hill. However, a Gravis Marketing poll released on July 17 found a wider spread between the two candidates, with Graham taking a 7-point lead.
Further north, in Maine, Collins, who has been in office since 1997, is in danger of losing her seat. A Public Policy Polling (PPP) survey from the beginning of July showed Collins trailing Gideon by four percentage points. At the time, Collins' spokesperson told Newsweek it was "no surprise" the senator was behind her Democratic challenger because Republicans "typically perform poorly" in PPP's surveys.
Collins had the highest disapproval rating of any senator at the end of 2019, according to Morning Consult. She faced heavy criticism for her vote confirming then-nominee Brett Kavanaugh to the Supreme Court and experts warned New England may no longer be the Republican stronghold it once was.
"The big picture is that she's in a fight for her electoral life here that she's really never seen before, since she was first elected to the seat," Mark Brewer, a professor of political science at the University of Maine, told ABC News.
To the west, July polls show a tight race between Ernst and Greenfield, with the challenger ahead by about two percentage points, according to FiveThirtyEight. Before Obama came out to support Greenfield, the Democratic candidate received heavy praise from Senate Minority Leader Chuck Schumer.
During a virtual fundraiser in early July, Schumer called Greenfield his "soon-to-be colleague" and said Iowans need an "independent voice who will put the Hawkeye State over party loyalty," the Des Moines Register reported.
"If you're in one of their districts or states, make sure you vote for them this fall. And if you can, vote early—by mail or in person," Obama wrote in the Medium post.