Obama Throws Subtle Shade At Some Elected Officials In Elijah Cummings' Eulogy: 'You Are Not a Sucker to Have Integrity'
Former President Barack Obama delivered a powerful eulogy during funeral services for Rep. Elijah Cummings Friday morning, highlighting the congressman's unique honor and integrity.
"There is nothing weak about kindness and compassion. There is nothing weak about looking out for others. There is nothing weak about being honorable. You are not a sucker to have integrity and to treat others with respect," Obama said during his remarks.
The former president added that while the official title "honorable" is conferred on "all kinds of people" who get elected to public office, Cummings was different because he was honorable before serving in Congress.
"There's a difference," Obama said. "There is a difference if you are honorable and treated others honorably outside the limelight, on the side of a road."
Cummings died Thurs., Oct.17, at 68 due to complications from long-standing health challenges, his office said. The Democrat from Maryland was a sharecropper's son who rose to become a civil rights champion and U.S. congressman. During his tenure in the House of Representatives, Cummings became the chairman of the Oversight and Reform Committee and led several investigations into President Donald Trump and his administration.
Obama said during his eulogy that Cummings understood from his own experience that "our destinies are not preordained" and that is why he always "fought for justice."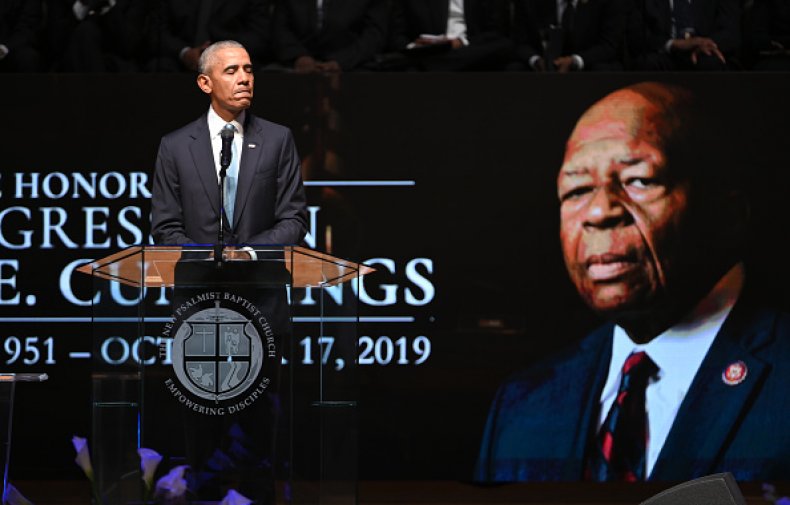 In the months before his passing, Cummings had made it clear that he thought the country was at a crossroads under Trump's leadership.
Following former special counsel Robert Mueller's Russia investigation and testimony on Capitol Hill in late July, during which Mueller said his inquiry did not exonerate Trump, Cummings implored the public to "guard this moment."
"I'm begging the American people to pay attention to what is going on," Cummings said in what has become one of his most circulated speech. "Because if you want to have a democracy intact for your children and your children's children and generations yet unborn, we have got to guard against this moment. This is our watch."
Cummings' oversight responsibilities often drew the ire of Trump, and over the summer the president targeted Cummings in a string of statements condemned as racist. Trump tweeted that Cummings' congressional district in Maryland was a "disgusting, rat and rodent infested mess" and that the lawmaker had "failed badly."
Cummings responded to Trump's comments by tweeting that he goes home to his district daily to advocate for his constituents.
"Each morning, I wake up, and I go and fight for my neighbors," Cummings wrote. "It is my constitutional duty to conduct oversight of the Executive Branch. But, it is my moral duty to fight for my constituents."
Trump did not attend the funeral services for Cummings at the New Psalmist Baptist Church on Friday morning. Political figures who were in attendance include former President Bill Clinton, Hillary Clinton and House Speaker Nancy Pelosi.
When news broke of Cummings' death, Trump tweeted his condolences: "My warmest condolences to the family and many friends of Congressman Elijah Cummings. I got to see first hand the strength, passion and wisdom of this highly respected political leader. His work and voice on so many fronts will be very hard, if not impossible, to replace!"