Obama's Fed Chair Janet Yellen Agrees With Trump: Fed Should Cut Rates
Ex-Federal Reserve Chairwoman Janet Yellen told Colorado economists at a meeting Sunday evening that she agrees with President Donald Trump about cutting interest rates.
Despite upward economic data for July, the U.S. centralized bank is expected to cut interest rates by a quarter point Wednesday for the first time in more than a decade, analysts predict. Yellen appeared at the Aspen Economic Strategy Group meeting in Aspen, Colorado, on Sunday, where she told attendees she believes Trump's trade wars have hurt the economy and she believes inflation is too low.
Yellen, who was chair of the Fed in the Obama administration from February 2014 through February 2018, said she supports a 25-basis-point cut to the central bank's benchmark interest rate, CNBC first reported. She predicted the global economy is weakening and said the rate cut could help offset issues stemming from U.S. trade wars with China.
"The United States isn't an island. We're part of the global economy. What happens in the rest of the world — in Europe, in Asia — affects the United States," Yellen said Sunday evening. "The global economy has weakened. I think partly it's weakened because of conflicts over trade and the uncertainty that's caused for businesses."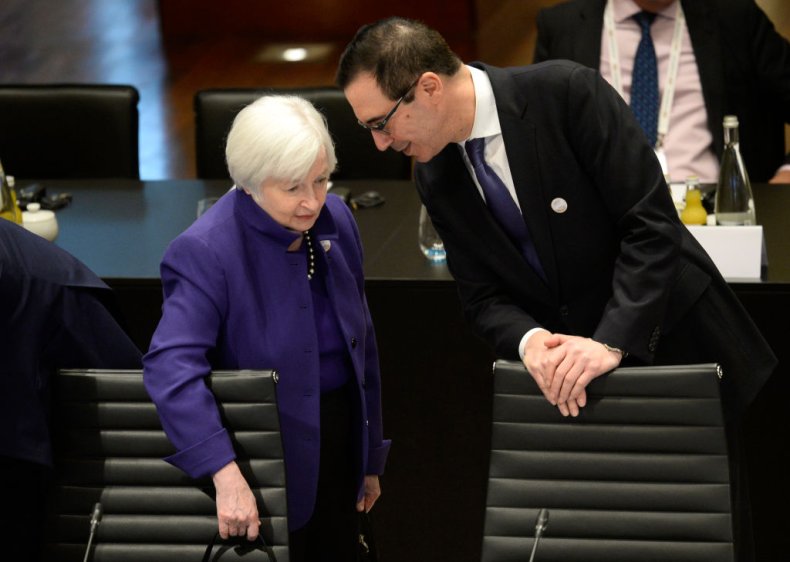 In December 2015, Yellen raised interest rates for the first time in nearly a decade as part of an effort to boost rates back to a place where future policymakers such as Trump would have room to reduce them prior to potential economic downturn.
Trump is no stranger to addressing the Fed directly—typically through his Twitter account. He has frequently criticized his own Federal Reserve chair appointment, Jerome Powell, for tightening monetary policy. Powell has said pushed back on Trump's calls to cut rates several times and told 60 Minutes in March he doesn't think the president can fire him.
"Q2 GDP Up 2.1% Not bad considering we have the very heavy weight of the Federal Reserve anchor wrapped around our neck. Almost no inflation. USA is set to Zoom!" Trump tweeted in January.
Trump, along with many economists, appears to be predicting the Fed will cut rates on July 31 and he is encouraging such a move: "Don't miss it again!" Trump tweeted last month," quoting himself from earlier in June when he said the Fed "blew it" by not raising rates.